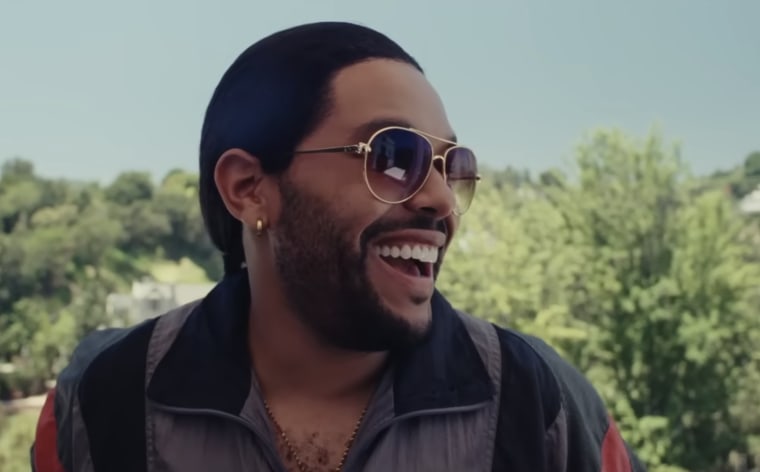 Since last summer, HBO has been teasing a drama series called The Idol as the "sleaziest love story in all of Hollywood," straight from the "sick and twisted minds of the creator of Euphoria Sam Levinson and Abel 'The Weeknd' Tesfaye." But three teasers in, there's still no word of a concrete release date. And, according to a new report from Rolling Stone, issues with the show's production run deeper than routine rollout delays.
As the series' initial teaser advertised, it was created by Levinson along with Tesfaye and his producing partner Reza Fahim. (Tesfaye and Fahim announced yesterday that they've been working on a feature film, also starring Tesfaye.) But Amy Seimetz (She Dies Tomorrow, The Girlfriend Experience), was initially signed on to direct. In April of last year, however, Semetz left the show, with multiple outlets reporting that she was forced out, partly due to Tesfaye's worry that his vision was being too tinted by her "female perspective." In the following months, Levinson took over directing duties, and the show went into a full creative overhaul, starting almost from scratch.
Per the new RS report, The Weeknd's alleged fears of a feminist takeover were not the only issues Seimetz faced as The Idol's director. Three crew members told the magazine they felt she'd been doomed to fail from the beginning, burdened with such stumbling blocks as unfinished scripts, unrealistic deadlines, an inexperienced show runner, and a restrictive budget that was further confounded by HBO's demands for heavily produced music videos — the show stars Lily-Rose Depp as its titular pop idol, who falls for a charismatic cult leader (Tesfaye) — and many scenes filmed at lavish locations. "Amy was doing her best in an impossible situation, but she was going to lose this no matter what," one source said. "Honestly, I think HBO handed her a shit stack." Semetz reportedly declined to comment on the conditions of her departure from the show.
Of the 13 cast and crew members Rolling Stone interviewed, several voiced concerns with The Idol's change in direction following Seimetz's exit. One believed the show had gone "from satire to the thing it was satirizing" (i.e "fame and the fame model in the 21st century"). Another said it was now "like any other rape fantasy that any toxic man would have in the show — and then the woman comes back for more because it makes her music better." And a third compared the script to "sexual torture porn." It's unclear how many of these sources had seen the series' final cut.
In addition to Tesfaye and Depp, The Idol's cast is said to feature Rachel Sennott, Dan Levy, and Hank Azaria, as well as several high-profile musicians — Moses Sumney, Mike Dean, Troye Sivan, Jennie Kim from BLACKPINK. Some of these performers were added after Seimetz left, and sources told Rolling Stone that the budget was rumored to have grown by nearly 50 percent (from $54 to $75 million) in the interim.
When reached for comment by RS, Depp did not directly address the claims but said she had never "felt more supported or respected in a creative space, my input and opinions more valued" and called Levinson "the best director" she'd ever worked with. And HBO reaffirmed its support of the series to the magazine, calling it one of the network's "most exciting and provocative original programs" and emphasizing that "the creative team has been committed to creating a safe, collaborative, and mutually respectful working environment, and last year, the team made creative changes they felt were in the best interest of both the production and the cast and crew."
The Weeknd did not respond to Rolling Stone's request for comment. When reached by The FADER, Tesfaye's representative responded with a link to the following Instagram reel.
Update, March 1, 5:50 p.m.: The Weeknd responded to our request after this piece was published. The post has been updated to reflect their response.