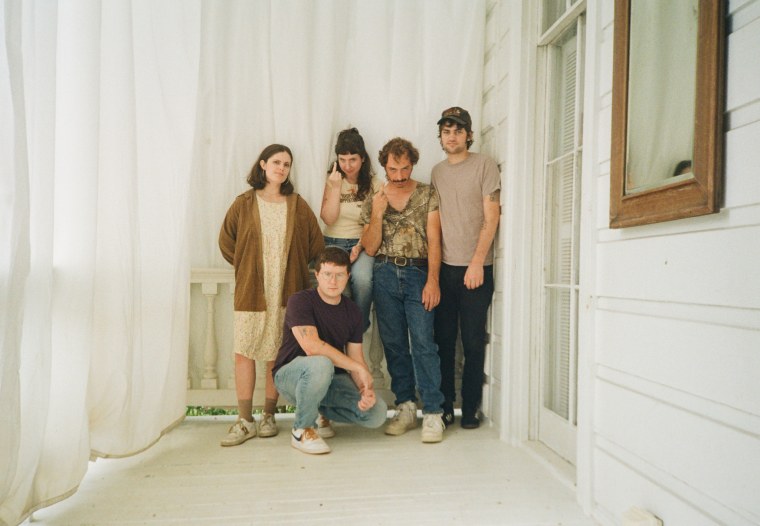 Just over two weeks away from the arrival of their fifth album, Rat Saw God, Wednesday have shared the record's closing track, "TV in the Gas Pump." It follows certified Song You Need "Bull Believer," "Chosen to Deserve" (one of our 20 favorite rock songs of January), and last month's "Bath County" as the project's fourth and final pre-release single.
"TV in the Gas Pump" is a wistful jam about life on tour, a topic on which the Asheville band have been particularly outspoken online over the past few years. Over a straightforward rhythm section elevated by ominous guitar feedback courtesy of Jake Lenderman, lead vocalist Karly Hartzman paints impressionist portraits of suburbia, where there are "People standin' with their arms crossed / In the line at the Panera Bread / At a rest stop," and you "Violently came up / In a Dollar General / You took too much / Jake walked into a Starbucks." It's not the explosive country-shoegaze cocktail Wednesday are best known for, but it's potent nonetheless.
"This is the first song I've written about being on the road, and I really just wanted to collect all that imagery you ingest on tour," Hartzman explains in a press release. "A few images that made it in the song include: the neverending gas station stops that blend together and the dystopian gas pump advertisements, a stressful experience in a Panera bread, and a story of coming up from taking what you thought was a microdose of shrooms in a Dollar General."
The new song comes with an animated visual treatment courtesy of Spencer Kelly. Watch the clip, check out Rat Saw God's cover art and tracklist, and view Wednesday's upcoming tour dates below.
Rat Saw God album art
Rat Saw God tracklist
1. Hot Grass Smell
2. Bull Believer
3. Got Shocked
4. Formula One
5. Chosen To Deserve
6. Bath County
7. Quarry
8. Turkey Vultures
9. What's So Funny
10. TV in the Gas Pump
Wednesday 2023 tour dates
March 31 - Athens, OH - Ohio University (Lobster Fest)
April 1 - Athens, GA - 40 Watt Club ^
April 26 - Atlanta, GA - Terminal West *
April 27 - Birmingham, AL - Saturn *
April 28 - New Orleans, LA - Gasa Gasa *
April 30 - Dallas, TX - Club Dada *
May 1 - Austin, TX - Mohawk *
May 3 - Albuquerque, NM - Sister *
May 4 - Tucson, AZ - Club Congress *
May 5 - Los Angeles, CA - Teragram Ballroom !
May 6 - San Francisco, CA - Independent *
May 8 - Portland, OR - Mississippi Studios *
May 9 - Vancouver, BC - Fox Cabaret *
May 10 - Seattle, WA - Neumos *
May 11 - Spokane, WA - Lucky You Lounge *
May 12 - Salt Lake City, UT - Kilby Block Party
May 13 - Boise, ID - The Shredder *~
May 15 - Denver, CO - Larimer Lounge *
May 17 - Kansas City, MO - recordBar *
May 18 - St. Louis, MO - Off Broadway *
May 19 - Little Rock, AR - Stickyz Rock N Roll Chicken Shack *
May 20 - Memphis, TN - Growlers *
May 21 - Nashville, TN - Basement East *
May 27 - Berlin, DE - Schokoladen
May 28 - Groningen, NL - Vera
May 29 - Amsterdam, NL - Paradiso Upstairs
May 31 - Brussels, BE - Botanique
June 1 - Paris, FR - L'International
June 3 - Barcelona, ES - Primavera Sound
June 5 - Manchester, UK - YES Basement
June 6 - London, UK - The Lexington
June 7 - Bristol, UK - Rough Trade
June 9 - Porto, PT - Primavera Sound
June 10 - Madrid, ES - Primavera Sound
June 11 - Madrid, ES - Primavera in the City
June 15 - Charlotte, NC - Neighborhood Theatre #
June 16 - Carrboro, NC - Cat's Cradle #
June 17 - Philadelphia, PA - Union Transfer @#
June 18 - Washington, DC - Black Cat #
June 20 - Brooklyn, NY - Music Hall of Williamsburg #
June 21 - Cambridge, MA - Sinclair #
June 22 - Montreal, QC - Bar Le Ritz #
June 23 - Toronto, ON - Horseshoe Tavern #
June 24 - Grand Rapids, MI - Pyramid Scheme %
June 26 - Chicago, IL - Metro #$
June 27 - Milwaukee, WI - Cactus Club #
June 28 - Minneapolis, MN - Turf Club #
June 30 - Columbus, OH - Ace of Cups #
July 1 - Asheville, NC - The Orange Peel #
^ w/ Drive-by Truckers
* w/ Cryogeyser
! w/ Toner
# w/ Tenci
% w/ Advance Base
@ w/ All Dogs
~ w/ Mannequin Pussy
$ w/ Squirrel Flower