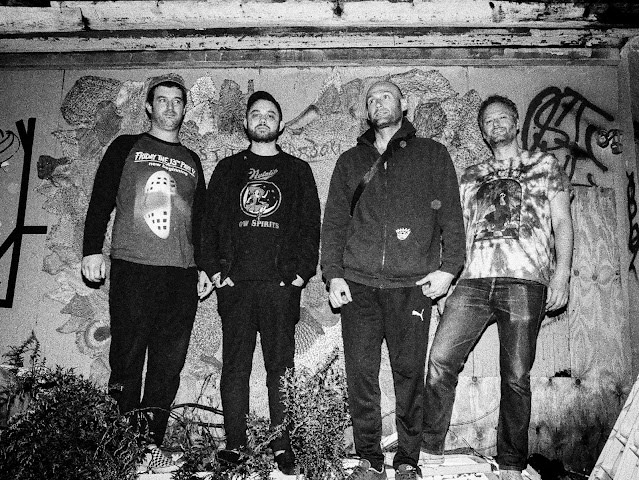 The FADER's "Songs You Need" are the tracks we can't stop playing. Check back every day for new music and follow along on our Spotify playlist.
No one does anger quite like Chat Pile, the Oklahoma City four-piece whose venomous debut LP God's Country shook the world last summer. On April 14, they'll share Brothers in Christ, a split EP in collaboration with Kansas City noise rockers Nerver via Reptilian Records and The Ghost Is Clear. And today (March 24), they've dropped the four-track tape's closer, "Cut."
The new song starts with two toxic chords from Luther Manhole's guitar that float like a shimmering miasma as the rhythm players (drummer Cap'n Ron and bassist Stin) enter like a battering ram. Frontman Raygun Busch follows shortly thereafter, his twitching growl commanding a fearful power despite rarely rising above speaking volume. "This is the place / Everything changed," he sings early on, his voice trembling. "This is why / We come here, like / Like some holy crime."
According to Busch, the lyrics to "Cut" — and to "King," Chat Pile's other contribution to Brothers in Christ — were inspired by the work of horror master Stephen King. "'Cut' is an homage to the short fiction of King, particularly 'The Man Who Loved Flowers,' 'Strawberry Spring,' and 'The Jaunt,'" he explains in a press release.
"These tracks were written and recorded after we tracked God's Country," Stin adds. "We wanted to use this release as a deliberate excuse to switch gears and fully lean into our more indie and alt-rock tendencies. Slint, Sonic Youth, Guided By Voices, and Starfish's Stellar Sonic Solutions were certainly on our minds at the time."
This amalgamation of influences is apparent on "Cut," a track that traffics in controlled, tense explosions rather than the relentless mayhem of Chat Pile's last record. Only in the chorus do they fully let loose, unleashing all their pent-up aggression into a hair-raising crescendo that pays off in Busch's malicious delivery of the song's title refrain: "I don't wanna be / CUT."