Pianist and soundscape artist Rob Grant has shared the title track from his debut album, Lost at Sea. The fifth pre-release single from the project, it features lead vocals from Grant's daughter, Lana Del Rey. It's a slow-burning ballad that places Del Rey's characteristically breathy vocals and shadowy lyrics over simple arpeggios from Grant embellished with decadent string swells later in the track.
"'Lost At Sea' is a deeply emotional and ethereal song," Grant says of the new single. "It combines the beautiful vocals of Lana Del Rey woven into a hypnotic piano composition. Lana's voice is haunting and powerful. It moves ghostlike like through the song like mist over the ocean. The song has a deep message of hope…for all of us who feel lost and disconnected in today's world. 'Lost At Sea' is the reason I made my album — to share music that can bring some peace and calm to a very anxious world."
Del Rey dropped her ninth studio LP, Did you know that there's a tunnel under Ocean Blvd, in March. Last month, she shared "Say Yes To Heaven," a viral TikTok loosie from 2012. In addition to "Lost at Sea," she'll feature on "Hollywood Bowl," the closing track from her father's forthcoming record. Lost at Sea is due out June 9 on Decca. See its cover art and tracklist below.
Lost at Sea album art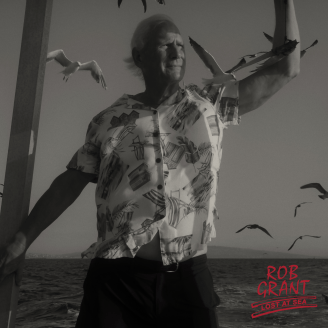 Lost at Sea tracklist
1. Moon Rise Over The Ocean
2. Setting Sail On A Distant Horizon
3. Lost at Sea, feat. Lana Del Rey
4. The Texture Of Dreams
5. The Poetry Of Wind And Waves
6. A Beautiful Delirium
7. Deep Ocean Swells
8. My Deep Blue Dream
9. Reflections Of Light On Water
10. In The Dying Light Of Day: Requiem for Mother Earth
11. A Delicate Mist Surrounds Me
12. The Mermaids Lullaby
13. Song Of The Eternal Sea
14. Hollywood Bowl, feat. Lana Del Rey