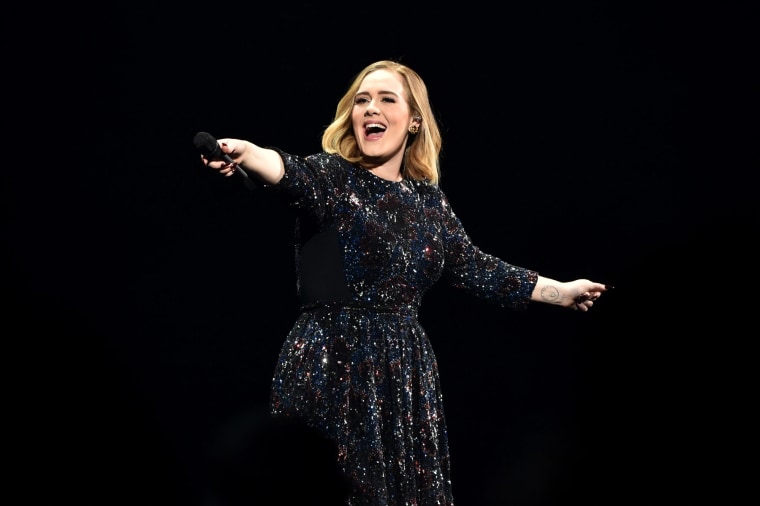 16-time Grammy winner, casual quarter billionaire, and chronic oversharer Adele made an on-brand revelation to the crowd at her "Weekends With Adele" show in Las Vegas Saturday night. "My face is sweating. Me tits are sweating… I sweat a lot and it doesn't go anywhere, so I basically am just sitting in my own sweat, and my doctor gave me jock itch," she said, conveying a concerning amount of enthusiasm. (We can assume that here Adele means her doctor diagnosed her with the fungal infection.)
"Do you guys know what that is?," she continued, almost gleefully. "That sounds like I'm a big Nuggets fan." (Here, we can infer that Adele is deftly utilizing the name of the NBA championship-winning Denver Nuggets' star player, Nikola Jokić, in service of a double entendre. As Billboard notes, Adele is married to Lebron James' agent, Rich Paul.) "Jock. Itch. That's what it's called, right?," she added, hammering home the pun.
A frequent loiterer in high school locker rooms and college dorm showers, jock itch is a fungal skin infection that "causes an itchy rash in warm, moist areas," per the Mayo Clinic. "I have to squirt in on meself," she concluded, cackling. (Here, we must imagine that Adele is referring to the anti-fungal cream her doctor probably prescribed for her troubles and not to the fungus itself.) "I don't know why the fuck I just told you that!" Watch footage of Adele's sordid tale, captured by a fan, below.
Barring a more serious setback than her current fungal woes, Adele will continue her "Weekends With Adele" Vegas residency at The Colosseum through early November.