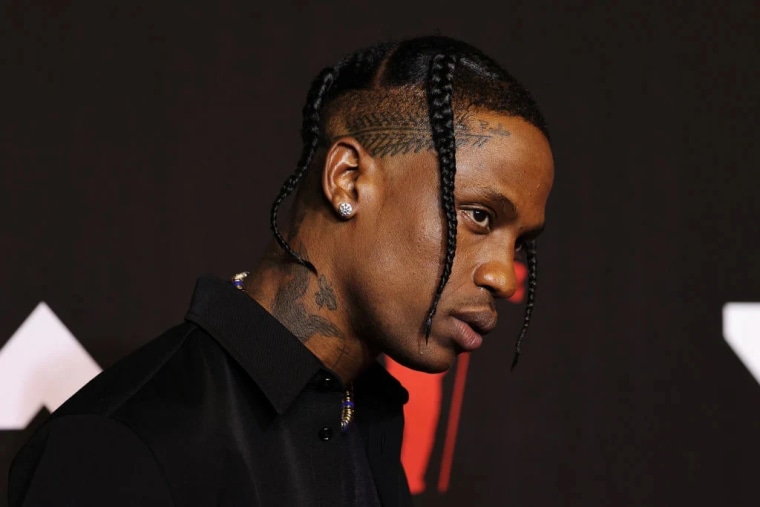 The Egyptian Syndicate of Musical Professions, a local group responsible for approving concert licenses, have expressed their intention revoke a permit for Travis Scott's concert at the Pyramids of Giza, the AFP reports. It's unclear, however, whether the Syndicate has the authority to make this decision.
The show is currently scheduled to take place on July 2, marking the debut of Scott's fourth album, Utopia. In response to a request for comment from The FADER, Live Nation denied reports that the show had been cancelled, offering the following statement: "There have been no changes to Travis Scott's show in Egypt; any reports to the contrary are false. We can't wait to celebrate 'Utopia' with you in Egypt!"
In a statement, the Syndicate implied that Scott's concert would go against its mandate of conserving traditional Egyptian culture. "Since the General Syndicate is part of the fabric of this beloved country, it is keen on its stability and security and refuses to tamper with societal values, and Egyptian and Arab customs and traditions," it reads.
The statement goes on to cite unspecified "rituals at Travis' concerts" in its denial, likely a reference to the Satanic panic Scott faced in the wake of the Astroworld disaster where a crowd crush left 10 concertgoers dead. "Based on research and documented information about strange rituals at Travis's concerts that are inconsistent with our authentic societal values and traditions, the Board of Directors has decided to cancel the license issued to hold this type of concert that contradicts the cultural identity of the Egyptian people."
Foreign artists have received permits in the past to perform at the pyramids if the Syndicate rules that the performances "do not undermine the ancestral customs and traditions of the Egyptian people."
Artists seen as a threat to this have been the target of the Egyptian Syndicate of Musical Professions in recent years. In 2020 the Syndicate issued a stoppage on performances of Mahraganat music, a popular genre that blends pop, techno, and R&B. Lebanese rock band Mashrou' Leila was banned from performing in 2017 after a Pride flag was displayed at a concert in Cairo. Sarah Hegazi, the software developer who displayed the flag, was arrested and tortured in by local authorities. She escaped to Canada and died by suicide in 2020.
Update, July 18, 2:50 p.m. This article has been edited to reflect a statement from Live Nation sent to The FADER after the post's initial publication.