If art is creativity plus proficiency plus chance, Fievel Is Glauque are exemplars of its purist form. During their trans-Atlantic "writing trips," generally held when multi-instrumentalist Zach Phillips and singer Ma Clement visit each other in Brooklyn and Brussels, respectively, they take a spontaneous yet controlled approach, starting and finishing a song each day, with Phillips constructing intricate arrangements to Clement's angular melodies, one bar at a time.
Today, Phillips and Clement are announcing their signing to the historic Oxford, Mississippi indie label Fat Possum. They're celebrating with two new Fievel is Glauque tracks, recorded on the most recent of these trips, and a Joey Agresta-directed short film that captures the cosmic randomness of their sound.
The video begins with Clement coming upon a back-alley game that Phillips reveals is called Dice 10,000, speaking from behind a ski mask and a recent issue of the New York Post. From there, the pair embark on an Atlantic City road trip soundtracked first by "Dark Dancing," a tightly wound, jazzy cut, and later by "I'm Scanning Things I Can't See," a looser, more free-associative single. Between the two songs, Phillips muses on the phrase "it's always darkest before the dawn," deciding that, in reality, "it seems more possible that all things yield to another in some kind of swift transit, and without respecting that fact, we don't get anything done at all." Watch the film exclusively above.
Below, stream the tracks on their own, read an email interview with the band on the two new songs and the short, and view the dates for Fievel Is Glauque's upcoming northeast mini-tour. Tickets are available for presale here.
The FADER: Of the hundreds of demos in your vault, what about these two songs made them feel most representative to you?
Zach Phillips: These two just felt particularly alive, ready, new. Their designation as "demos" is an in-house joke that points to the re-recording of these tunes in a live-band format and their potential inclusion on our next record, which we just finished tracking under very exciting conditions. As with a movie that's "so bad it's good," the persistent notion that "demos" are faulty, sketch-like intimations of more significant and important productions is such anathema to our broader cohort (which might, I guess, be termed "experimental songwriters") that we psychedelically pivoted to embrace it. :-)
Ma Clement: They're the most representative of where we're at now in the writing process. To me, all the other songs are representative of previous states. It's not easy to deal with old material.
ZP: And it all gets old very fast!
Tell me about the conditions where these tracks were recorded. What does a Fievel is Glauque "writing trip" entail?
ZP: When we're in the same city, we try to start and finish a song every day, with Ma leading with melody and me proposing the harmony. We agree to a fragment and move on to the next, so the songs are written cumulatively, bar by bar, a process similar to the one I teach with private theory students.
MC: We both belong to these two cities where we live, in some ways, so we also go out and see friends. But the aim of the trip is a clear priority, so we're pretty focused on the work we try to do. And anyway, I'm a bad tourist — I never know what I'm supposed to do as a visitor in a foreign place. But during the last writing residency, we had kind of a "recording impulse."
ZP: Which is unusual for us. After two writing trips this spring yielded 18 songs, the four-track cassette recorder seemed suddenly to beckon, and so on the last 2 days Ma was in town we recorded all of them in a "batch" process (piano, occasional bass, and drums first, then Ma's vocals, then a vocal double with affected clavinet/piano/Rhodes recorded simultaneously to the same track). This all went down in my apartment where I can't play drums at a normal volume, so the drums you hear on these demos were actually played more gently than the piano. Most instances of "lead playing" were improvised intuitive decisions, like the first-take piano solo on "Scanning." We didn't add to or remove anything we recorded during those 2 days, and our talented songwriter and engineer friend Ryan Power cleaned up and improved our hasty mixes.
"Dark Dancing" feels like an especially circular song to me, always winding back on its central refrain. Do you think your spontaneous process lends itself to circular songwriting?
MC: During the writing of "Dark Dancing," my feeling was more like playing a construction game. If I try to picture us during the writing, I see two guys using wooden blocks to build a space, a shape, or both. Maybe.
ZP: Circles, now that's a cool thing to think about. I'm thinking about how apparently even computers can't draw representations of perfect circles. And now I'm thinking about the circle of fifths that musicians deal with and are dealt with by, and the circular sigils constructed around seances and other magical acts, both of which I'm inclined to think of as forms whose perfection is brought to fruition by the ways we visit our imperfections on them.
"I'm Scanning Things I Can't See" feels like a more structured, written-through track. It captures the slick, loungy feeling that great city pop does. Do you have any favorite artists from that genre?
ZP: Thank you! I'm almost completely unfamiliar with "city pop," but I definitely heavily admire some musicians I understand to be included under that umbrella — for example, Sandii & the Sunsetz. Recording the drums for "Scanning," I did access some frisson I free-associated with "new jack swing," Large Professor, Dido, even Fun Boy Three. Our esteemed bassist friend Logan Kane called it "fermented James Jamerson bossa funk," so there's that, too.
The video's framing of gambling and road trip philosophy is a lot of fun. Were you (and Joey Agresta) inspired by any particular gambling and/or road trip movies?
ZP: That was filmed the night of NYC's smoggiest day on record. The air was truly terrifying and we wore N95 masks in the car to Atlantic City. Part of Joey's omnidirectional artistry is manufacturing the necessity of specific plans and then fulfilling the terms intuitively, which is relatable to our own writing process. That trip was simply the right stupid move to make that day, but it was informed by nothing but the hypothetical flea circus of gut bacteria that produce artistic whims and the feeling of humid paralysis attendant to holing up in a little apartment with windows shut tight to block the miasma that for a few days literally blotted out the sun.
MC: To me, it seems that Joey had a pretty clear vision of how the video would be when he listened to the song. His enthusiasm and excitement were very contagious. I immediately trusted him as an artist, so I followed his creative impulse.
ZP: The thematics of gambling and drinking definitely came from Joey's impetus but interlock nicely with unstated metaphors that seem to permeate what me and Ma are doing in our writing. And we all love playing dice, which has become an important part of my life. Your question made me think of L'aîné des Ferchaux (aka Magnet of Doom), a [Jean-Pierre] Melville adaptation of a Simenon novel in which at one point money is flying everywhere, not unlike in Kubrick's The Killing. But we didn't discuss any movies together.
Fievel Is Glauque fall 2023 tour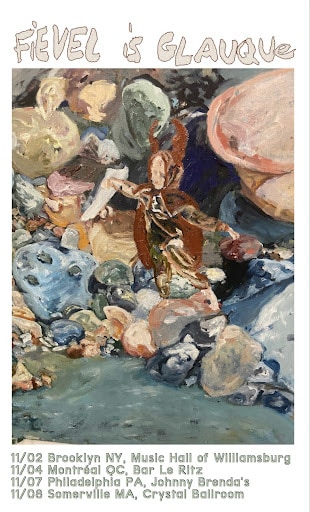 November 2 - Brooklyn, NY - Music Hall of Williamsburg
November 4 - Montreal, QC - Bar Le Ritz
November 7 - Philadelphia, PA - Johnny Brenda's
November 8 - Somerville, MA - Crystal Ballroom