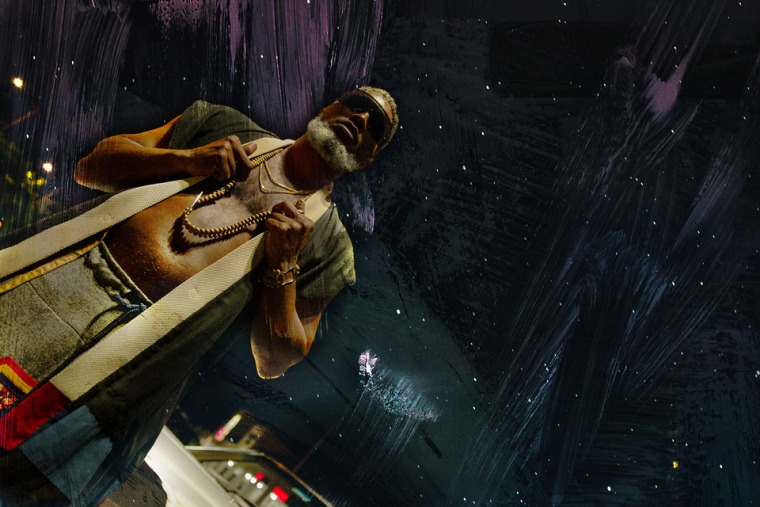 Shabazz Palaces have announced their sixth studio LP, Robed In Rareness. Their first full-length since 2020's The Don of Diamond Dreams, the album is due out October 27 via Sub Pop. Its lead single, "Binoculars" (feat. Royce The Choice), is out today.
The new track is a characteristically shadowy cut from Shabazz, a project that originated as the duo of ex-Digable Planets rapper-producer Ishmael Butler and Zimbabwean multi-instrumentalist Tendai Maraire. Maraire quietly left the group before their last record, leaving the world to wonder who, if anyone, would replace him.
Shabazz Palaces still refer to themselves in the plural, but it's unclear whether or not there's someone helping the ever-elusive Butler steer the ship. In addition to Royce, the forthcoming record will feature contributions from O Finess, Geechi Suede of Camp Lo, Butler's "twin" Lavarr the Starr (who raps suspiciously like Butler himself), and his actual son, Lil Tracy.
Watch the visualizer for "Binoculars," stream the track on its own, and see Shabazz Palaces' upcoming live dates below.
Shabazz Palaces tour dates
September 27 - Kingston, NY - Tubby's
September 28 - Toronto, ON - Great Hall
September 29 - Montreal, QC - POP Montreal Festival (Early)
September 29 - Montreal, QC - Entrepot 77 (Late)
October 01 - Washington, DC - DC9
April 4–7, 2024 - Quintana Roo, MX - Hard Rock Hotel Riviera Maya