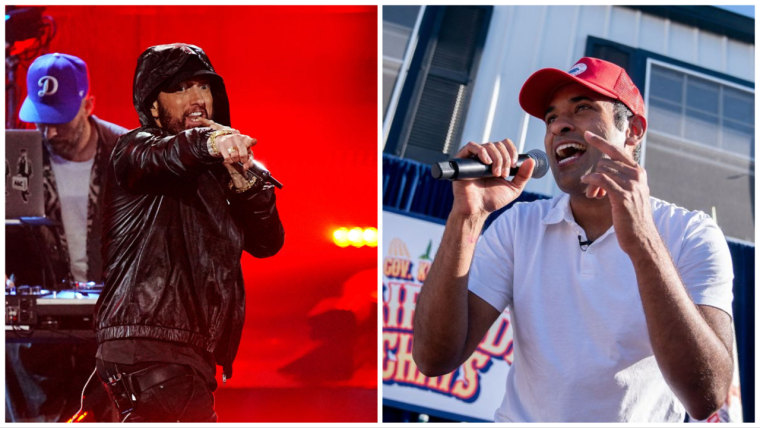 Eminem has sent a cease and desist to Republican presidential candidate Vivek Ramaswamy, who performed "Lose Yourself" while campaigning at the Iowa State Fair earlier this month.
Ramaswamy, who wants to raise the voting age to 25, lay off 75 percent of the federal workforce, and end U.S. aid to Ukraine, claimed to have permission to use the 2002 song having cleared it with the performance rights organization BMI. However, a letter sent on August 23 by BMI to the Ramaswamy campaign (and seen by Variety) confirmed this is not the case.
"BMI has received a communication from Marshall Mathers, III, professionally known as Eminem, objecting to the Vivek Ramaswamy campaign's use of Eminem's musical compositions (the 'Eminem Works') and requesting that BMI remove all Eminem Works from the Agreement," the letter reads. "BMI will consider any performance of the Eminem Works by the Vivek 2024 campaign from this date forward to be a material breach of the Agreement for which BMI reserves all rights and remedies with respect thereto."
Prior to receiving the cease and desist letter, Ramaswamy spoke about feeling represented by Eminem and his origin story, as depicted in the movie 8 Mile (which features "Lose Yourself"). Speaking to the New York Times, Ramaswamy said he identified with "the idea of being an underdog, people having low expectations of you."
This isn't the first legal letter Eminem has had to send in 2023. Back in February he took steps to block Real Housewives of Potomac stars Gizelle Bryant and Robyn Dixon from trademarking the name of their "Reasonably Shady" podcast.