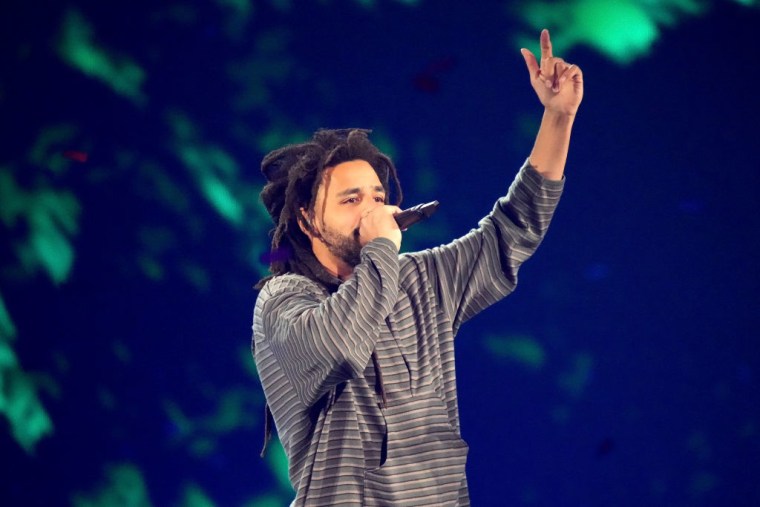 Colin Kaepernick hasn't played in the NFL since 2016 when he began taking a knee during the National Anthem in protest of police brutality and racial inequality, a move that lead to him being sidelined by the 49ers and his eventual blackballing from the league. The quarterback has pursued other ventures in the interim period but rumors of his possible return to football have never gone away. Now, via J. Cole, it has been revealed that Kaepernick offered himself to the New York Jets following the recent Achilles injury picked up by their star player, Aaron Rodgers.
Cole posted a message sent from Kaepernick to Jets GM Joe Douglas in which the exiled athlete said that he would be "honored and extremely grateful for the opportunity to come in and lead the practice squad."
The rapper explained that he had Kaepernick's permission to post the letter, though his friend took some convincing. "I asked Colin @kaepernick7 if I could share this letter with the world. He was reluctant," Cole said on Instagram. "My argument was that I believe the people and all organizations should know the truth about how hard he works and how much he still wants to play. And always has. In the end, he agreed to let me."
In his note, dated September 21, Kaepernick outlined the ways in which he felt he could aid the Jets, including giving their defence a chance to practice against "the more mobile/athletic/versatile quarterbacks" they will face in upcoming games.
"I know the aspirations this season were, and still are, to win a championship, and so that Hall of Fame sized hole will need to be filled as best as possible to keep the team on a Super Bowl track," Kaepernick wrote. He also included assurances of his fitness and references from his former coach Jim Harbaugh as well as Las Vegas Raiders owner Mark Davis.