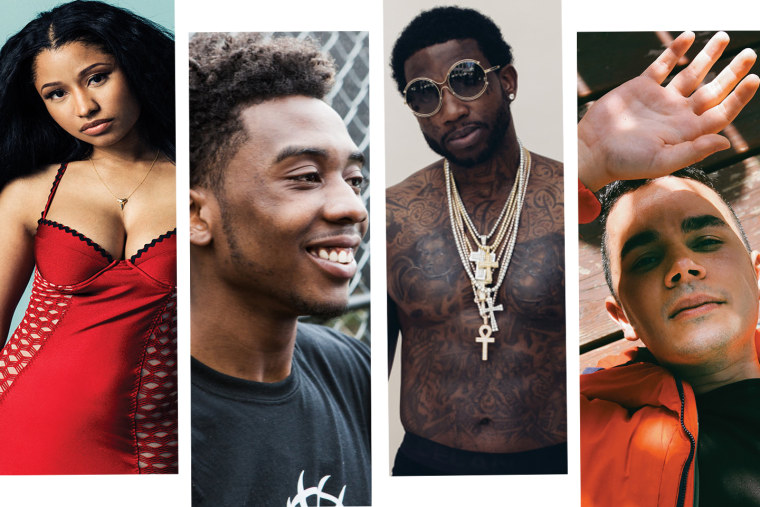 1. "Timmy Turner," the much-discussed full-length version of Desiigner's notoriously remixable XXL Freestyle, is a polarizing force. It's dividing up dorm rooms and friend groups and whole Twitter feeds. Where do you stand?
2. Gucci's free! Now he's snuggled up at home and churning out bops. I only featured Kanye cause we both some fucking narcissists, he spits on the Everybody Looking highlight "Pussy Print."
3. Mac Miller's The Divine Feminine is on its way. Anderson .Paak has a big presence on its funky first single, "DANG!" — but Mac shines here too.
4. DJ Khaled's "Do You Mind" samples 11-year-old Lil Jon relic "Lovers and Friends" and features guest appearances from literally everyone: Nicki Minaj, Future, Chris Brown, Jeremih, and Rick Ross.
5. Some dancehall songs are like anti-depressants — Vitamin D-infused outpourings of party music in its purest form. "Gyal You A Party Animal" by Jamaican artist Charly Black, full of earnest come-ons like Gyal your wine is so emotional, is one of 'em.
6. How To Dress Well's new song "Lost Youth / Lost You" is a glistening pop artifact about mysteries of the heart. Not sure what's more memorable: its sticky hook — I think I know what love is now/ I think I kinda figured it out — or the power ballad guitar solo that come about two-thirds of the way in.
7. Yohuna, the lo-fi songwriter behind what's probably the DIY Pop Song Of The Decade So Far, has a new full-length: its second track is the poetically titled "The Moon Hangs In The Sky Like Nothing Hangs In The Sky," a muddy burst of downcast dream-pop.
8. NYC-via-Maryland songwriter serpentwithfeet officially announced his debut EP. On "Blisters," his gospel-informed vocals sound straight-up gorgeous amidst the amorphous production, which shifts and creaks and swells and sputters in all the right places.
9. PARTYNEXTDOOR's "Not Nice" might be riding the wave of dancehall-inspired radio pop currently dominating the airwaves, but it's also a total summer jam in its own right. PND had writing credits on "Work," don't forget.
10. Rostam spoke about working with The Walkmen's Hamilton Leithauser in a recent issue of The FADER. "A 1000 Times" is the first leak from those sessions, and it's a beauty.
11. Sometimes you just have to take something pretty and scuff it up good. On his remix of London producer Endgame's "Felony Riddim," NON Records's co-founder Chino Amobi does just that — to deeply satisfying effect. The pressure never lets up.