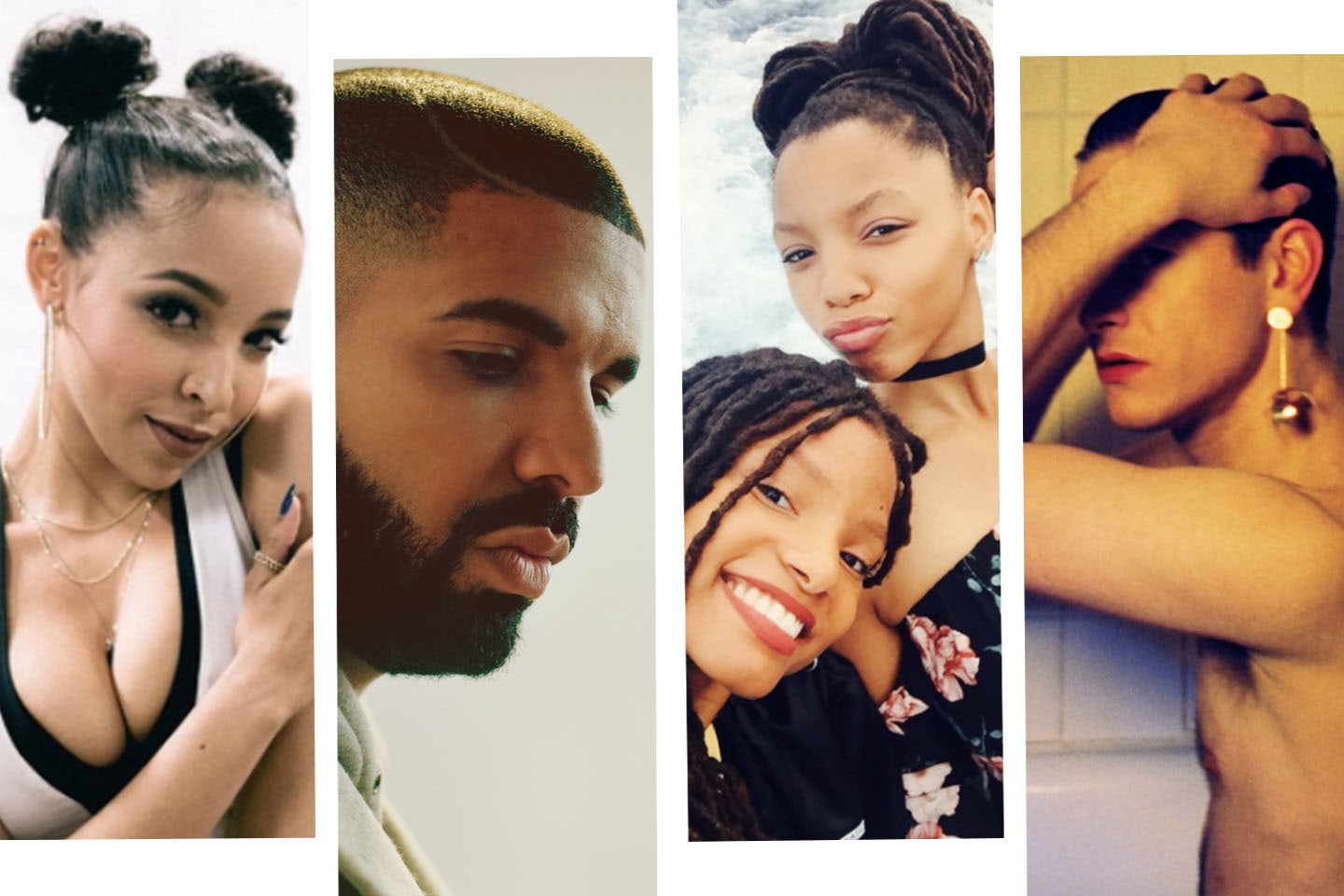 1. More Life is here. "Passionfruit," like all good Drake songs, has a distinct color. This one is a cool, sweet, deep purple.
2. Accompanied by a gorgeous, pink-tinted music video, the new one from Perfume Genius, "Slip Away," is positively grand — fuller and fiercer than ever before.
3. "I flaunt it, I bought it/ I talk it, I walk it," Chief Keef lilts on Mike Will Made It's sweet and triumphant "Come Down," which also features Rae Sremmurd. It's a super early contender for song of the summer.
4. Feist's comeback begins with the somber but delicious "Pleasure," a song about the way mystery is wrapped up in desire. "Get what I want/ and still it's a mysterious thing," she sings, her croon as inimitable as ever.
5. Khalid's smartphone-themed pick-up track "Location" got a lil' remix with Lil Wayne and Kehlani; now "drop me a pin" sounds even sexier.
6. "We're Elegant/Intelligent (We're Not Dumb)" is the English translation of the furious-sounding new track from Downtown Boys, "Somos Chullas (No Somos Pendejas)." This one is all guts.
7. The Two Of Us is NOT an album, insist Chloe x Halle. The tracklist-less stream is also "maybe not a mixtape," either — just 25 minutes of celestial, Beyoncé-inspired R&B-pop.
8. A relationship on its last licks of heat won't last, but this explosive Tinashe song called "Flame," about rescuing love, probably will. 🔥
9. The twitchy, funky "Glass Flows," featuring Ravyn Lenae, is probably the most genuinely unusual song off Smino's just-dropped album, blkswn. "What sorcery is this!!!" one SoundCloud user wondered.
10. The opener of Anohni's Paradise EP, "In My Dreams," is striking: her heavenly vocals come behind a rumbling — a signal that something huge is afoot.
11. "Tell me what would you do/ If I took my love away?" asks R&B trio THR3EE on "Work For It," a confrontational near-breakup jam designed for dancing with your pals .
12. XHOSA started writing "Let Me Go" on a Megabus to Pittsburgh. It's a '90s R&B-indebted track that moves forward with a buzzy, resilient energy.
13. Yves Tumor's brilliant electronic sensibilities shine on PAN's new compilation of ambient music. "Limerance" is his gentle and passionate-feeling contribution.
14. With narcotic vocals and anxious riffs, WALL's nightmarish "River Mansion," one of the band's excellent final recordings, sounds like a cloud about to burst.
15. Couldn't help but include more More Life: young talent Jorja Smith takes things to soulful levels on "Get It Together," while Drake exhibits a toned-down version of his trademark melancholia.