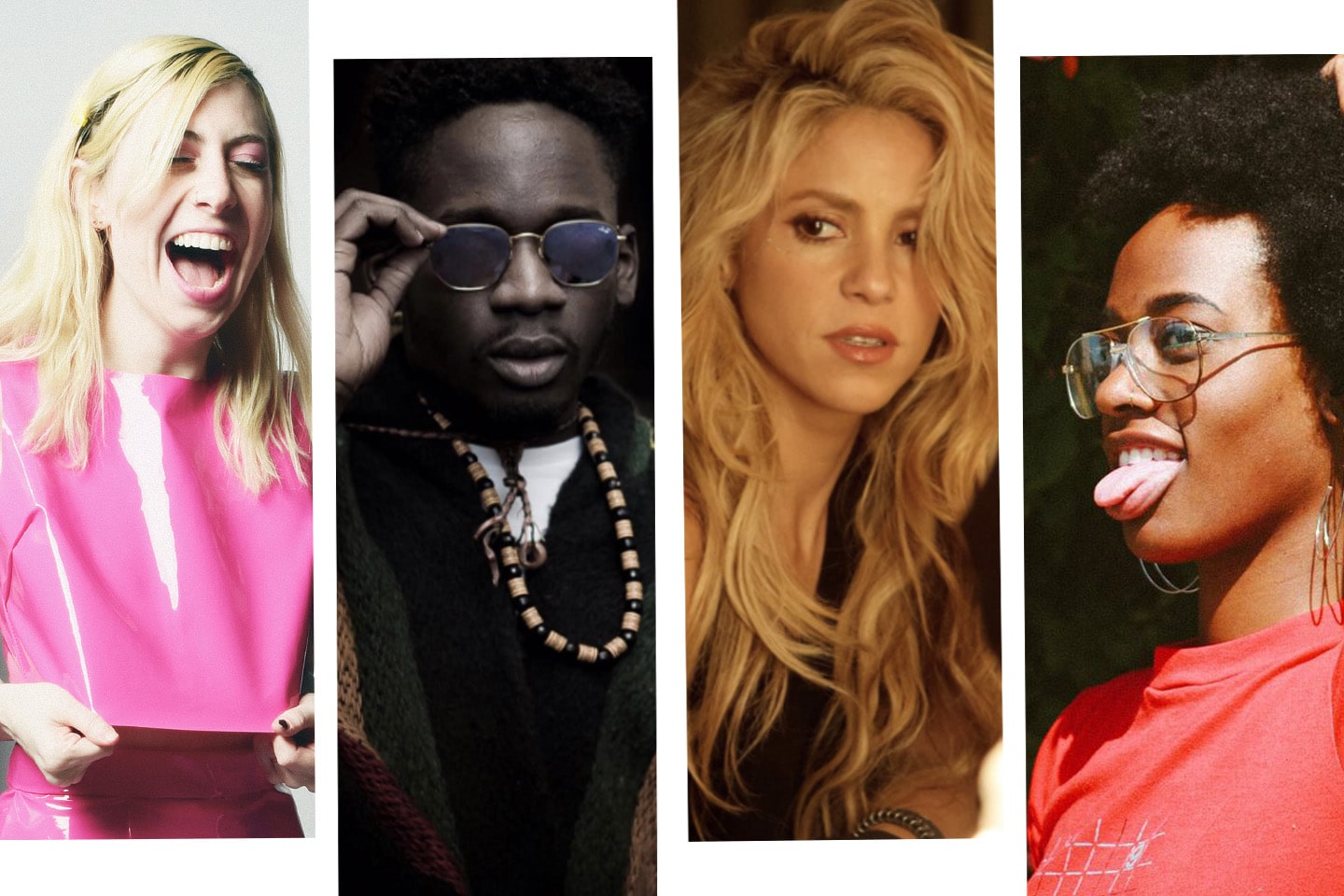 1. We love every single description of what it feels like to ride a bike on the breezy-paced paean "Biking," from Frank Ocean, Tyler, The Creator, and Jay Z. The trio's in top form, singing and rapping about wind blowing past their ears.
2. The second collab from Wizkid and Drake, "Come Closer," just got a multi-chromatic, Afrobeats-inspired video to go along with the track's bright and uncluttered sound.
3. Making music to shake your booty to is Shakira's specialty, and her new song, "Me Enamoré" is no exception. The Spanish-language pop track about love and mojitos is the perfect pre-summer jam.
4. Sounding all melancholy and lovelorn, Girlpool's Harmony and Cleo enact a little retro romance in the video for "It Gets More Blue," while singing sweetly about bodegas and global warming.
5. Mr. Eazi never fails to bring our anxious heart rates down. "Business," which features R2Bees' Mugeez, is a sun-soaked, divinely-chill track telling everyone to mind their own damn business.
6. Two of New York's noisiest, Show Me The Body and Dreamcrusher, joined brutal forces and created this live cut of "Hungry," a merciless, animalistic track that's so harsh it almost feels warm.
7. Young Dolph themed his new album around surviving 100 gunshots in February. The weighty-but-triumphant "But I'm Bulletproof" is our favorite.
8. A real romantic, Xavier Omar's "No Way Out," featuring Goldlink, is a gorgeous, silky jam about having your heart beaten so hard you're nervous to fall in love again. Xavier's realness hits hard.
9. Kari Faux's got the vibe on "Night Time," on which she uses her characteristic sing-rap voice to seduce with sex and weed. She knows.
10. The plump pop hooks and pop-punk chords encase Eva Hendricks' strong chirps about insecurity on "Black Hole," from Charly Bliss. A true heartfelt gem.
11. Hyperdub producer Ikonika's "Manual Decapitation" sounds like the music that might play as you enter an ominous tunnel — only to find paradise on the other side.
12. Do you ever get tired of being you? Ever want to just burn it all down? Sadaf is intimate with that feeling, and her feverish, glitchy new track "Let It Burn" might help assuage your white-hot frustration.
13. "Shit is crazy/ Shit is Yaeji," the N.Y.C.-Seoul producer calmly asserts on "Feel It Out." Somehow Yaeji manages to build a sound that's secure, free-flowing, and welcomes anyone to dance.