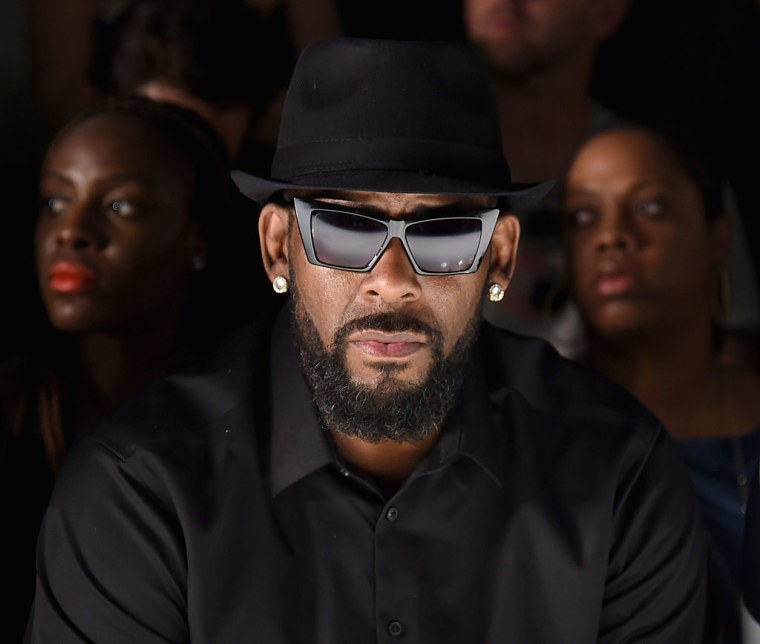 In a new report in Jezebel, a woman who maintained a sexual relationship with R. Kelly has verified the allegations of an abusive "cult" made against the singer this week, and revealed her own experiences. Kelly is accused of manipulating five or six young women with repressive relationships that control every aspect of their behavior. He has denied these allegations and promised to "pursue his accusers."
The woman — who is referred to in the new report as "Kim" to protect her privacy — claims to have met R. Kelly at one of his concerts about a year ago when she was in her mid 20s. When she began flying out to visit him, Kim encountered the group of young women at the center of the Buzzfeed story.
In both Buzzfeed and Jezebel's reporting, all of the women linked to Kelly's "cult" are legal adults. However, in Kim's account, one of the girls was involved with Kelly from her teenage years. "She's apparently been with him since she was 14 or 15. He was telling me that he 'raised her.' Those were his words," Kim told Jezebel.
The individual in question may be an 18-year old girl from Florida described in the Buzzfeed piece, although that report alleges the girl met Kelly when she was 17. Kim has no knowledge on whether or not the girls are the same person.
Kim alleged that Kelly "completely manipulated and brainwashed" the girls and maintained a "very controlling" grip on their lives. She said she "enjoyed" spending time with Kelly, but that their relationship was very different to the ones she witnessed: several upsetting incidents are spread throughout Kim's account. In one, she said Kelly punished a crying woman for an unconvincing performance in a sexual role-play by ordering her to put on heavy jewelry and run naked back and forth in a hotel room.
Kim regarded such behavior as "bizarre and slightly disturbing," but claimed that until the Buzzfeed article was published she did not know the extent that Kelly was exerting control on their lives. "It's not non-consensual, I guess," Kim said. "But I don't know if they even realize the situation they're in is wrong."
Kelly's attorney Linda Mensch denied the allegation of Kelly "raising" a teenage girl. Speaking to Jezebel, she said: "I think these things have to be proven. This is a very strange and unbeknownst allegation to us and there would be no way I could comment on it. It's irrelevant. We don't know who you're talking about. This is just an allegation."
Mensch stressed that Kelly and his crew are solely adults. "There are no children. No underage anything. I've never witnessed it."
Allegations of child abuse have followed Kelly throughout his career. In 2002, Chicago Sun-Times reporter Jim DeRogatis obtained a tape allegedly showing R. Kelly urinating on and having sex with an underage girl. Kelly was charged with 14 counts of child pornography and acquitted in 2008.
Kelly's marriage to Aaliyah, which allegedly took place in 1994 when the R&B artist was just 15, was annulled in 1995.