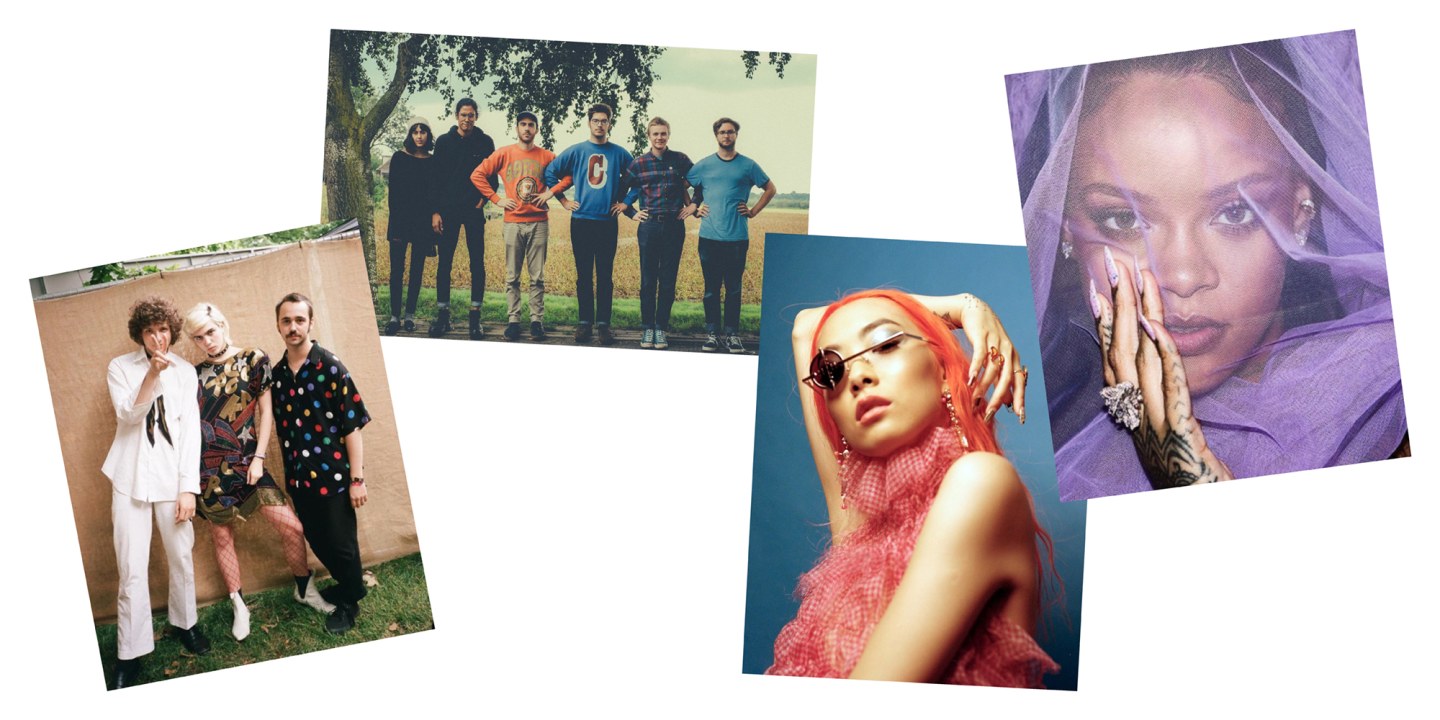 Each week The FADER staff rounds up the songs we can't stop playing. Here they are, in no particular order.
Subscribe to Songs You Need In Your Life on Apple Music and Spotify
1. Rihanna can really rap, duh, and her verse on N.E.R.D.'s "Lemon," sums up how 2017 was her year, again, in literally all the ways: "I get it how I live it / I live it how I get."
2. It's been almost two years since the last Pinegrove record, and frankly, "Intrepid," the scrappy folk-rock six-piece's melancholy new one, couldn't have come at a better time.
3. Chris Stapleton's new ballad revolves around a "Scarecrow In The Garden" who looks like Lucifer. It's beautiful, and probably best played while sipping whiskey in a porch rocking chair at sundown.
4. The new one from Lil Durk might bear the same name as a DeJ Loaf song, but his "No Fear" is as stormy-sounding and heavy as hers is bright.
5. "Saw the blood but it's not scary," sings Karin Dreijer on "Mustn't Hurry," one of Fever Ray's unnervingly good new songs. Expect no less eeriness from the video.
6. Sunflower Bean's "I Was A Fool" is one of those great sunny-sounding sad songs. It's fuzzy and wistful and a little bit country, like Rilo Kiley, or all the best Woods records.
7. A lil' trip back in time is always nice, and DJ Premier and ASAP Ferg take us there with a Harlem-set throwback track, "Our Streets." Premier even references Catch Me If You Can.
8. Palm truly sound better than ever on "Pearly," the wiggly and weird first single from their new album, Rock Island.
9. Wow, Rina Sawayama is cool as heck! And so is her song, "Take Me As I Am," which sounds like an early-'00s neon-pop deep cut.
10. Yung Lean raps about having no friends and no feelings and "feeling like Elvis Presley" on "Metallic Intuition," which feels just as dark as the title suggests.
11. One-man synth project Profligate is back with "Enlist," a tense industrial track with tearing and bubbling sounds that, in context, are actually kind of soothing.
12. Sassy 009's "Summin' You Up" is hopelessly spooky; the Norwegian techno trio might as well be chanting "summon you up."
13. The great Yves Tumor turned "Zure," by true icon Ryiuchi Sakomoto, into a whispery, supernatural, super-super-slow jam.