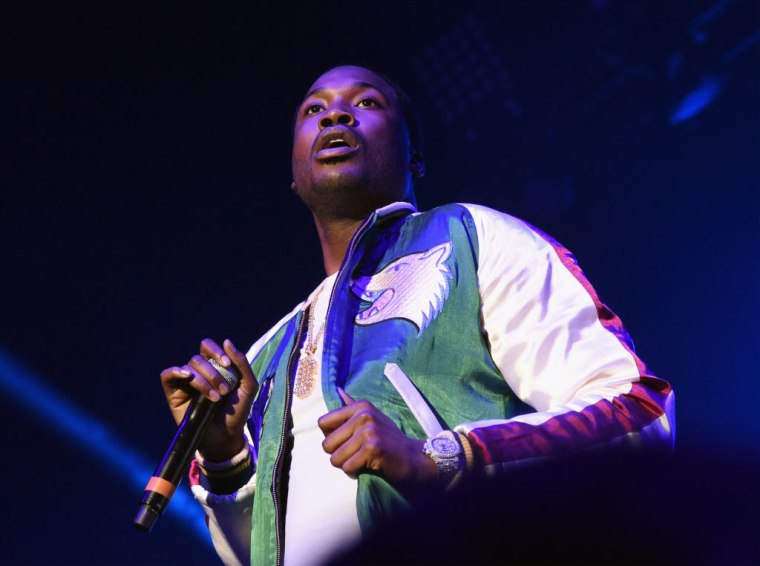 Meek Mill is out of prison on bail, freed by the Pennsylvania Supreme Court after questions began to emerge about the credibility of his 2008 guns and drug charges, which kept the Philly rapper on parole for a decade. Philadelphia's District Attorney Larry Krasner thinks Meek needs a new trial, but his attorneys say there's a big obstacle to his freedom: Judge Genece Brinkley, who's presided over Meek's case since it began in 2007.
Meek Mill's legal team have accused Brinkley of improper conduct. There's the allegation that Brinkley asked Meek to record a cover of "On Bended Knee" by Boys II Men, as well as the "unusual" interest they say Brinkley took in Meek's career. Brinkley has denied these claims, and refused to grant Meek bail despite the backing of Pennsylvania Governor Tom Wolf, Philly Mayor Jim Kenney, and D.A. Krasner. "I've been doing this for 25 years," Meek Mill's attorney told The FADER over the phone on Friday, "none of the legal team has seen anything like this before."
The case has exposed Brinkley's allegedly litigious history as well, with a Rolling Stone report detailing "dozens of civil lawsuits" allegedly connected to the judge. On June 4, Meek Mill's attorneys filed a motion asking the Pennsylvania Supreme Court to remove Brinkley from the case.
The lawyers pointed to two lawsuits filed by Brinkley that they claimed proved her unfitness to preside: a suit in which she claimed she was left "traumatized" after discovering a cleaner's name tag under her bed in her hotel room, and a separate civil lawsuit filed in April 2018 involving a car accident. The suit, which Meek Mill's legal team forwarded to The FADER, claims that the accident left her with "severe injuries" and "emotional distress."
Meek's legal team argue this filing is relevant to the rapper's case because it claims that the accident has affected the judge's job performance, and could continue to do so in the future. From the suit: "[Judge Brinkey] has in the past been and may in the future be disabled from performing her usual duties, occupations and avocations." Joe Tacopina thinks Brinkley's filing should disqualify her. "She's admitted within the last four weeks that she can't sit competently as a judge. But yet she won't get off this case."
Since Meek Mill's arresting officer Reginald Graham was named on a list of "tainted" Philly cops, around 600 post conviction relief appeals have been filed in cases managed by Graham and his unit. All of those cases have been transferred by their respective judges to Philadelphia President Judge Sheila Woods-Skipper, with the exception of Meek Mill's. That's highly suspicious, Tacopina says. "It's just ridiculous. It's not supposed to happen in a civilized society with a judicial system that's supposed to be the most fair and impartial in the world."
The Pennsylvania Supreme Court will consider the motion to dismiss Judge Brinkley, and may issue a ruling over the weekend. Tacopina says he's hopeful: "Ultimately, this case and [Meek's] conviction is going to be set aside and overturned. There's no question in my mind."
The FADER has reached out to Judge Brinkley's office for comment.