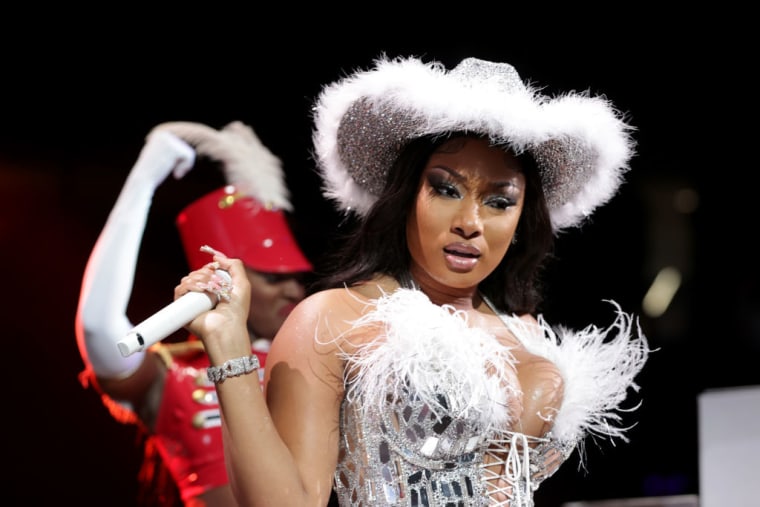 Megan Thee Stallion is being sued by her record label in a countersuit that claims her 2021 release Something for Thee Hotties didn't qualify as an "album" under her record deal, Billboard reports. Last month the Houston rapper accused 1501 Certified Entertainment of attempting to keep her locked into a deal after she has delivered what she signed up to in a "an effort to try to take further advantage" of her career.
In the new filing on Monday, March 21, 1501 Certified Entertainment claimed this statement was "groundless" and asked the Houston court to rule in its favor. In the suit, seen by Billboard, 1501 claimed Something for Thee Hotties features just 29 minutes of new material and that the label did not approve it prior to its release. Something for Thee Hotties was released in October last year and includes songs including "Thot Shit" and "Tuned In Freestyle."
"MTS knows that each 'album' must include at least twelve new master recordings of her studio performances of previously-unreleased musical compositions," the label's attorney, Steven M. Zager, said in a statement "She also knows that 1501 gets to approve the musical compositions to be included on each album. And MTS knows that none of that happened here."
The lawsuit also aimed criticism of Megan in other areas, suggesting her relationship with management company Roc Nation was the motivating factor in her bid to leave 1501. Roc Nation began managing Megan after her first manager, her mom Holly Thomas, passed away in 2019. 1501 said in court that the agency is "notorious in the music industry for trying to persuade its management clients to leave their record labels."
In a statement, Megan's attorney Brad Hancock responded: "This is yet another absurd attempt by 1501 to disregard Megan's album and squeeze more money and more free work out of her for as long as possible. We will ask the court to protect Megan from this type of abuse."
Megan responded via Twitter, publically accusing 1501 label boss Carl Crawford of including bills for his jewellery on a business expenses account.
My lawyers asked him for an expense report(money 1501 supposedly has spent on ME)… why this grown ass man put his jewelry and chains on there… lord free me from this joke ass label

— TINA SNOW (@theestallion) March 21, 2022
I choose not to say nothing back abt court and address shit online but im getting tired of being painted the BAD GUY 2/47 the last girl on 1501 mad at this man too !

— TINA SNOW (@theestallion) March 21, 2022
Bye im not speaking to nobody else on here ..see y'all in court

— TINA SNOW (@theestallion) March 22, 2022