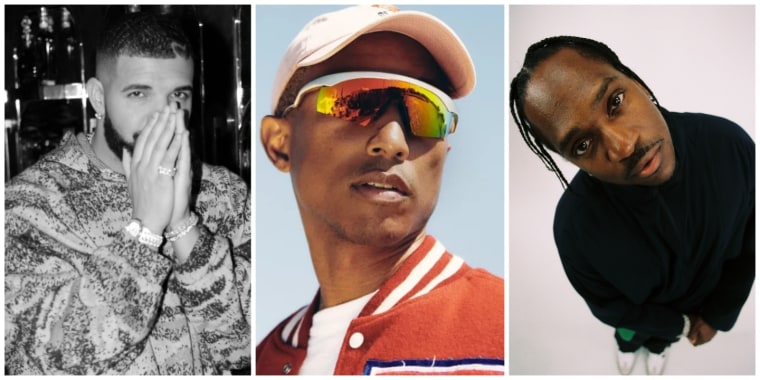 Drake has used his verse on "Meltdown," a track on Travis Scott's new album Utopia, to reignite his long-standing beef with Pusha T and throw some shots in Pharrell's direction as well.
Toward the end of his time on the track, Drake alludes to Joopiter, Pharrell's luxury auction house, where Drake may have purchased several of Pharrell's chains. "I melt down the chains that I bought from your boss," he raps, "Give a fuck about all of that heritage shit." Drake can be seen wearing the chains in his video for "Jumbotron Shit Poppin."
He also appears to dismiss Pharrell's elevation to Men's Creative Director at Louis Vuitton, a position previously held by the late Virgil Abloh: "Since V not around, the members done hung up the Louis, they not even wearing that shit."
Drake also references being sued by Vogue over a parody cover he and 21 Savage released to promote their album Her Loss (the lawsuit was later settled), rapping, "You lucky that Vogue was suing, 'cause I would've been with the Wassas in Paris and shit." Pharrel's debut Louis Vuitton show took place in Paris, and Pusha T was on hand to perform and walk the runway.
The Pusha T/Drake beef dates back to 2018, when some ghostwriting bars on Pusha T's "Infrared" led to Drake's response "Duppy Freestyle." The moment almost everyone remembers, though, is "The Story of Adidon," Pusha's response where he revealed the existence of Drake's son. Drake never released a full song in response, though he has discussed the beef in interviews since.