PARTYNEXTDOOR Speaks About His Music For The First Time
OVO's secret weapon spent the past four years finding himself. Now, he's ready to talk about it.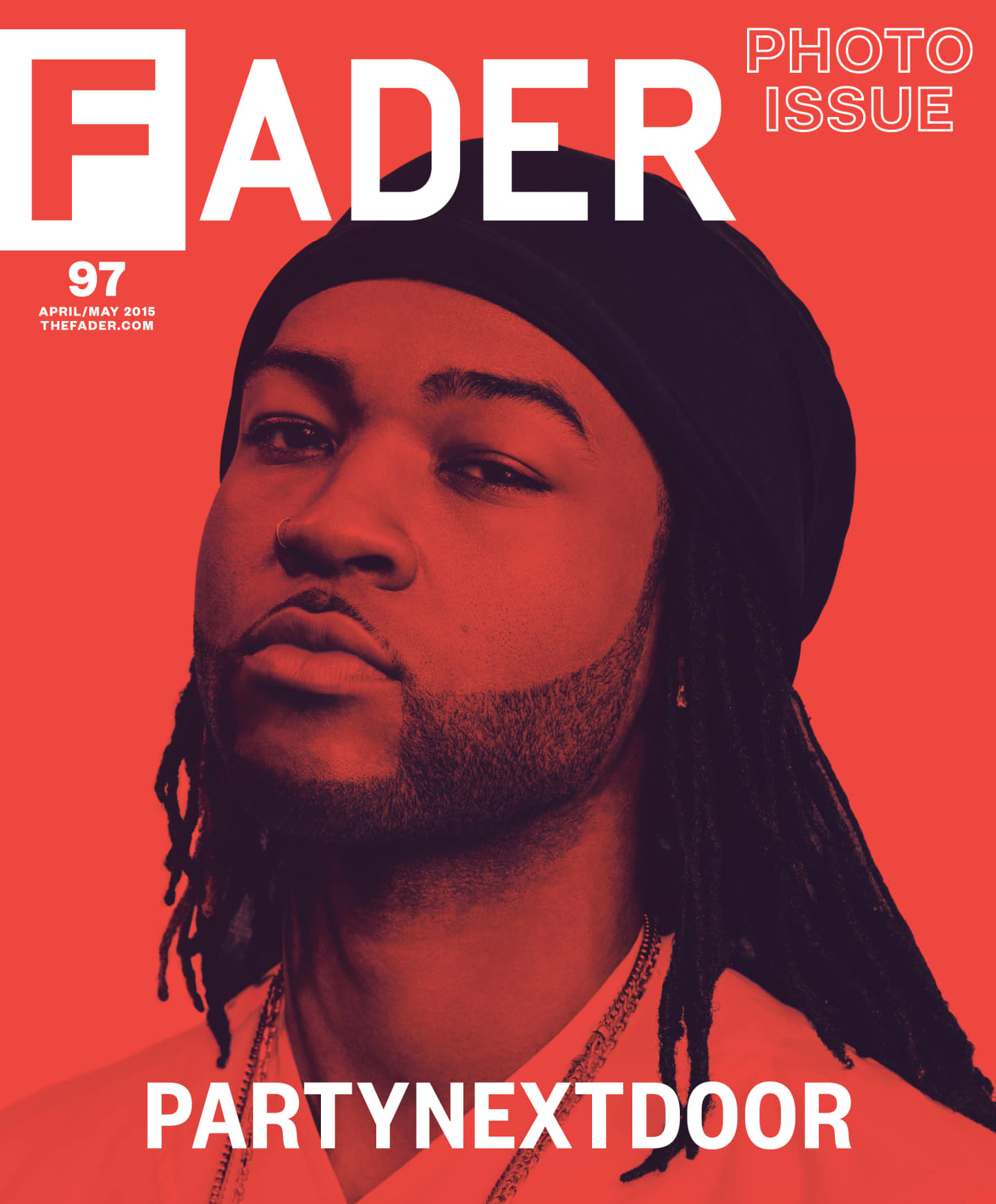 Pretty much everything you can find out about PARTYNEXTDOOR on the internet right now is true. The singer, songwriter, and producer, who's signed to Drake's OVO Sound label, has released two mixtapes and contributed to Drake's two most recent albums. The two music videos he's put out reveal him to be a handsome, brown-skinned man with a nose ring, shadowy beard, and chin-length dreads that he habitually covers with a du-rag or winter cap. He's just 21 years old, born on July 3rd, 1993, in the outlying Toronto suburb of Mississauga, Canada. He once performed as Jahron B., an abbreviated version of his government name, Jahron Anthony Brathwaite. And that's about all you can find out about PARTYNEXTDOOR on the internet right now.
Since the wider public became aware of his existence in 2013, after his squirming track "Make a Mil" debuted on the October's Very Own blog, Party has managed to keep a curiously low profile, even as he's racked up SoundCloud numbers, been cosigned by Drake and Kendall Jenner, and embarked on an international tour. This is his first interview of any kind.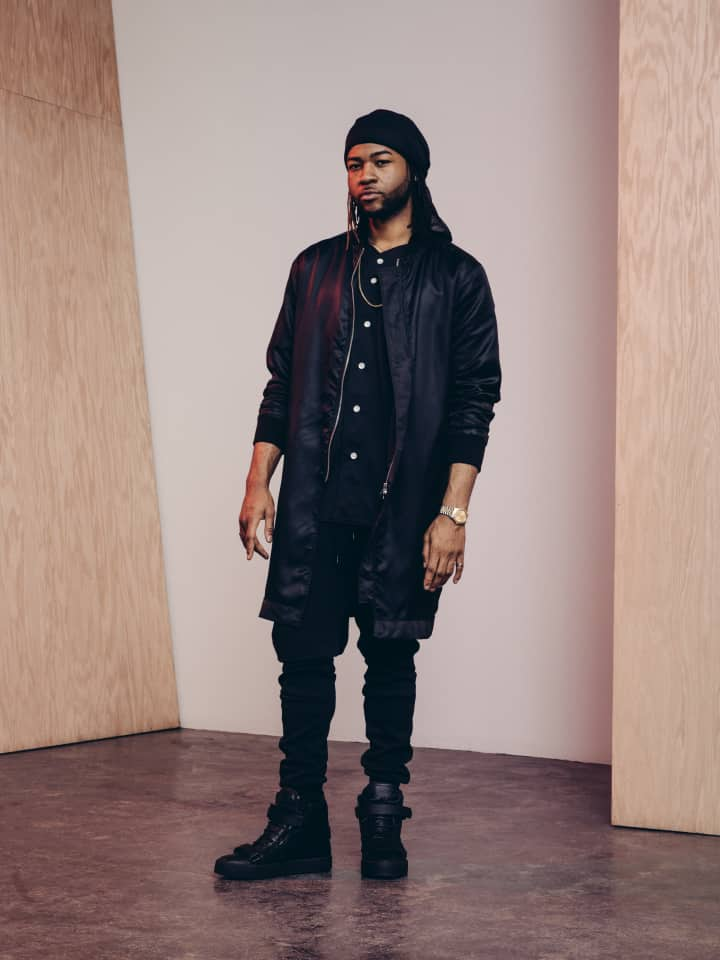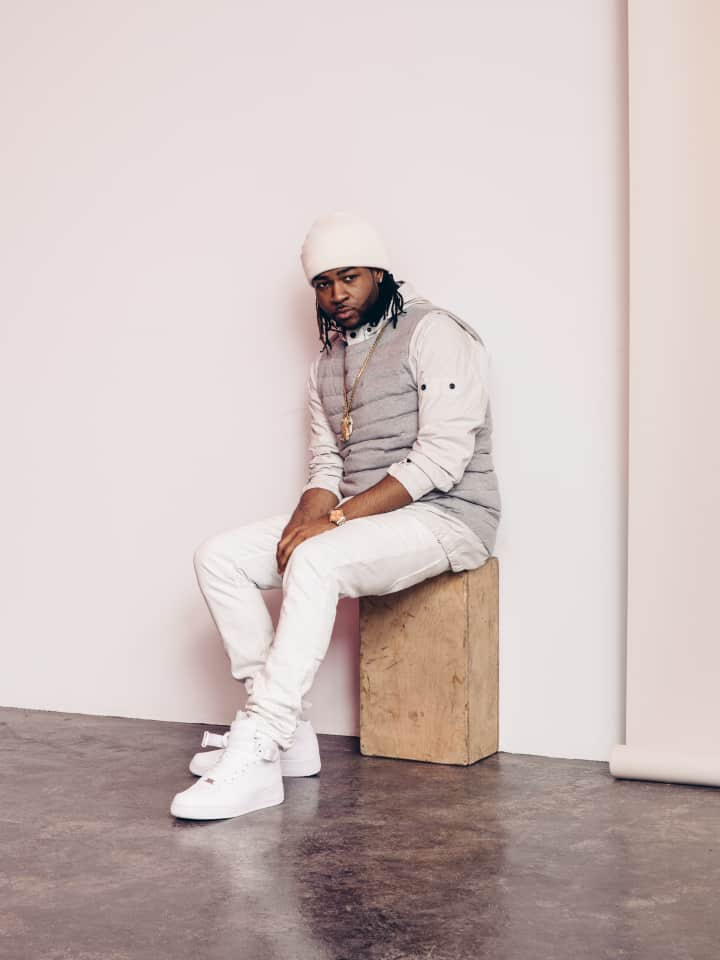 The first time I saw PARTYNEXTDOOR in person was this March, at a sold-out show at New York's Irving Plaza, where his performance inspired not so much a chorus of support than feverish screams and chanting. Onstage, he was an engrossing and grateful lothario, walking into the photo pit to pour champagne for fans, dapping up dudes reaching over their shrieking girlfriends, and serenading one chosen, striking young woman with a septum piercing. The mostly college-aged disciples in the crowd were shouting along with every word, as if they just wanted to be heard—if not by Party, then by the slush-covered blocks of east Union Square, where the line for the show began collecting bodies some four hours before doors opened.
Party specializes in a regionless strain of modern trap music that borrows heavily from '90s R&B, the thunderous crunk of post-Gucci Mane Atlanta, and the dreary and emotional hip-hop patented by Drake and the OVO team. He cites Jodeci, Boyz II Men, Blackstreet, and 112 as early influences—"all of the stuff my dad would play a lot of"—and now shares a lane with the likes of Young Thug, Travis $cott, and Ty Dolla $ign, imaginative young artists who, like Party, toe the line between rapping and singing. As a vocalist, Party came up in the church, which he attended with his mom, who also sang. When he joined the choir as a preteen, he was so advanced for his age that he was bumped up to the program's senior group. Now, when not spun through Auto-Tune, his tenor recalls a braver Ralph Tresvant.
Two days after the show in New York, he's sitting at the cramped dining shelf of a tour bus parked in front of Philadelphia's Theater of the Living Arts, where he'll play another sold-out show this evening. In person, PARTYNEXTDOOR is taller than you'd expect, a graceful 6'2" with the confident air basketball coaches refer to affectionately as "court presence." His speaking voice carries the distinctive cadence of Jamaican patois common to many who've grown up in Toronto's melting pot. "You'll see an Asian person with the strongest Jamaican accent and you won't even look at him funny in Canada, cause you understand," he says. But Party's parents really are Caribbean: his mother is Jamaican and his father Trinidadian. Despite claiming to have been up until six in the morning talking with his road manager, he's cordial and appears rested, dressed in a promo sweatshirt from the Connecticut venue where he performed a week ago. It's afternoon, but he hasn't had breakfast. He prefers not to eat shortly after waking, one of the careful habits he took on some three years ago, when he adopted a loose version of the paleo diet and conquered his adolescent huskiness.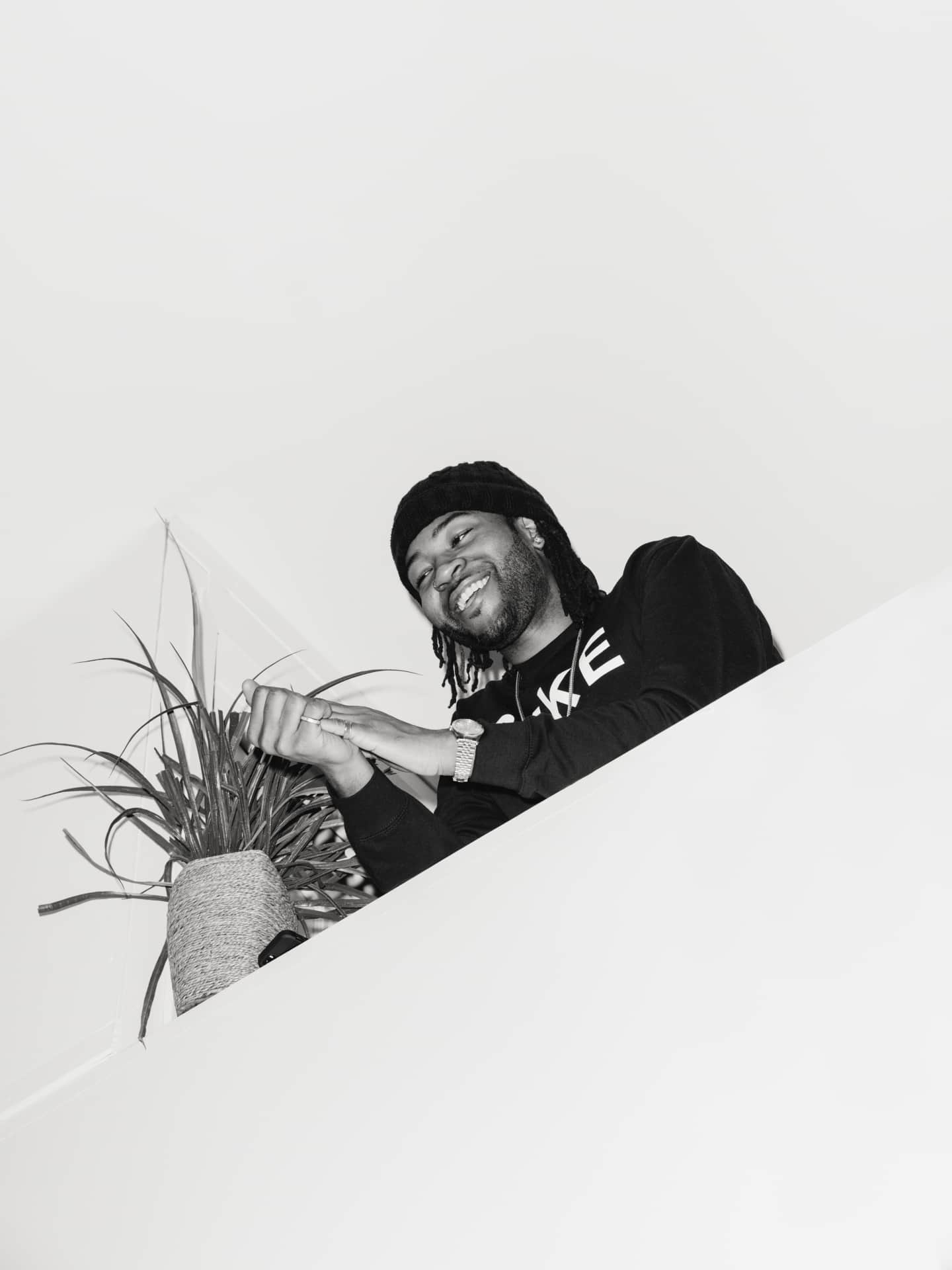 Before PARTYNEXTDOOR, Party tried to launch a career as Jahron B. In high school, when he began making music in his bedroom, he'd dreamt of working with Drake, Noah "40" Shebib, and Oliver El-Khatib, a team whose success was seemingly endless. "I know how to use computers," he recalls. "I was one of those guys on Myspace who had one of those fake hit counters." He reached out to established producers and labels, hoping to build a collective of likeminded creatives, but those who responded politely declined. "They just didn't see it," Party says. "So I was like, 'Okay, cool, Imma learn how to produce my own beats,' and I stuck to it. Now, it's hard to even take a beat from anyone else."
Eventually, Party was discovered on Myspace, by a manager. He left Mississauga at 17, for L.A., where nearly all of his living expenses there were paid for by the manager. "My mom was giving me 50 bucks every two weeks to pitch in on groceries," he remembers. "In my mind I'm like, 'Okay, I gotta pay my mom back this 50 bucks.' Those were the things in my prayers every night. That drove me. Like, I gotta get this deal." Party now says his old management has now been fully reimbursed for their investment, "times two."
"I would never call myself mysterious. The word I use is 'private.' I'm not hiding from pictures. When you see me, I'll say whassup." —PARTYNEXTDOOR
At 18, Party signed a publishing deal with Warner/Chappell as a songwriter. He submitted songs to Justin Bieber and wore his hair in a perm. None of the songs were ever cut. However, a few demos from this era, alongside covers of Michael Jackson and Aaliyah, can be heard on an unauthorized internet compilation called The Jahron B. Collection. Though steeped in melody and story, most of the songs he'd written for other artists were bland, the sort of pop that anyone could sing but by which no one would feel truly represented. But one track from the collection, among the first he wrote as PARTYNEXTDOOR, provides a glimpse of the raw self-assurance he'd end up finding. Unofficially called "Daughter," it's a brutal letter to his unborn child, detailing a drug-fueled one-night stand that led to her conception. This is a message for my daughter/ I hope you're nothing like your mother/ This is a message from your father/ I hope you're nothing like your mother, the chorus repeats. "Long story short, all those things happened," Party says. "She just never gave birth to the child. And if she didn't take those steps to no longer be pregnant, that's what I would have to be saying."
Party says he "outgrew" songwriting for others after realizing his music was becoming too personal to sell to anyone else. Getting to that point took an unexpected lifestyle change. "I think too much, which is a blessing and a curse," he says. "I was so against smoking weed cause I always wanted to be in control, but my friend convinced me to smoke weed one day. And as soon as I smoked weed, that's when I started writing like that." He moved from L.A. to Miami, and his music began to reflect the recklessness of his lifestyle as a teenager living and partying in South Beach with the adults who formed his management's inner circle. He took meetings with Jimmy Iovine and pitched himself as a solo act. "Here's music that's written and produced by one guy but no one else could sing," he explains of his plan to escape writing for other people. "So just let me sing my songs and sign me as an artist. Cause this is the only music I'm going to make. I created my own world, and you're gonna have a hard time shopping this." He took the name PARTYNEXTDOOR from a production filter in the Fruity Loops program, one he thought sounded closest to whichever one 40 used.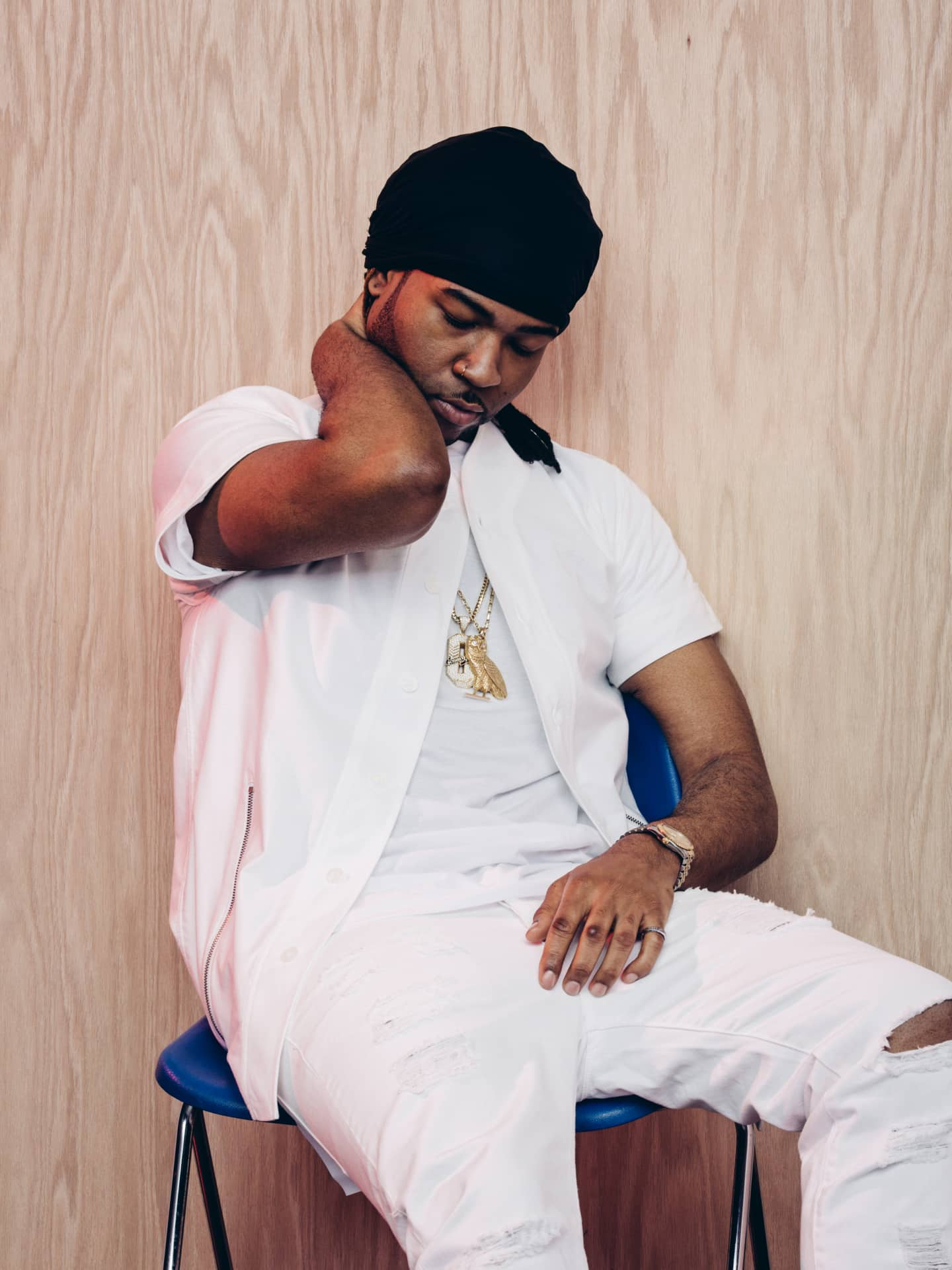 In early 2013, PARTYNEXTDOOR's music found its way to OVO. "I'm eternally interested and curious and looking for that new hit, to feel something that I've never felt," says the label's co-founder Oliver El-Khatib, over the phone from Toronto. He first received Party's music from frequent Drake producer Boi-1da, who sent some songs over from an email address El-Khatib didn't recognize at first. "I'll just listen to anything," El-Khatib says. "I give my email address to anybody. I was getting these emails from a random address, and I started listening, and it was crazy. So I hit back like, 'Send me more, I need to hear more,' because that's how I gauge how consistent it is. Is it two flukes? Or is this like a sound, is this cohesive? He kept sending me more, and I started to get really into it and playing it for 40 and for the boy."
"Oliver called me back in the morning," Boi-1da remembers. "When you get a call from Oliver, it's serious. Then Drake hit me back like two days later, like, 'Yo, that Party kid's nice!'" Party says his first meeting with the OVO camp took place in the back of El-Khatib's Range Rover, "on some random street" in Toronto. Now, El-Khatib tells me that it's Party's uncompromising vision that makes him OVO's secret weapon. "He's the rare breed that writes, produces, engineers, performs, sings—all in one artist. He's pulling all of the strings, he's doing everything, so you hear his final production exactly the way he envisions it," he says. "That is a privilege for any artist. You look at the only other artists that are able to manipulate like that, and it's Kanye West."
Party produced the entirety of his self- titled debut, its follow-up TWO, and 2014's PNDCOLOURS (on the latter, one song was co-produced, by Cardo). He also produced three standouts on Drake's If You're Reading This It's Too Late: "Legend," "Preach," and "Wednesday Night Interlude," the one song on the mixtape that does not feature Drake. (This honor had been bestowed just once before, to Kendrick Lamar.) Even as a member of the OVO crew, Party is making all of these beats strictly on his own. "I haven't gone to the studio with anybody, not enough to learn from them," he says. "Not 40, nobody. Me and Drake are hardly ever in the studio working." He loves to experiment with his own voice, and takes pride in the fact that different songs of his sound like they belong to different singers. Live, Party sings without any special effects, but he makes no apologies for his continued use of Auto-Tune on his records. "The first time I heard Auto-Tune, it was not via T-Pain," he says. "It was via people I listened to with my cousins, cultural shit like Vybz Kartel and Mavado, who would scream and belt the hardest shit out."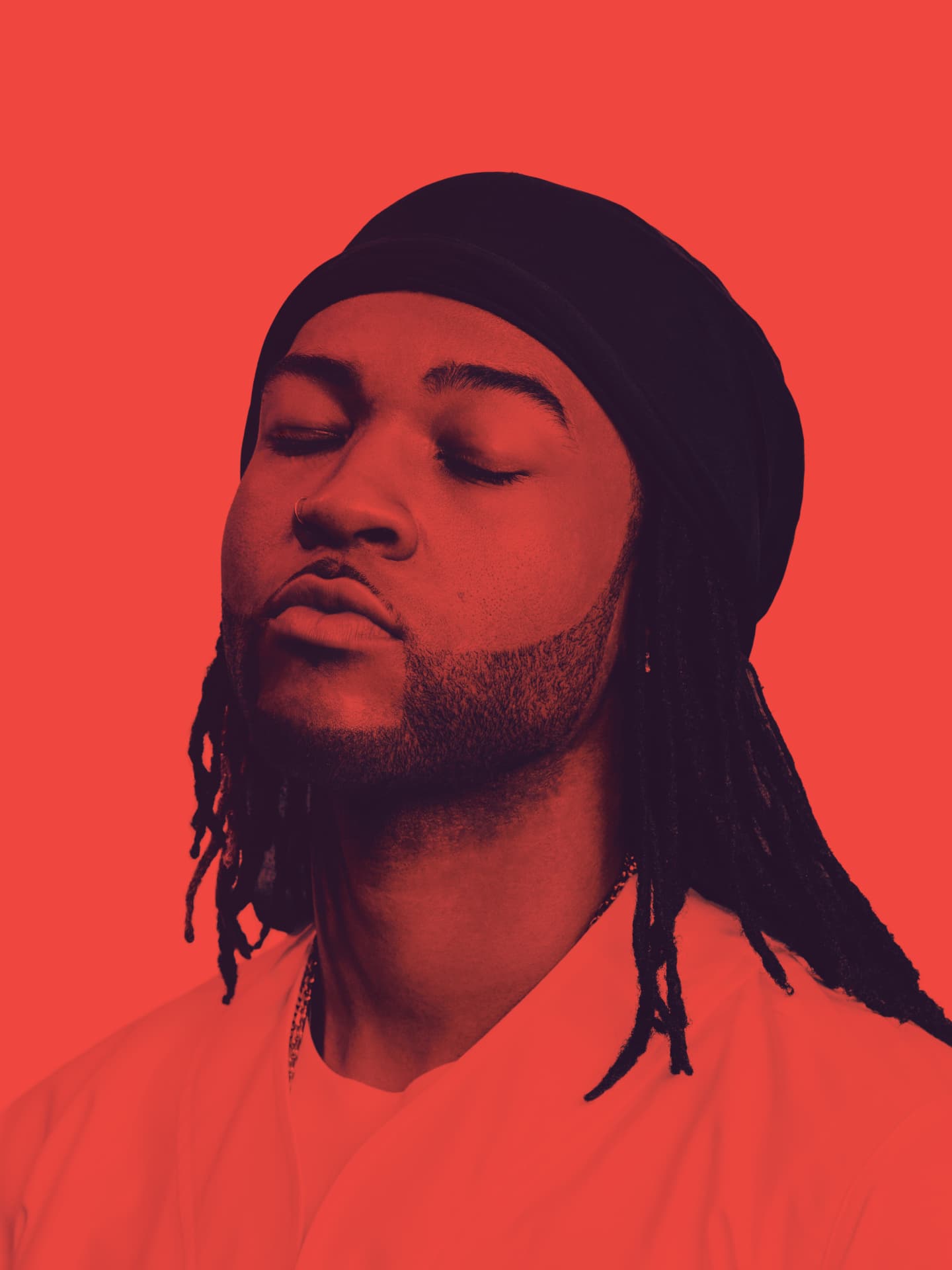 "Hard" is also a good word to describe the way that Party can be heard serenading females, in language many would identify with a back-alley dice game. How you wear this loyalty so fuckin well/ I wanna tear the kitty, watch the pussy swell/ I ain't afraid to cross the line with you, I ain't afraid to do a line with you, he sings on 2013's "Relax With Me." On "Recognize," Party's biggest hit to date, he courts a woman who has countless other lovers (to match his own stable, to be clear), but whom he would love to honor regardless: I don't care about your nigga, four niggas/ Five niggas, six niggas/ I ain't give a shit about shit. On "FWU," he simply howls, I just wanna fuuuuuuuuuuuck.
PARTYNEXTDOOR is hardly the first to encourage reckless infidelity or to curse while he coos, but his brand of ecstatic real-talk resonates especially well with a young generation that's weary of traditional relationships. Above all else, he is honest, speaking to his lovers the way a lot of young men wish they could. "I feel like I have a different perspective: just skip the bullshit," Party says. "But I don't feel like I'm disrespectful. Do I say disrespectful stuff in my music?" He polls the current inhabitants of the tour bus, which at the moment contains four men, all of whom say no. "I'm not disrespectful at all," he concludes, "but [my lyrics] are things I say, or have said. I can't just go in the studio and make music. I'll make a whole bunch of beats whenever, but unless I'm living through something or have a female in mind, or have a conversation in my phone I could scroll through, I'm not making music. I don't reach for things, like, 'Oh my god, let me think of the wildest thing to say tonight.'"
"I get on the phone with the label and I'm like, 'Am I doing everything the right way? Let me do an interview cause no one's paying attention. And then I get a wake up call when I stand up in front of a show." —PARTYNEXTDOOR
Critics often lump PARTYNEXTDOOR in with fellow Toronto-born, OVO-nurtured singer The Weeknd, but the comparison is lazy if not inaccurate. Though both artists sing songs that dissect the emotional tolls of sex and relationships from the perspective of the endlessly desired, The Weeknd's music is considerably more detached, if not altogether devoid of the soul one finds in Party songs like "SLS" or "Let's Get Married." "People throw that [Weeknd comparison] over me because I came at a time where people assumed I was there to fill a void," he says, alluding to The Weeknd's departure from the OVO fold in 2012. And though PARTYNEXTDOOR's music includes touchstones of the "dark" aesthetic The Weeknd became known for—mentions of drug use, screwed-up vocals, gloomy sax riffs—Party considers the idea an affront to his versatility. "A lot of things that came out of Toronto were darker at the time. But me? I'm all about colors. I'll flip samples where one's a completely dark song and the next one is a complete sexual song. People think my whole thing is a dark thing, but I don't."
Party and The Weeknd also both shared an early aversion to press, turning down interviews in the hopes that their music would speak for itself. But as Party sees it, his silence wasn't part of a personal calculation for greater notoriety, just an extension of how he is. "I would never call myself mysterious. The word I use is 'private,'" he says. "I'm not hiding from pictures. When you see me, I'll say whassup. I just don't wanna live in this fantasy where I act like everybody cares, and then I look like a jackass with someone filming me in the airport."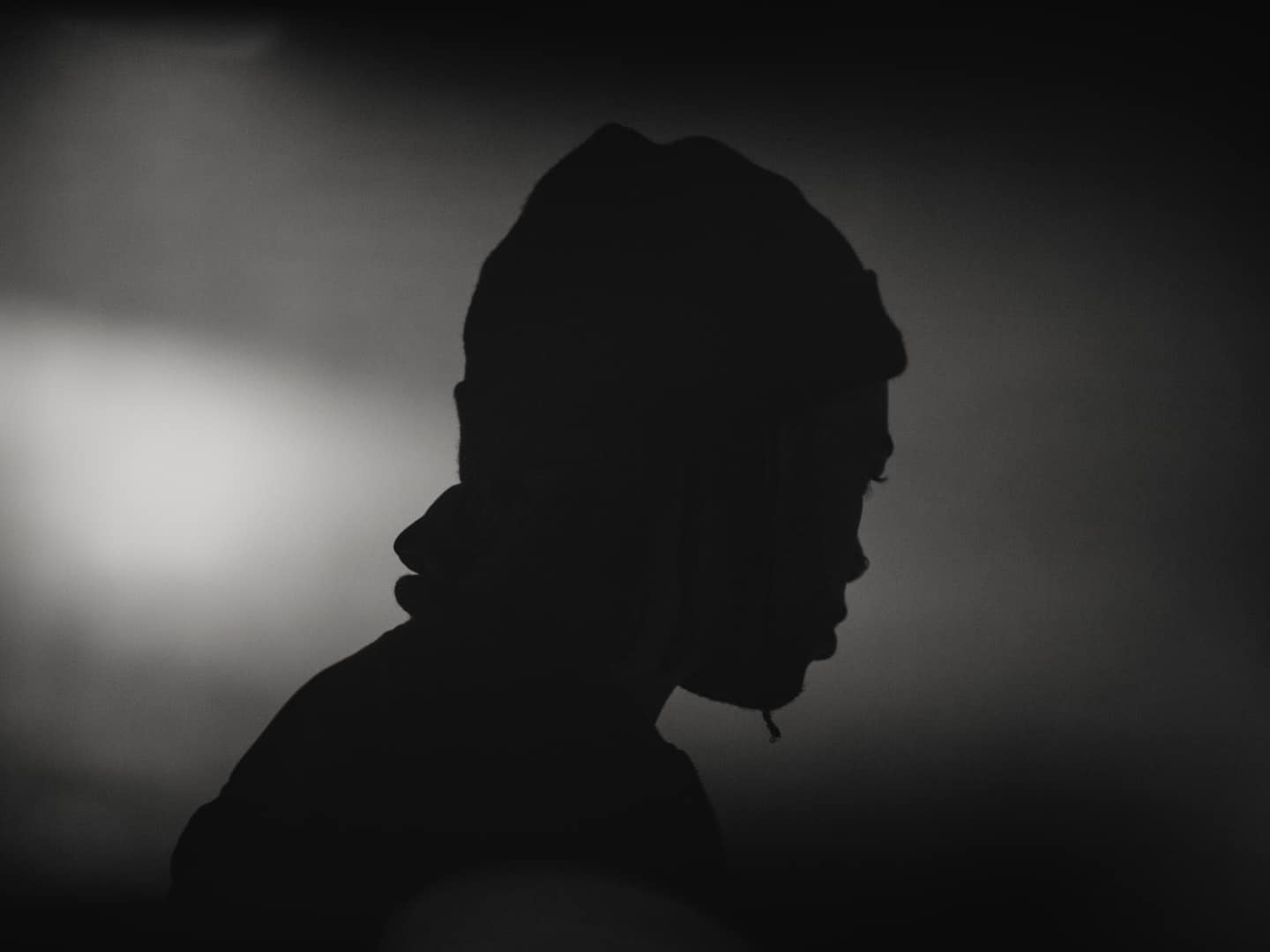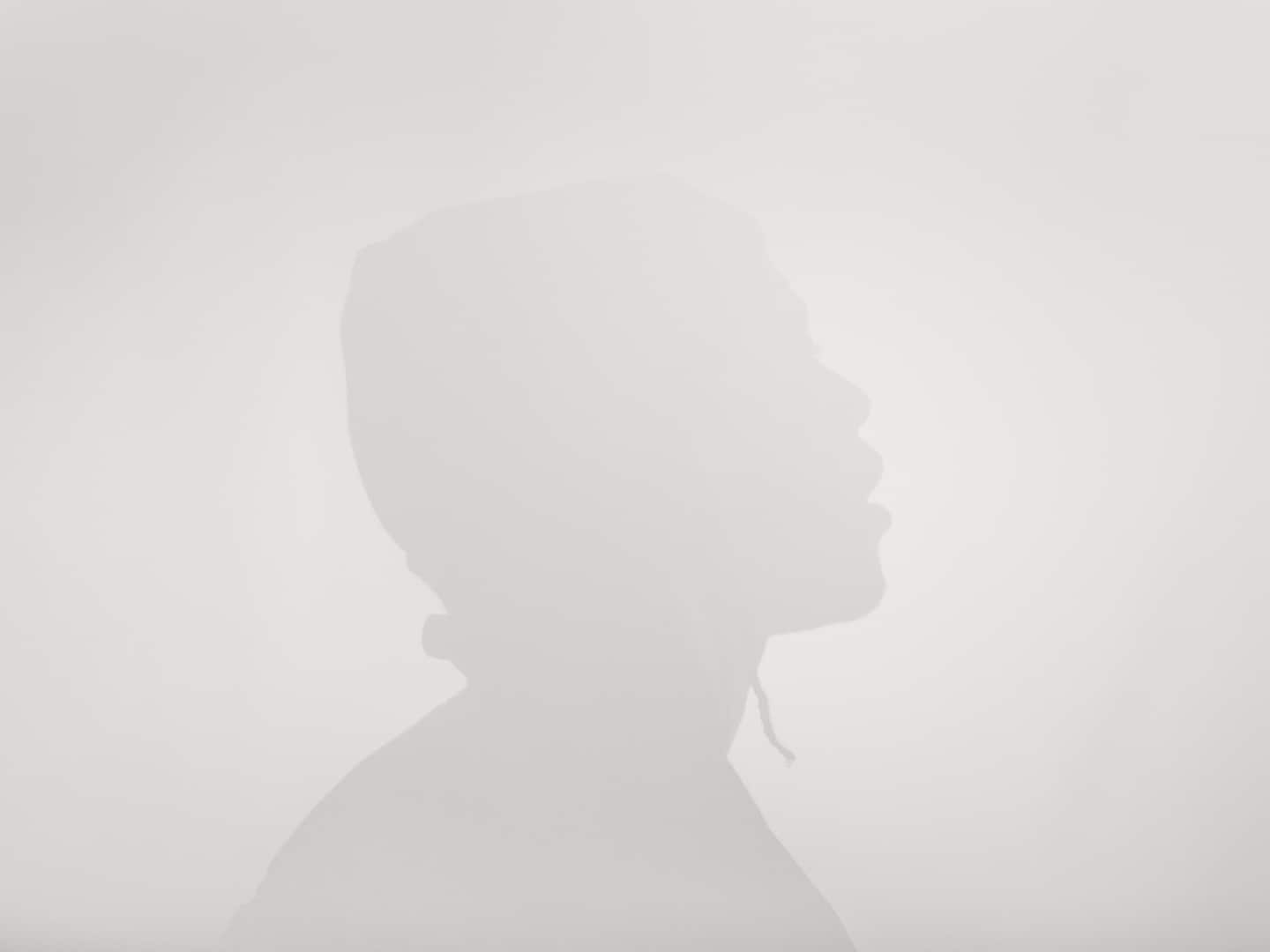 Party's outlook runs parallel to the ethos of OVO's greater plan. According to El-Khatib, these days, withholding access is the way to build a sincere fanbase. "It's not to be annoying or pretentious or purposefully mysterious," he says of Party's rollout. "It's about, 'What is he ready to say at this point?' Let the music work. I think for a lot of the OVO camp, we can say it so much better with music than we can in real life. So why even bother try putting things in words? It only dilutes the potency of the art." El-Khatib says Party's success is partly thanks to how well his music aligns with Drake's, the guiding force of the OVO brand. "We're talking about Party at this juncture in time because we made a plan—in my mind—to put out a couple mixtapes, and find a synergy and congruency with Drake in his music," he says. "I kinda feel like this is a flawlessly executed introduction of a new artist, to be honest. You're familiar with him, but at the same time you feel like you know nothing about him and you want to hear more. That's, like, the ultimate red carpet entrance."

Party says the shows on his current tour, and the diehard fans they've drawn, confirm that keeping quiet worked just fine. "I get on the phone with the label and I'm like, 'Am I doing everything the right way? Let me do an interview cause no one's paying attention,'" he says. And then I get a wake up call when I stand up in front of a show."
After a meal of chicken parmigiana and steamed spinach in Philly, Party makes his way to the venue in a pair of sweats. On this tour, he performs in front of a 30-foot-long, V-shaped screen, which, to emphasize the mood, plays slow-motion images of waterfalls, swaying palm tree branches, and flocks of doves flapping their wings. During soundcheck, he tucks himself into the seam of where the screen folds, turns his back to the theater, and sings down into his mic like a child mumbling to himself during a time-out. It's a stark contrast to the actual performance that night, when he stalks the stage in a customized baseball jersey and tight white jeans. The crowd in Philly isn't quite as loud as the one New York, but the room's energy is undeniable as Party sneers his way through "Don't Worry," the most aggressive record he's released to date.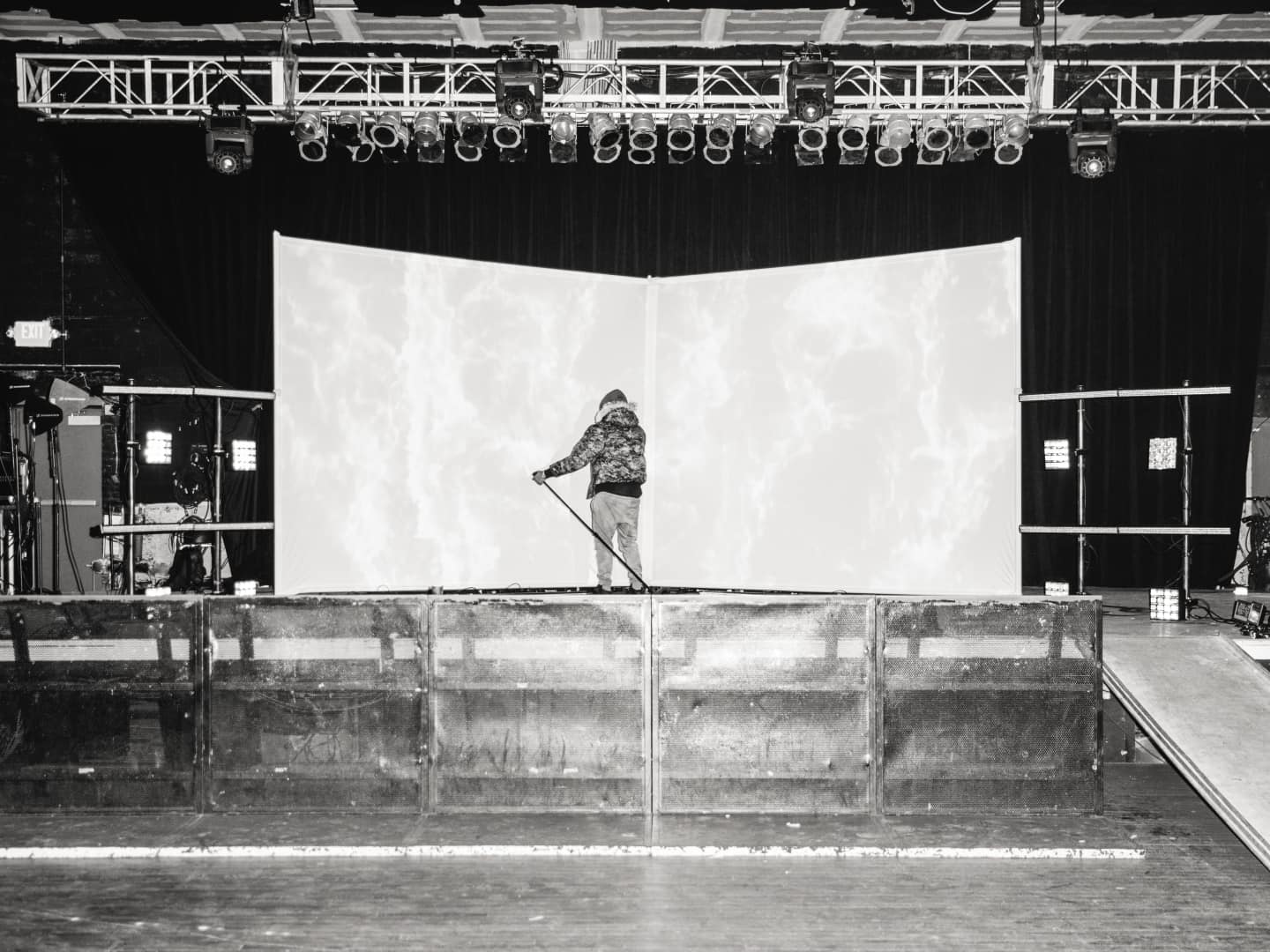 Immediately following the show, Party hosts a meet-and-greet for a truly diverse array of characters. There's a pair of curly haired girls in tight patterned dresses that make them dead ringers for Miami Beach bottle service girls, and a pudgy kid in a designer shirt who's accompanied by his mom, who asks for Party to take the kid on as an intern. When a group of petite girls asks to take a selfie with Party, he politely explains his no-selfie rule, instituted after some photos taken with a girl from Miami landed him on the gossip site Baller Alert, in a blog post detailing a fabricated relationship. (Throughout our time together, Party declined to answer questions about his current relationship status, including when pressed about 19-year-old singer Kehlani, the rumored subject of his song "Girl From Oakland.") Next, a gangly dude with an expensive digital camera asks Party if "Férina," the word adorning all of the shirts and beanies of Party's entourage, is the name of his debut album. "Nah," Party says with a chuckle. Noticing the man lingering for a proper explanation, Party tells him he'll find out soon. Férina, he'll later explain to me, is crew slang for a declaration of approval, the way those of a certain age say "true" or "word." If you bend your ear hard enough it sounds like a patois portmanteau of "for real now."

Soon, Party's back in his dressing room, packing up his outfit choices before the bus pushes off to D.C. In the two weeks that follow, his tour will snake its way through the midwest, then hop over the Atlantic for a European leg. When he can find the time, he'll work on new beats on the bus, but he won't pick up recording his new EP until April—not because he needs to be in a proper studio, which he actually likes to avoid, but because he needs a clear head.
His tour manager tells me that, on tour, the team has instituted what they call "dark hours," where Party is left alone until he texts someone in the crew or emerges from his room on his own. Whether he's making music in there or just taking a nap, that solitude speaks volumes. Being seen as the reserved guy who's nevertheless down to indulge all the distractions of the road—the money, the women, the friends and nightlife—is part of what makes Party and his music so relatable, but that's also only part of who he is. First interview or not, how he turns his experiences into searing hits has always been a secret he keeps to himself. "I make 99 percent of my music sitting down, in boxers, when I'm comfortable in my computer chair," Party says. "Cause I do everything myself. I hold my mic [when I record]. I held my mic for every song I released. I just wanna feel like I pick it up and I just talk. I say what I have to say."

Styling Elsa Lam. Grooming Allie Smith.