Why Jazz Will Always Be Relevant
How jazz tripped from blues to rap, and why we need it more than ever.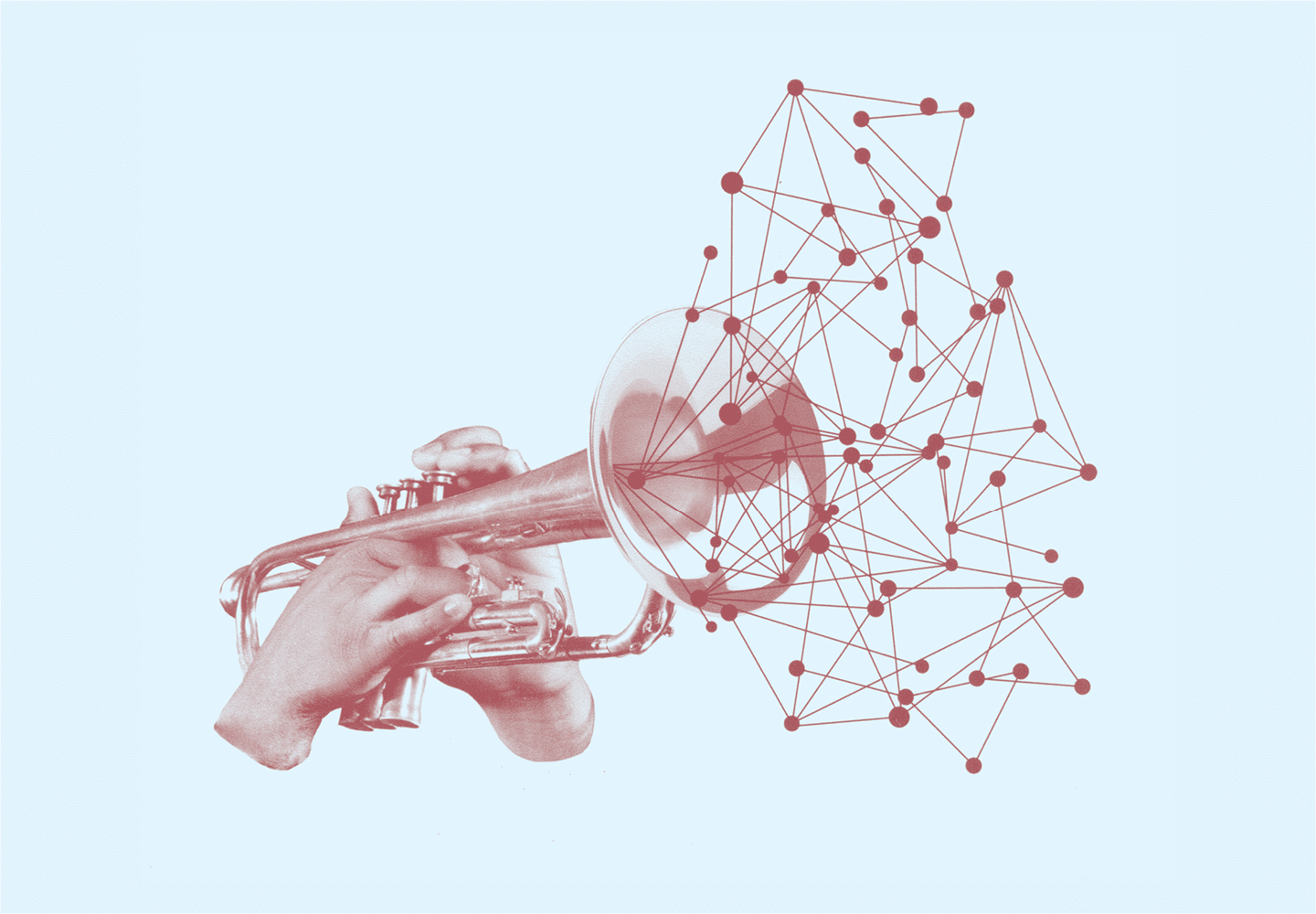 Quiet as it's kept, the music we call jazz began life as an experimental remix of dance grooves from Africa and Europe that got chopped and screwed by high-stepping bluesicians of New Orleans over a century ago. From the git-go, the jazz thing has been as much about alchemy as flashy chops.
Everything we love about modern song, noise, and dance sprang from swing and bebop roots: R&B, rock, Motown, funk, disco, hip-hop, Detroit techno, Chicago house, drum & bass, et al are all extensions of a movement-inciting continuum that started in antebellum New Orleans' Congo Square—breakbeat culture's ground zero. It was the explosive site where enslaved Africans were permitted to get their ya-yas out to the beat of the drum—well, at least until the human traffickers of that time figured out rebellion was also being plotted in the Square under the cover of a funky good time. Same as it ever was.
Early New Orleans jazz connected those rebel riddims to funereal and carnivalesque marching band stomps; Jelly Roll Morton decided ragtime piano was needed to further excite the cipher of tubas, trumpets, clarinets, bass drums, and tambourines. Duke Ellington brought a rich palette of colors to big band swing that was adopted from the spirituals, Debussy, and Stravinsky. Louis Armstrong made a trumpet emulate a man laughing to keep from crying his eyes out and transformed his singing voice into a sardonic freestyle horn. What did I do to be so black and blue? Armstrong inquired in 1925, and his existential query has yet to stop worrying the minds, bodies, and souls of African-Americans to this day.
Collage, cut-and-paste, sampling, remixing, and genre contamination has been a preferred mode in African-American music since the 1800s.
The flavors that Armstrong's triumphant horn shot out so perplexed the French manufacturers of his instrument that they sent engineers to his first Paris concerts to find out what modifications he'd made to his trumpet. Sacre bleu could have been the only response when the builders realized Satchmo's ancestral African lips and tongue were the only technological innovations at play.
By the 1970s, Sun Ra had already pioneered the introduction of electric pianos and Moog synths into serious freedom jazz: Miles Davis had strapped a wah-wah pedal to his horn and was in the studio making vicious breakbeats with tape loops, tabla players, and live handclaps on electronic jazz masterpieces like On the Corner and Get Up With It. Students of Miles—like Herbie Hancock, Chick Corea, and Weather Report—soon followed, with sublime composition, improv chops, and grooves steady enough to yank in hardcore disciples of James Brown, Sly Stone, and Funkadelic. Meanwhile, Maurice White's Earth, Wind & Fire so wickedly blurred the line between avant-garde soul and electronic jazz as to render distinctions between the genres patently absurd.
In a nutshell, the pioneers of '80s and '90s breakbeat dance culture were following precedents set by jazz musicians of the 1920s, '40s, '60s, and '70s—even if some didn't know it. Not entirely their fault: serious jazz got a lot less concerned with the dance floor from the mid-'40s on, thanks to Charlie Parker and Thelonious Monk, who were more concerned if their virtuosic flights made them happy than if they did everyday people; all the serious hoofers, toe-tappers, and lindy-hoppers got the message and moved on. Where they moved to was a hot, newfangled conflagration of gospel beats and vocalizing gone blasphemously secular, jazz harmonies and gutbucket blues forms—all that mess being pioneered by one Ray Charles. This kitchen-sink template set the stage for everything that's come down the pike since, from mojo-handed talents as diverse as Little Richard, Nina Simone, Jimi Hendrix, The Isley Brothers, Larry Levan, Ron Hardy, A Tribe Called Quest, and Lauryn Hill. Collage, cut-and-paste, sampling, remixing, and genre contamination has been a preferred mode in African-American music since the 1800s.
Guru and DJ Premier of Gang Starr did much to assert the common humanity and creative urges of rappers and beboppers in their collaborations with Donald Byrd and others on their epochal Jazzmatazz series of albums of the late '90s and aughts. They sparked a breakbeat-jazz hybrid scene on both sides of the Atlantic that yielded much musical fruit for a brief time but never cracked the blinged-out materialist hip-hop mainstream of the late Clinton and early Bush years. The Soulquarian Movement rallied by The Roots to assemble D'Angelo, OutKast, Jill Scott, Common, Bilal, Black Star, and Erykah Badu under one roof, and all threw hints and flashes of their own jazz genes into the conversation for those who knew the codes.
On the contemporary set, cats like Christian Scott, Jason Moran, Flying Lotus, Thundercat, Marc Cary, Vijay Iyer, and Robert Glasper are reuniting the urge to cunningly improvize with the urge to move the crowd. So of late we're seeing a revival within the jazz world of electro-acoustic forays that refuse any opposition between software-driven sonic modernity and a good old-fashioned bebop-infested blowing session—both in the studio or on the stage. Ironically enough, as DJing has evolved into a standalone art form, it's become much akin to '60s freedom jazz, drawing crowds who don't feel weird about gathering to hear turntablists experiment in public with their craft.
As frequently happens when the gems of our parents' eras undergo rediscovery, old rhetorical baggage fades and the glorious innocence of crate-digging for soul gold remains.
The ever-ambitious Flying Lotus—grand-nephew of Alice Coltrane and her husband John, a far-flung composer of dream-dusted cosmic music in his own right—has done much to surgically conjoin the beatmeisters and jazzers of now through his Brainfeeder label. It's an enterprise which in a relatively short while has normalized the curious drift of instrumental improvisers to the dark side of hiss-and-glitch clouded boom-bap, and vice-versa.
Political upheaval and jazz revivals tend to go hand in hand for African-Americans, and this Black Lives Matter-defined moment is no different in that regard. The jazz-damaged hip-hop artist of now who has made the convergence of ambient sonics, beats, and sexy improv seem inevitable, a seamless fait accompli, has been Kendrick Lamar—especially given how fluidly and fluently he deployed Glasper, Thundercat, and other bi-coastal jazz pros in the composing process that produced To Pimp a Butterfly. Because critics were so quick to label the album a black protest psalm, Butterfly hasn't yet been fully recognized as the Bitches Brew of our time—an artist's nuclear meltdown of this era's dominant musical tropes into a definitive abstract-expressionist statement—one that We The People can feel, call and respond, rally around, freely quote, space out, get our wiggle on to, etc., etc.
Butterfly is a bedazzling combo of beats, rhymes, and live in-the-studio experimentation. Jazz heads have no choice but to flip over "For Free," a straight-up freedom swing where Kendrick turns rapping into scatting and what author Jack Kerouac called bebop prosody, while string and drum breaks pop like bomb bursts around his head. It's a ballsy declaration of jazz-funk allegiance from an MC not afraid to play a game of virtuoso chicken with players who routinely eat knotty changes for brunch. There's as much Isley Brothers and P-Funk influence as Coltrane and Mingus, but in the '70s it was never unusual to hear funk bands sharing stages and tours with Miles acolytes like Hancock and Corea. A musical rapport and mutual language was shared, one bonded by the warm-blooded tones of the Fender Rhodes piano—the universal solvent of '70s black music across the rhythmic spectrum. Ya gotta love that Kendrick recognized having Glasper on Butterfly—with his sumptuous touch on the Rhodes—gives more life to the sonic beds his rhymes flowed over. Ditto Terrace Martin's yearning-burning alto sax on "Alright," which establishes a stellar emotional plateau for jazz and hip-hop hybrids.
That Lamar is a multidirectional rapper—able to supershift his cadences, character-acting, and melodic caches on a dime—is what unveils him as a jazzer in hip-hop guise. He's not alone in these mutant abilities: the members of Freestyle Fellowship, The Pharcyde, Snoop Dogg, and Del Tha Funky Homosapien all inject that gene into a loosey-goosey California rap skill set. Lamar's just the first artist to make it so fearlessly explicit at breakneck tempos when many of his generational peers are still drawling lockstep to gothic trap beats. It's hard to imagine Drake, Young Thug, or even Chance The Rapper so viciously and fluently going toe-to-toe with a stomp in 9/8 like Kendrick does at the midway point on "Momma." Fortunately, the race toward the dreamy side of the jazz-ecstatic aesthetic continued on K-Dot's surprise March release, untitled unmastered—a spooky revisitation of the trans-dimensional realm of loops and live-riffing in modern rap that he and his cohorts have made their privileged wheelhouse.
The most immediate beneficiary of this perfect storm, though, has been Kamasi Washington and his comrades in the West Coast Get Down crew. Washington's May 2015 release, The Epic, signals how modern acoustic jazz could go down to the breakbeat and improv, harvesting a global flow of heads ready once again to embrace 15-minute tenor saxophone solos with as much ardor and attention as they'll bestow on their favorite MC's next 64 bars.
Washington's rapid ascent to world-stage prominence has been linked to both exceptional good fortune and family ties within jazz, but the striking thing about The Epic is that there's nothing overtly hip-hop-friendly about it. It's as pure a sonic throwback to the '70s freedom-cum-cosmic swing of his dad's youth as has been heard in acoustic jazz since that era, when Alice Coltrane, Pharoah Sanders, and McCoy Tyner extended the range of Sun Ra's intergalactic inventions into forms that found traction among a post-Black Power generation of listeners on historically black college campuses. Also woven in are nods to the smoother funk-jazz of the ear, purveyed by Grover Washington Jr. and The Crusaders. The twain rarely met up and played nice back then due to political divisions in jazz over spiritual purity and pop ambitions. But as frequently happens when the gems of our parents' eras undergo rediscovery, old rhetorical baggage fades and the glorious innocence of crate-digging for soul gold remains. Even more remarkable, though, is how Washington has made those open-ended modal jazz forms relevant, rabidly followed by the musically intrepid and curious collegiate crowds of now—the Black Power flower children of the Black Lives Matter era. Many of us jazz lifers got lifted seeing more twentysomethings at Washington's February coming-out gig in New York City than we'd witnessed at a Gotham jazz club since The Marsalis brothers and Steve Coleman's confederates stormed their youth movement onto the scene in the 1980s.
As always, jazz never went away; it just kept vibrating in its batcave, laying in stealthy wait for a shaken-and-stirred world to get hip and revolutionary-minded again, between wars and between the ears.