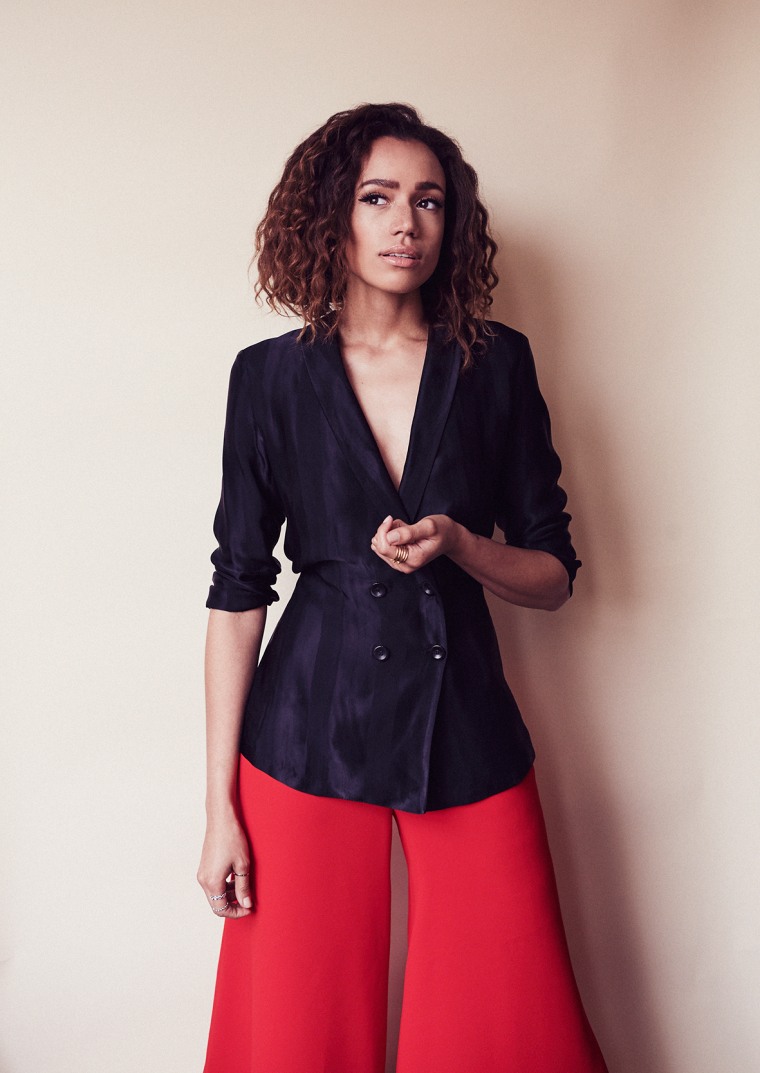 Whatever happens/ You know we're gonna repair sings JONES in her relaxed, dusky voice on new single "Melt." The London-based artist had a breakout online hit last year with the sultry "Hoops," and this new one is an optimistic dose of neo-soul, with a sunny strut courtesy of producers HONNE. With a message of healing, it's a soothing listen for an intense week.
Stream the track below, and read on for a short chat with JONES at SXSW Music this year, in which she details her upcoming collaborations with A.K. Paul and MNEK, as well as her fascination with quantum physics and parallel universes.
You've been working with Rodaidh McDonald and MNEK on your debut album, due later this year. How has that experience been?
Every time I've worked with Rodiadh I've already written the songs, so it's focusing on, 'How can we bring this to life?' Whereas when I was working with MNEK, we just literally wrote something from scratch. In the beginning it could be quite intimidating to work with these very well-established people, but now I feel I know what I want, and I've got a lot of songs that I can play as references.
With A.K. Paul, I was very impressed to see that he had designed his own piece of music software. He doesn't use Logic or Pro Tools, he's made his own custom one. He's a completely genius musical nerd. We met and had a coffee, and he played me some of his music. I loved it, and he gave me a few tracks to take away. It was a sample and I kind of chopped it up a bit to make the structure that I wanted. I wrote to it, then we went back in and put the vocals down.

How did you get started in music?
I used to do loads of open mic nights all around London, starting from when I was about 18. I knew that at that stage that I just needed experience, so I kind of did everything. These nights weren't the most polished things: some of it was a mixture of poetry and spoken word and singing. I'd always see what I could find on Facebook and go along, sometimes alone, sometimes with friends. At one of the nights I met someone who worked for a label, and we stayed friends. I got a lawyer, and then he kind of introduced me to what became my record label, 37 Adventures.
Which songwriters do you admire?
I love Lykke Li — I find her so captivating lyrically, and as a performer. Her lyrics are original, daring, and raw. I also love Little Dragon for their weird concepts. But then I also admire pop writers as well, like Max Martin. Time and time again he writes these incredible songs that cut through.

Earlier this year, you tweeted a link to Marina and the Diamonds' address at Oxford Union, in which she said, 'I want to be an indie artist with pop goals.' How do you relate to that sentiment?
Completely. My label is an independent, and I always wanted it to be that way. I completely admire Marina, and I want to do the same. I want to dictate my career, dictate my writing and my sound, my style. I want to be myself; I don't want to be competing with pop artists.
What inspires your lyrics? Are there any books or works of poetry that you like to reference?
Most of the reading I do is nonfiction, about science. I find quantum physics fascinating. I think I got into it through being an only child and spending a lot of time alone and watching videos on YouTube about parallel universes, and matter and anti-matter. I loved that film Interstellar. I think the universe is a crazy, fascinating place. What are we doing? What are we?