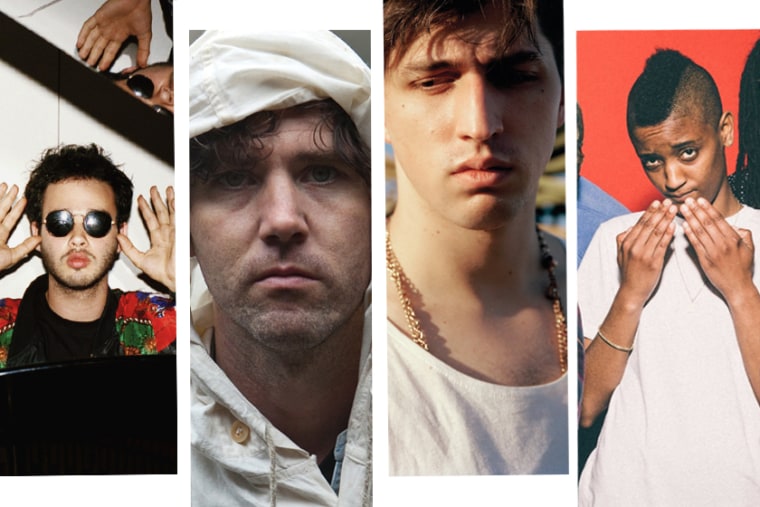 1. The first single off Chicago rapper Mick Jenkins's forthcoming album The Healing Component, "Spread Love," is an effortless, glowing plea for peace — Treat them nice, man, like a brother — and Jenkins's flow is on point.
2. North Carolinian house producer Porter Robinson and French producer and singer Madeon are best friends, and you can tell by their synchronicity on their new song "Shelter," a glitchy pop anthem that sounds like the summer sun fell in love with your favorite Gameboy game.
3. VIOLENCE — a NON Records artist out of Baltimore who Mykki Blanco calls "a rock n' roll Buddhist monk from the hood" — shared a sinister video for his song "Psycud," which is a brutal, hypnotizing take on aggression and apathy.
4. Iconoclastic folk-rock singer Cass McCombs's newest album, Mangy Love, is coming soon, and our favorite so far is the album's quietly bloodstained opener, "Bum Bum Bum," a gorgeous, political song you'll want to listen to forever.
5. I'm the best one for you/ you think I'm crazy, I know/ but you're amazing, sings Syd (of The Internet) on this already classic-sounding Neo-Soul Soundcloud loosie, "Amazing," produced by U.K.'s Dornik.
6. Heartfelt rock band and brand new Sub Pop signees LVL UP wrestle with questions of agency and fate on "Hidden Driver," the thunderously catchy, synth-tinged opening song from their forthcoming album, Return To Love.
7. When you walk down the street this summer, it's impossible not to hear Drake's Caribbean-hued hip-shaker, "Controlla." Today, Ricky Lindo and Fuego shared their Spanish-language remix of the super smash — we're stoked to dance to this one outside, inside, cuando quiera.
8. Chilean reggaetón queen Tomasa Del Real's sweaty club anthem "Tamos Redy," featuring Chico Sonido, is a really sexy banger. Check out the hot new video it got this week.
9. Bless The Social Experiment's Donnie Trumpet for the smooth and dreamy production on singer-songwriter Raury's seriously romantic new track, "Like A Star," which samples Corinne Bailey Rae's decade-old song of the same name.