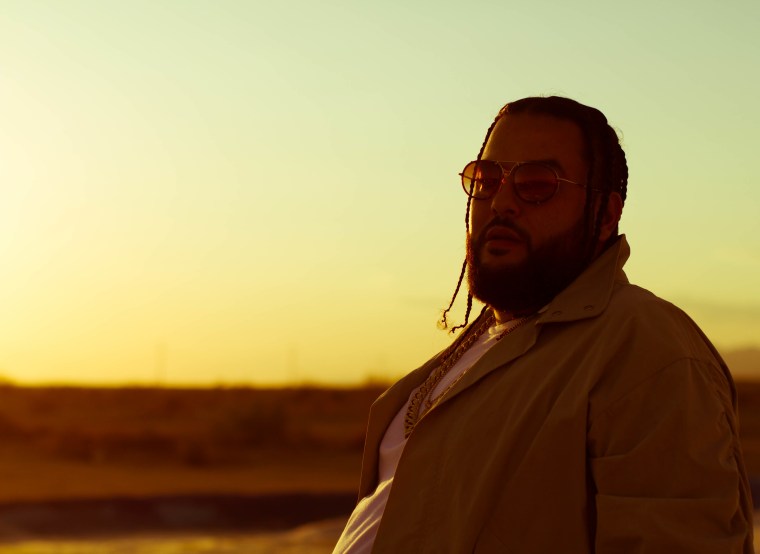 If you scan The Weeknd's liner notes, there's one name that pops up frequently: Ahmed "Belly" Balshe. But before Belly became affiliated with big pop acts like Abel Tesfaye and Beyoncé (he has a writing credit on Lemonade's "6 Inch") he was well-known in the Canadian rap scene, representing Ottawa, Ontario — Canada's capital city. It's a cold-ass place, particularly in the winter, but Belly describes it as, well, spiritually frigid in some ways too: "I visit, but I don't go back to Ottawa often. The people of Ottawa, I love them — they're my friends, but I feel like the cops there have it out for me. I'd get pulled over, like, five times a day. They raided my house for no reason [in 2008]. The police drove me out of that city."
These brushes with law enforcement, and Belly's strong Palestinian heritage, make him a person of conviction. Earlier this year — the same week he put out his latest project Another Day In Paradise — Belly pulled out of a scheduled Jimmy Kimmel Live! performance in protest of Donald Trump, who was also a guest on the show that night. Given the Weeknd was set to cameo, it became big news and surprised many, but Belly's never not stood up for his beliefs. He even won a Juno Award in 2008 for Rap Recording of the Year for The Revolution, a pseudo-political record with shiny, late '00s production and features from Kurupt, Fabolous, and Nina Sky.
Today, the video for Belly's latest single, "You" featuring Kehlani, premieres on The FADER. The pair go back and forth on the hook while blowing smoke in a room filled with low-hanging chandeliers; it's the boudoir of late-night emotions. Watch the video below and get Belly's thoughts on finessing longevity out of the game when you're coming fro Canada, and why publicly opposing the Trump circus was an important thing to do.
As a Canadian who knew about you from the late 2000s, 2016 has been like 'Whoa, Belly's back — and he's on Roc Nation, and has a Beyoncé songwriting credit, and is Oscar-nominated.'
Taking the artist road in Canada, I felt like I wasn't suited to grow. I had the hit singles, the plaques, and all that stuff, but it was time for me to grow in a different way. So I decided to do songwriting and it worked out for me incredibly. Coming back to making music for myself was never an issue though, because I never stopped making music for myself. Many of the songs [I wrote] that people were taking had come out of the makings of my own songs. Placing records on certain albums — that's how I found out there was a way to make a lot of money and be involved in a lot of important things by being in the background. I found more passion in that for a while.
Was the shift to the back personal, or do you feel like the Canadian music industry forced it?
It was a combination of a lot of things. Now, we've been able to bridge the gap that was there before: we've got new platforms that unite us and allow us be one [hip-hop] community. But it's not like hip-hop radio was a growing industry in Canada at the time, or now. We were losing stations by the day, and I don't think we have one true all hip-hop radio station in the country. It's all Top 40 now. There could've been 10 guys making hip-hop and succeeding, but only two of those guys are on the radio because it's a Top 40 station. It was hard.
But this is something I prophesied a long time ago: there's the east, west, south, and everybody else killed it for so long. Now there's only one place to look, and that's up — that's north. So it came to us.
Aside from the internet, is there anything else you'd credit for bridging that gap?
I think Drake had a huge part to play in terms of the spotlight put on him. Guys like the Weeknd followed up, and show a different side of what it could be. I think creatively it helped people realize there are other places where dope music is being made outside of what you're so used to.
[What Trump is doing] affects me, the people I love, and an ideology I love, which is inclusion and integration. Where I come that's really the dream: for us to come together and live, and be happy. And honestly, I'm here. I'm a Muslim-Canadian flourishing.
Now you're an Oscar-nominated songwriter: how has writing for others helped you?
It sounds cool, right? Music isn't as personal as you want to make it because we all go through so much of the same stuff. I feel like a lot of times we can't recognize that as artists because we hold own to songs. "6 Inch" was like my song, it was a rap song, and the first person who heard it had the vision to be like, 'This would be perfect for this Beyoncé album.' I was, like, 'What? This is a real rap record!' But that taught me music is so universal. It wasn't hard to give up. I feel like the day you start hoarding music that's a disbelief that I can't comeback and do it again. But I know in my heart I can wake up everyday and do this, God-willing. Where I come from it's very easy to lose — real easy to lose.
Is it difficult to be a commercial artist while maintaining your political convictions?
No, absolutely not. First of all, I don't see myself as a 'political' artist. If you're a human being, sometimes you can't stay quiet on certain shit. These things are not politics, they're humanitarian issues. I'm not talking about voting, these are issues affecting human beings. There's no way I'll be able to keep my mouth shut; there are certain things that have to be said.

The Weeknd pulled out of Kimmel with you. Do you guys talk about this stuff? His album credits refer to his crib as Trump Tower in Toronto...
Nah, that's besides the point. Some people own buildings, but he supports every decision I'm able to make.
What was it like pulling out of that performance?
For me to sit here and tell you I expected the whole world to learn my story, I'd be lying. The decision I made was personal and I felt like it was one I had to make even though, in terms of publicity, that was supposed to be my first big TV performance. To be honest, I don't know enough about the man he is, but [what he's doing] affects me, the people I love, and an ideology I love, which is inclusion and integration. I come from a place where it's so easy for these things to be blurred. I know it's cliche, but I where I come that's really the dream: for us to come together and live, and be happy. And honestly, I'm here. I'm in America. I'm a Muslim-Canadian flourishing. I'm getting along. That's what life about. If there's a threat, we should all attack that together. We shouldn't exclude people because that's how you make things more crazy. People are building hate, giving others a target, and for what?