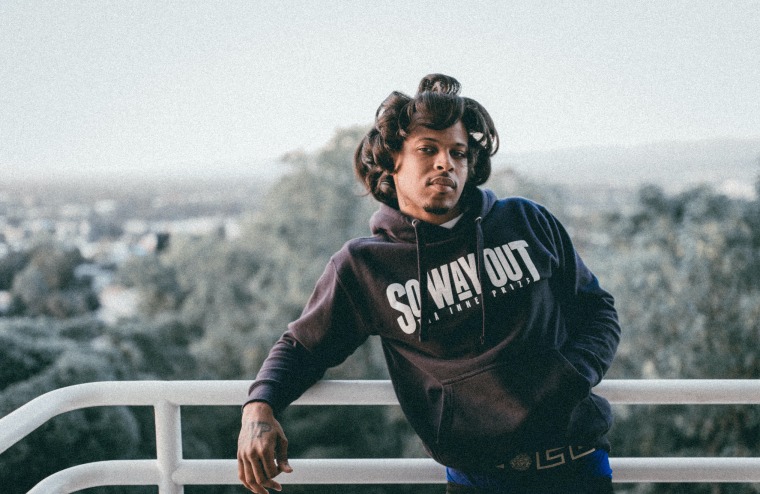 The bang and boogie of SoCal-bred rap has always been central to the state's core identity: paradisiacal, breezy, assured, moderately radical — and somehow always on the verge of quaking combustion. It is music that explodes with joy and terror and strife. That is, music meant to take up room. Music meant to thunder. '90's forefathers like Eazy-E, DJ Quik, and Ice Cube perfected the tinge of Los Angeles rap by sowing airy, laid-back flows over street-tough, scalp-rattling beats. In recent years, the city's sprawl again came into mainstream view with the help of Kendrick Lamar, YG, Odd Future, Dom Kennedy, Ty Dolla $ign, and others.
Out of this palm tree'd flurry, a new voice has emerged: G Percio. His smooth sneer first began to make waves with 2016's Shit Don't Stop (although 2015's The Innerprize Two was a regional favorite among day-one diehards). His latest project, out today, is All Blue — an album of pure, unflinching boast (the title is a nod to his affiliation with the Broadway Gangster Crips). Hood tales abound on tracks like "Right Now," the Polyester-produced "Get My Staccs," "Wit Me Or Not," and "Alive Tonight." But the project's standout song is "Bacc Forth" — a beach banger perfect for cruising down South L.A.'s expansive boulevards on a sunny day. It finds Perico trying to rise above the unceasing pull of street antics. "Yeah, the world is mine, but I'm running out of time," he assures over a silky bassline.
Poet and essayist Wanda Coleman, who passed in 2013, was one of Black Los Angeles's most ardent chroniclers. For decades, she wrote of the city's peril and promise, and how black residents frequently fell prey to its bureaucratic fracture. Hers were stories of people trying to survive. Of people trying to overcome and continue on. "When driving the streets of Los Angeles, I too am gone — beset by a painful sense of loss," she wrote years ago. "The world I loved and lived in is vanished." G Perico's music, too, speaks to that same smoggy metropolis: one crammed with familiar ghosts. It is music that has arisen from loss. "I wanna thank god I'm alive tonight," he sings on "Alive Tonight," part affirmation, part deliverance tale. "Throwing up my set in the sky tonight/ I wanna thank god I'm alive tonight/ Throwing up money in the sky tonight." The lesson, Perico offers, is found in how you choose to survive: that no matter what has come before, one must soldier ahead — battle-scarred and unbowed.