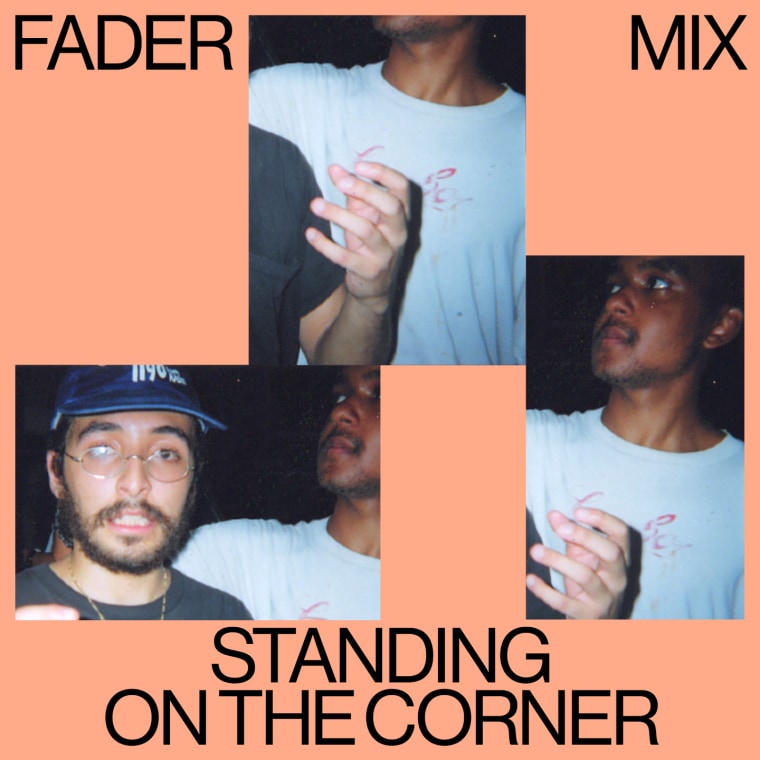 Standing On The Corner's Gio Escobar and Jasper Marsalis have an incredible ability to tell vivid stories through song and sound. Earlier this fall, with the help of their community of artists and friends, they released Red Burns. The project is a beautifully jarring audio scrapbook of deeply sourced vocal recordings and samples and original jazz and rap compositions that, put together, reflects the distinct turmoil faced by young black and brown kids, especially in New York.
Today, they share a new, thoughtfully compiled story in the form of a FADER Mix: nine zones with a narrative arch created by Escobar and Marsalis. The mix embarks on its own journey to "tranquility" through a mix of jazz, rap, reggae, and beyond. It features songs like '80s rap rarity "Cocaine Crack" by True Life, Juelz Santana's 2009 Hot 97 Freestyle, and ends on Albert Ayler's beautifully explorative, free-jazz sax cut "Spirits Rejoice."
Listen to Standing On The Corner's stellar voyage of a mix below, and scroll on for the full tracklist and a conversation with Escobar (under stagename Demarcus) and Marsalis, touching on life-changing reads and memories from their recent experience on tour.
Where are you right now? Please describe your surroundings.
Jasper: We are in Demarcus's room. I am sitting in a camo camper chair, very comfortable.
Demarcus: I am in the other of my two chairs, a small folding chair. It is green and ripped. This chair sits you more upright than the chair Jasper is in, indicative of our current moods. We are listening to a record called "Africanasia" by Claude Delcloo.
Tell us a bit about this mix — what shaped it?
Jasper: We both sat down and went back and forth naming songs and happenings that created a narrative arch within the mix, but I feel that the delay setting on my DJ mixer was most crucial to the execution of our mix.
Demarcus: The mix started at "Tranquility," which it ultimately ends with. We tend to work out of order. These are the zones we pass through in said narrative arch:
Crack —> Admonishment —> Free ! —> West Alkebu-lan —> Dub —> Selassie —> Devotions —> Death
—> Tranquility
What's your earliest musical memory?
Demarcus: I saw Jay-Z last night.
Jasper: "I'm So Special" by Mavado.
The two videos you've put out this year are so awesome. Who films and edits your videos? How did your most recent video, "Wont U, 44:25" come together? Tell me about it.
Jasper: Thanks! The first video, "BNS," was shot by a good friend of ours, Gabe Rodriguez Fuller. And the second video, "Wont U," was shot by another good friend of ours Devlin Claro. I met them both at a university that I attended that used to be tuition-free and now may or may not be charging. My least favorite scene is the pie in "Wont U." My favorite scene is Gio waving bye at the end of "BNS."
Demarcus: They are good friends of ours we trust very much in different ways. Both videos were shot in one of our homes and then God's home. In "Wont U," Jasper boxes himself. It is very significant. If you won't pay close attention to that scene, then I would direct you to the pie shot.
You guys recently returned from supporting King Krule on the West Coast leg of his tour. What was your favorite or most memorable moment from that week?
Caleb Giles (bandmate, chiming in via FaceTime): When we were crossing the border to get into Canada. As we got there, the border fed motioned for us to come forth and stop at his post, but Demarcus accelerated the vehicle past him a few feet so the agent slapped the driver side mirror mad hard. We were all hella shook that we were going to be immediately incarcerated.
Demarcus: I think we constantly felt like licks wherever we were. It's good to be home.
What's the last book you read that had a big impact on you? And why?
Demarcus: Looking Back On The End of the World, a collection of essays that MIT Press published in 1989. The idea behind these writings is that we are so far along in the path of our society, that we have practically surpassed history. Being so deep into our own demise, we have such a sensibility on what is to come next, so much so that we can now think through the end of the world. It's like we are so far down this road to our doom that we can assess the future like it is history; to look at it inevitably as something that has already happened. That isn't to say the apocalypse is considered "good" or some twisted force for change. All the writing is more to emulate the "gamble of thinking" that society would require "at the end" of it all, i.e. without institutions, traditional organizations, etc. I can become very bogged down in this sort of preparation, to the point that it's a negative obsession. It's changed me, I'm sure.
Jasper: How To See A Work of Art in Total Darkness by Darby English. FULLL HEAD BUSS!!! MUST READ. Got me through my senior year critiques: "Work by black artists today is almost uniformly understood in terms of its 'blackness,' with audiences often expecting or requiring it to 'represent' the race...Refusing to grant racial blackness — his metaphorical 'total darkness' — primacy over his subjects' other concerns and contexts, he brings to light problems and possibilities that arise when questions of artistic priority and freedom come into contact, or even conflict, with those of cultural obligation."
What's your favorite dish to cook and how do you make it?
Demarcus: Arroz con Bacalao. That is rice with salted cod fish in Spanish. It's a Puerto Rican ting that takes a bit of organization. You must desalt the cod a full 24 [hours] prior to cooking, otherwise the shit is gonna be too salty. Sitting it in a pot of water usually does it. You don't have to be too meticulous about cutting it a certain way, but I care about the distribution of the fish into the rice. No need to be chaotic.
Jasper: Orange juice pancakes. Basically regular pancakes, but you add as much orange juice (Tropicana) to the batter until you can start to smell it.
Tracklist
True Life - Cocaine Crack
The Universal Messengers - Why You Wanna Be A Junkie
PhutureAcid - Tracks
Angela Simpson- Little Children
The Black Voices - Response To A Borgeois Nigger
Horace Tapscott - Peyote Song No. III
Wayne Shorter - Deluge
Ronnie Boykins - Dawn Is Evening, Afternoon
Roscoe Mitchell Sextet - The Little Suite
Art Ensemble of Chicago - Enlorfe, 2nd Part
Max Roach / Archie Shepp - Sweet Mao, La Marche
Kjell Westling e Bengt Berger - Ad Libido
Kuumba Toudie-Heath - Dunia
Juelz Santana - Hot 97 Freestyle, 2009
El Nina de Atoche, Eleggua - N/A
Santa Barbara, Chango - N/A
Virgen de las Mercedes, Obatala - N/A
Noel Ellis - To Hail Selassie
Burning Spear - Ethiopians Live It Out
Hailu Mergia & The Dahlak Band - Wede Harer Guzo
Carsten Meinert Kvartet - Nætter På Vallekilde
Sun Ra - Journey Among The Stars
Black Unity Trio - In The Light of Blackness
Duke Ellington and His Orchestra, w/ Mahalia Jackson - Part IV, Come Sunday
Brother Vernard Johnson - Never Grow Old
Lightnin' Hopkins - The Devil Jumped The Black Man
Mary Lou Williams - The Devil
Wendell Harrison - Consciousness
Albert Ayler - Spirits Rejoice