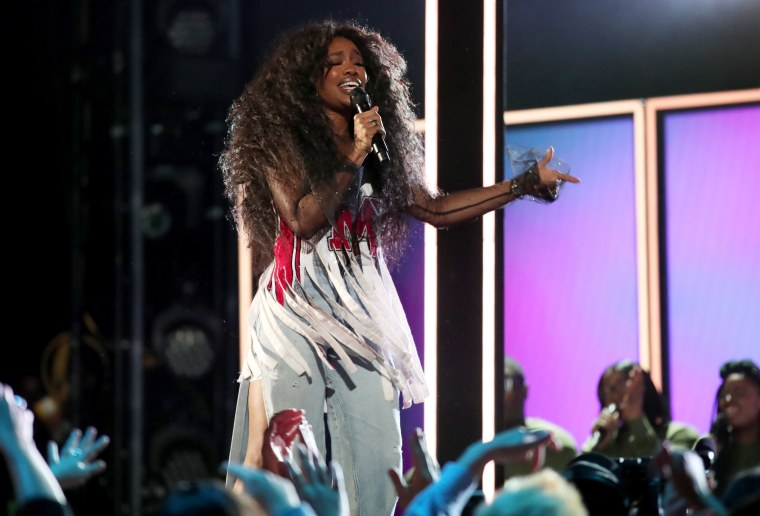 When SZA walked away from The Grammys on Sunday night empty handed, I couldn't help but feel disappointed. After all, she was the most nominated woman artist of the night, up for five awards including Best New Artist. CTRL was one of my favorite albums to be released in 2017, and it was highly lauded by critics and her fans. Despite seeing Beyoncé get snubbed twice in the past two years I was fooled into believing that the Grammys would get more things right this year. It's been hopeful to see women in the media call out institutions for their abuses of power and for not giving us our just due. I felt the music industry couldn't deny SZA, and other women artists, what they worked so hard for.
What viewers got instead was a broadcast that put the contradictory nature of the times we live in on full display. The show depended on Kesha and other women to provide space to talk about injustice but didn't give them any awards for it. Only 11 of the night's 84 awards went to women. The Best New Artist category was the only televised category in which a woman, Alessia Cara, was awarded a trophy at all last night. That's simply unacceptable.
Kesha took the stage surrounded by a group of (mostly white) women dressed in all white to perform the emotional "Praying." She was backed and embraced by these performers while she belted the song, which was inspired by her ongoing legal battle with her producer Dr. Luke, who is being sued for claims of emotional, physical, and sexual abuse. But at that point in the show, she had already lost both of her awards to Ed Sheeran, who wasn't even in attendance. It was easy to feel she had been robbed. Not only was it a moment to bestow an award of someone well deserving of it, it would've given a platform to and lent a voice to the women Kesha represent — the nameless women in the industry dealing with their own Dr. Lukes.
Having her perform the song but not giving her the award ultimately felt like an empty attempt on the Grammys behalf to otherize themselves from the known indiscretions of the industry. While I'm grateful that she was able to bring the song and it's message to the living rooms and hearts of millions, I'm reluctant to give the Grammys a pat on the back. As Janelle Monae said so eloquently while introducing Kesha's performance, "We say time's up for pay inequality, time's up for discrimination, time's up for harassment of any kind, and time's up for the abuse of power."
Lorde was the only woman nominated in the Album of the Year category, and she reportedly wasn't given the opportunity to perform solo like many of the men in that same category. Responding to the reports, The Grammys executive producer Ken Elrich said "Sometimes people get left out that shouldn't, but on the other hand, we did the best we can to make sure that it's a representative and balanced show." How great and balanced can a show that had one woman win an award have been? Why did Sting and U2 make multiple appearances taking up a not insignificant amount of screentime? There's no serious response to the criticism, only some brushing off. Elrich continued to put his foot in his mouth, as quoted in Variety: "One has to wonder if the attendance of Taylor Swift would have made a difference. Said Ehrlich: "It wasn't her year. She was kind of off cycle. Hopefully we'll see her next year."
As if the discrepancy of the representation of women in the industry wasn't made apparent by the live telecast, Ken Elrich makes clear what we'd all been discussing for decades. This is an industry that values the creative output of women, but doesn't reward them for their efforts. When those talented women are Black or not-white, victory almost seems like an impossibility.
Oftentimes, after seeing our favorite artists being snubbed, we call into the question the value of such institutions. Is an awards show that honors Beck over Beyoncé or Adele over Beyoncé really worth the investment we put into it? However, we can't deny that winning a Grammy is a major career milestone. I originally felt like that SZA's bunch of nominations was an accomplishment in and of itself, but now I feel that acknowledgement isn't enough. We have to get the gold, too.