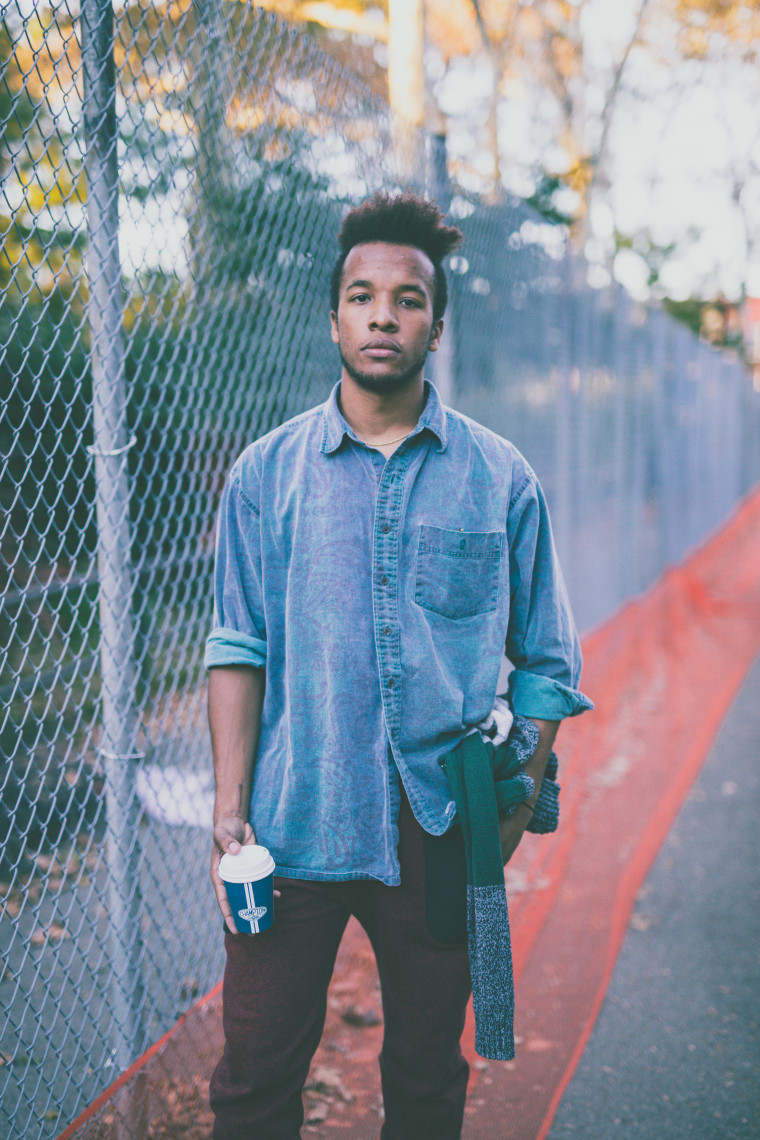 Up until six or seven months ago, Joshua Karpeh was working as a leasing agent marketer in New York City. In September, months after quitting his day job to finally go all-in on music, he quietly released his debut single, "Cold War," on SoundCloud under the name Cautious Clay. It was a doozy of an entrance, his warm, soulful voice simmering over a Grimes "Genesis" type-beat — enough to grab the attention of a couple hundred thousand SoundCloud listeners. Clay has since released a string of singles, followed by his debut EP Blood Type, which dropped in late February.
Days before Blood Type's release, Clay sat down with me at the FADER offices to basically recap his entire life. Fittingly, the conversation unfolded much like the progression of the EP, which he describes as "a statement about my identity." But, he quickly adds, "Blood Type sounds better than 'Identity.'"
When did you start doing music?

I'd always been making beats and tinkering on SoundCloud and all that stuff, throughout my college years. But I've been doing music my whole life, pretty much since I was seven. I started playing the flute, it was my first instrument.
I told my mom, "I want to play flute," because I heard it in [a song] and I was just like, "That's so cool." I don't even know why I was drawn to it, to be honest, but I ended up doing it and it became such a fun thing for me. I hated to read music, I hated all of the classical [training] but I took classical lessons.
Tell me a little bit about your childhood. You grew up in Cleveland?

I was just raised by my mom, but she always wanted me to be super well rounded so I did music, I also ran track and was a pole vaulter, I was sailing. I did a bunch of crazy activities outside of music, I was exposed to a lot. So I feel like because my mom was super supportive in that way, I kind of got a bunch of random skills.
I also used to play in friends' bands and stuff like that in Cleveland. I was always the random guy that played the flute. I was really weird like that, it was like, "What the fuck, this guy plays the flute?"
What kind of music were you brought up listening to?

My mom and my dad were very tasteful about their music so I was exposed to a broad range, everything from soul, R&B — a lot of Earth, Wind & Fire and Delfonics, and also Joni Mitchell and Nick Drake and a bunch of other folky shit. So it was kind of all over the map. The first three CDs that I got were Lil Bow Wow, Creed's Human Clay, and R. Kelly. I think it was [TP-2] the one where he was wearing this huge white coat.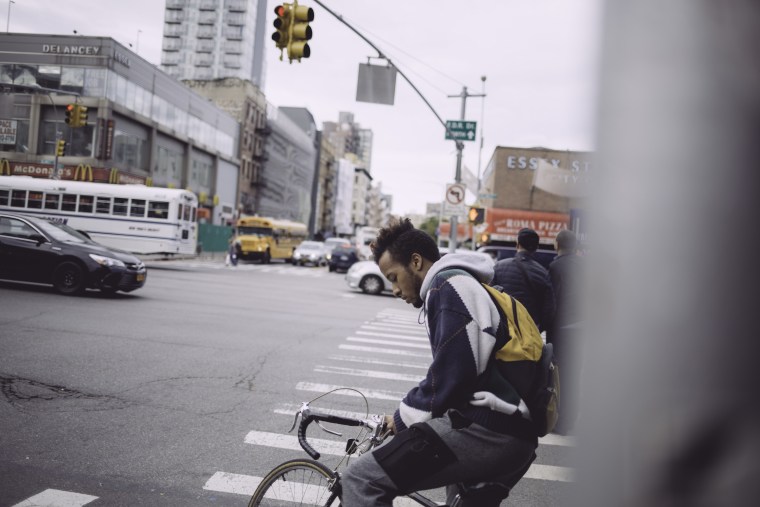 So you put out your debut single out last September, and you're playing your first live show soon. How's that been going?

Over this past year I have been figuring myself out as a writer/producer and I've always worked on my own throughout this period of time. I've been songwriting for maybe a year and a half, two years, but then producing, I've been doing for like six years. And it's just crazy because these last four months I've kind of become a semi-big deal to some people and I've literally been doing this shit for six years on my own.
It's crazy because I saw that Zane Lowe gave you a shoutout on Twitter.

Yeah, Zane's a massive fan. I met him, too, at a party in New York.
Tell me about that.

I was actually invited to a Grammy party, it was actually Khalid's Grammy party which is dope. [Zane Lowe] was there and I just walked up to him and he's like, "Oh my gosh, I'm a fan!" And I was like, "Are you kidding me?" Like, that's wild. It's just nice to know that he genuinely likes my music and that he's supportive of it. We talked five or ten minutes just about random stuff and what he's been listening to and what his thoughts are and what I'm doing. So it was really humbling to know.
Does your life ever feel surreal?

I'm getting flown to L.A. to do writing trips; there's a lot of shit that's happening that I don't want to talk about, because like, I don't know what the fuck is happening. It means a lot to me because there definitely are a lot of people who appreciate what I do because I'm not an Instagram scene dude. I'm making shit regardless of what my following will be or is.

"I've kind of become a semi-big deal to some people and I've literally been doing this shit for six years on my own." —Cautious Clay
How does your mom feel about your new career?

She's really happy for me I think. I've always been super self-sufficient. She just kind of trusts me because I just do whatever and I somehow figure it out. She was nervous to know that I was doing this full-time but I think she's also kind of like, "Well, you seem to be doing well so." She doesn't really understand how I survive or how I do what I do...I've told her a little bit but she has faith in me and she knows I'm responsible.
Has she heard your stuff?

Oh yeah. I think it's pretty funny because she's like, "How did you do this?" People didn't know I sang, I didn't really publicize that until very recently. I was mostly just making beats, remixes. That was actually how I got started — I did a remix of Billie Eilish's "Ocean Eyes" like way back. Her and her brother hit me up when they were just on SoundCloud, not much of a following, and they really fucked with a really weird ass remix I did. It was good but I was like, "How much weird shit can I put in here? How funky and obscure and danceable can I make this?" And they were like, "Holy shit, we love it." So they asked me and Blackbear and Astronomyy, we were a part of the first remix package of "Ocean Eyes" in like 2015. And, obviously, I saw her blow up, so that's cool. Long story short, that's how I got into songwriting. I just lost interest in making really crazy and obscure beats.

How does your songwriting process go?

A lot of times I will start with stream of consciousness. I'll be on the subway and I'll start writing about a particular concept or something that I was thinking about that day. A lot of the time it just makes no sense so I'll just be like, "Ok, how can we make sense of it?" nce I get that, I'll just start to sing. There's usually a particular melody I'll have in my head and sing it into my voice memos. And then I'll go to Ableton and I'll craft that melody out. I'll start with a beat or a particular lyric that resonates with me and I'll engineer it around my voice.
Your music plays with a lot of different textures. I was wondering what sort of sounds you gravitate toward in your music? Does your classical background have any influence on your craft?

I would say that I'm always drawn to a very good balance of organic and electronic sounds. I try not to be super electronic, but also I try to be very purposeful with what I use. So, something that I think will evolve in my production and what I'm putting out is my voice has a very strong place in the production, but then the production is also very distinct so I'll try to engineer it around my voice and try to have space for my voice. That's a very large part of what I'm doing but I would say that overall I definitely like to have a balance between instrumental sounds, whether that's guitars or percussion, and then elements of a synth or something else that breaks it up a little. Definitely, hip-hop is an influence.
You should put some flutes in.

Oh, I've got some stuff coming out that has that in a way that's not kitschy like, "Oh the flute part! Doo doo doo doo." No, it's part of the song.

Since you write stream of consciousness, are there parts of your life that you realize you gravitate toward?

The frustrations of dating and not knowing yourself in that process. That's partially what [Blood Type] is about. It's addressing not only dating, but things like student loans. I want to bring to light that people should really be more intentional with who they're with. In my songs that's a very consistent thread, just because I think it's just really important to live your best life if you can.
Was there a recent personal experience that made you want to be more intentional with you life?

Yeah, fucking quitting my day job. I quit like six, seven months ago. I've been doing music full time for seven months.
How does that feel?
It feels surreal waking up and being like, "Oh yeah. What am I doing today?" I just gotta figure it out. I'm mostly just making music all day. It's a very lonely affair. I get up around ten o'clock...I have twelve roommates. We live in a co-operative house, one of four in Crown Heights. We have a four-story brownstone. And I split a room with my girlfriend and I basically live and work in the same place. I'll just get up and make coffee and start working on projects, in my room.
Are you signed yet?

I'm unsigned, and unpublished.
Have you gotten any offers?

Pretty much from every label. I'm definitely going to stay unsigned right now because I think to jump the gun on signing a record deal is a big mistake a lot of people make. I'm not like, "Oh yeah, fuck a label." Obviously, if there's a good opportunity, you wanna take a good opportunity. But it's also important to have a discerning understanding of what they want and then what you want.