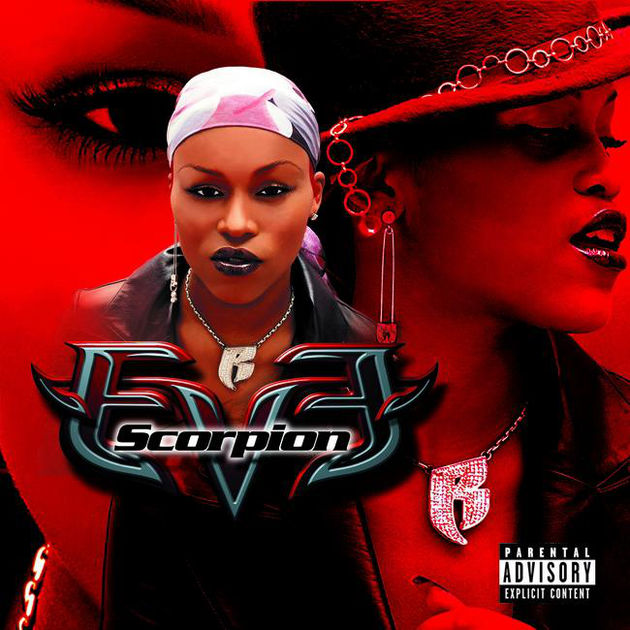 Drake dropped Scorpion today, a double album on which he confirms his new fatherhood and utilises some very expensive-sounding samples. Some fans have been thinking about another Scorpion this morning; the one Eve released in 2001.
That album was the second studio effort from the then Ruff Ryders member and featured some of the biggest crossover rap singles of that year in "Who's That Girl?" and Gwen Stefani collaboration, "Let Me Blow Ya Mind." Just like Drake, the album's title is a reference to Eve's star sign.
Over on Twitter fans of Eve's are reminding people of the O.G. Scorpion while others were listening to the record while they waited for Drake's to appear on streaming services. You can see a selection of people's reactions below. Eve herself has yet to comment on Drake's latest opus.
while we wait for drake, let's revisit another #scorpion pic.twitter.com/QFKdkrp8Bc

— brian b.dot™ miller (@bdotTM) June 28, 2018
it's a fine day to listen to a classic rap album called SCORPION pic.twitter.com/Aa07dqkJYo

— Alex Macpherson (@alex_macpherson) June 29, 2018
So I just took a listen to the Drake album, even tho I'm not a fan like that (cause I give everything a chance). All he did was confirm what I always thought about him. And I'll leave it at that. Besides, Eve already had a album called Scorpion 😆😂🤣 (Ether pun intended😁)!

— Tiffany Rayne (@TiffanyRayne) June 29, 2018
Let's not forget this Scorpion was fire aswell, Best EVE album pic.twitter.com/IwdoE9pXe7

— Cheat Code 🇲🇼🇿🇦 (@Ken_Gunz) June 29, 2018
The only Scorpion I know and respect is owned and was released by the one and only Eve. Everything else is a chameleon

— Pickle Vee (@GenocideCutt3r) June 29, 2018
My car didn't forget that Eve dropped the first Scorpion album 💯 pic.twitter.com/hSEAJG88Ur

— M'blaku (@Feeray) June 29, 2018
I tell everyone this story. My mum bought me my first rap album,it was on cassette. It was Eve's Scorpion album. Now here we are, Drake bringing the Scorpion back full circle. YASSSS #Scorpion 🦂

— HerNinjaness-Cynthia Tumwine (@TheeNinjaC) June 29, 2018