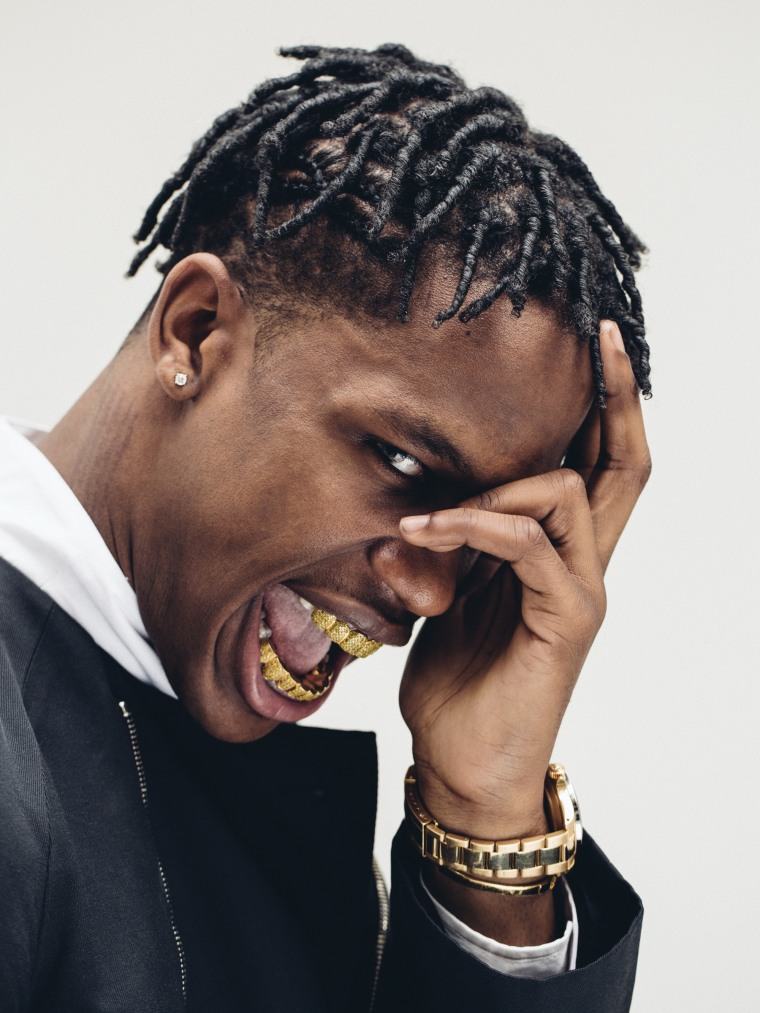 There are producers with signature sounds whose beats are instantly recognizable; and there are those whose work requires a search through the album credits. There are rappers with unique, perceptible voices; and there is Travis Scott. By which I mean — and I'll own up to my ignorance here — probably 80 percent of the time I don't know what Travis Scott sounds like. I feel mostly confident I recognize his voice when he's shouting ad-libs, but then he starts singing, like on "Stargazing" or "NC-17," and later he starts rapping, also on "Stargazing," and I ask myself, Is that him? And then again two minutes later, This still him?
I once met him in person at a private plane airport in Miami, for another story I was working on at the time. I can report that in real life his voice is really, really deep. But still — the music sounds nothing like it. That's been true for my experience with Astroworld, but also much of his past work. And while it shakes me up and throws me off as a listener, leaving me questioning in my hearing skills, that feeling of never quite being sure, of always thinking he's someone else, has also become one of the more interesting and exciting and, yes, definitive, aspects of listening to Travis Scott.
In the past, people have shamed T-Pain and a post-conservatorship Britney Spears for their "inauthentic" voice alterations. And they've shamed Scott for too badly wanting to embody his favorite versions of hip-hop's recent past, culture-vulturing his way to the top. I want to correct course on both ends. Scott's best quality, his most admirable accomplishment, is the ways in which he has modified his voice to sound more like everyone else than himself.
First, we'll start with the beats. Scott's music is a practice in world creation — in finding electronic sounds and warping them into hazy, wet worlds the require a full dive in, not a half-ass just-dipping-my-toes-in-the-water. This is production that builds a bubble and transforms its immediate circumference into some Incredibles force field. Or into Astroworld. Either way, you're either in it or your out.
And inside, Scott the conductor arranges guest verses from Drake and others, while retrofitting his own sound to each new beat. Sometimes higher, sometimes lower, sometimes softer, sometimes harder, he alters himself to fit the song. Scott is everywhere and nowhere, everyone and no one. Most often, Scott's voice is incompatible with that picture of him that became a meme because he was holding a microphone stand and looking like a cartoon character. It's too soft, slow, distorted to be that wild.
Online, there are countless YouTube tutorials on the technicalities of the voice. How one might accomplished it through different production softwares and instruments. How it's not just reverb, but reverb mixed with Auto-Tune mixed with a compressor and so on. There's a Reddit thread about re-creating the voice at home, where just a few months ago someone called Slugsmcgruff admitted, "Man, I have legit spent at least a year figuring this out." This non-voice shows Scott's technical prowess, too.
The way he sounds is most obviously influenced by Kanye West, and I imagine Scott's trying to mimic Kanye because he loves him and also because hip-hop fans have pretty much been conditioned, until very recently, to love whatever Kanye does. But what the voice really shows is how much more alike Scott is to DJ Khaled, and everything that's made Khaled such a massive success. Like Khaled, Scott is an orchestrator, a bringer-together of parts, a fairly cool and astute tastemaker, which is for the most part why people like his music.
But Scott, instead of calling attention to himself by shouting his own name and "Another One!", alters himself to better blend into and encapsulate the worlds of his production. The way his voice feels indistinguishable, the way it sounds like everyone else but himself, is also what allows his work to be bigger than himself. What's gotten him to this point. It's how he can be a person who critics say isn't all that creative, who just tries to reproduce his pre-existing favorite hip-hop moments, while still making the only album that can, realistically dethrone Drake's seat at the top of the charts.
It's kind of humble, actually. How he can be the tastemaker pulling everything together, the man with his name on the album, and also not really the center of it all. Should we fault him for pointing to everyone else first? For the way appearances by Frank Ocean or the Weeknd or old Goodie Mob samples are maybe better than his vocals on his own album? For always trying to sound like Kanye? Maybe these concessions don't make him The Best Artist of All Time, but he's cultivating a different skill set, anyway.
It's possible Scott wants to be really really famous, but it seems like even more than that he wants to surround himself with fame and obscure himself within it. That also brings us to Kylie Jenner, his girlfriend, whose reality star world of super-duper-fame he seems to have, for the most part, avoided. It's the same way he inspires mosh pits just so he can disappear into them. His hidden voice is his concession to blend in for the greater good. It's endearing. He is within and he is without, like an architect rebuilding a world (or theme park) and then disappearing within it. Try and listen for him.