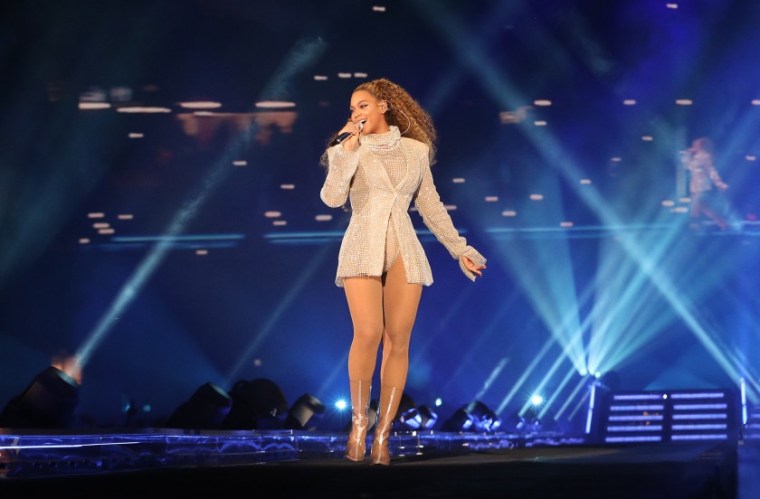 Four (long) months, two continents, and 48 shows later, Beyoncé and JAY-Z's On The Run II tour is down to its final stop. The Carters will perform — presumably in front of a sold-out crowd — at Seattle's Century Link Field on Thursday to cap off what will be remembered as one of the most historic runs ever. From London to Atlanta, OTR II was filled with memorable moments, tons of wondrous Beyoncé magic, and of course, the surprise release of a joint Bey and Jay album.
Take a second to look back at some of the tour's best moments down below.
Bey and Hov came with the antics early, as the royal couple made their entrance on stage in a makeshift elevator during the tour's first night in Cardiff. The move was equal parts cheeky and entertaining, as Bey brought her infamous "Flawless" remix lyrics — "Of course sometimes shit go down / when it's a billion dollars on an elevator" — to life.
Of the many all-star guests that went to go witness OTR II, no stop was as star-studded as the two nights at the Rose Bowl in L.A. Oprah herself was spotted in the crowd having the time of her life. The media mogul even threw her hands up to make up JAY-Z's signature ROC diamond sign during the evening.
Bey brought back the mighty single-braid hairdo for one night during OTR II, and gave everyone life in the process. The Rapunzel-esque braid swang around during her performance with such energy, it left fans wondering if it had a mind of its own.
Beyoncé almost slipped and fell while walking down a flight of stage steps during a show in Nashville. Instead of tumbling however, the queen instead stuck an Olympic-level landing and kept performing as if nothing ever happened.
On her 37th birhthday, and before slaying thousands of fans at a stop in New Orleans, Beyoncé took to Instagram to share a sweet letter marking the final 10 shows of the tour. The heartfelt note served as a celebration of all that happened during the tour, and thanked fans for coming out to support.
Shortly after the tour began in Europe, Bey and Jay decided to let loose a whole full-length project dubbed EVERYTHING IS LOVE in typical Beyoncé fashion: out of nowhere. The project marked the first time that the two have worked together on an entire body of work, releasing it as The Carters.
While rehearsing for a tour stop at Met Life Stadium, Beyoncé's longtime friend Molly Roncal captured a totally candid selfie video of Bey. And although Bey seemed completely caught off guard, she handled the selfie with poise, and perfection.
Bey and Jay's tour stop in Detroit came just before soul icon Aretha Franklin passed away this August. Upon hearing reports that Aretha was gravely ill, The Carters chose to dedicate the Detroit show to The Queen of Soul. Beyoncé kicked off the performance by thanking Franklin for her beautiful music, and said, "This show is dedicated to Aretha Franklin. We love you and thank you."
Before the U.S. leg of the tour began, Bey and Jay found themselves in the presence of some presidential company at their stop in Paris. Former First Lady Michelle Obama was in attendance, sitting right next to stage During the evening, Obama caught a wave from Jay-Z, and looked to be having a wonderful time as she danced to his set.