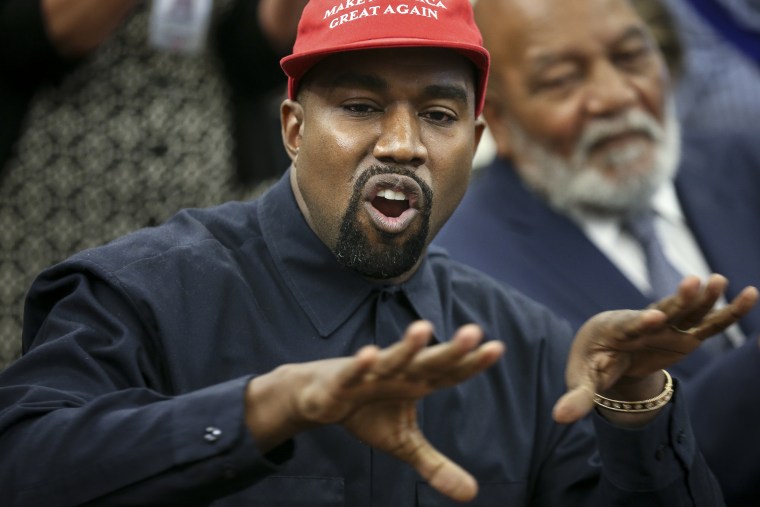 Kanye West has made the sizeable contribution of $73,540 to Chicago mayoral candidate Amara Enyia, the Chicago Sun-Times reports. The donation comes the week following Chance The Rapper's endorsement of Enyia at a press conference at Chicago City Hall, amid speculation that Chance himself would run for office.
West's donation covers Enyia's campaign debts to the Illinois State board of Elections, and will allow the candidate to get on the election ballot. Enyia's campaign confirmed that the debt had been settled in an email to the Sun-Times and thanked West for his donation. "Amara's campaign is energizing people around the city with bold ideas and solutions that move Chicago forward. We are excited to engage people of all walks of life as we focus our efforts on getting on the ballot."
Casting a long shadow over the donation is West's political alignment with President Donald Trump. During his visit to the White House on October 11, he claimed his Make America Great Again hat "made [him] feel like Superman," said Hillary Clinton's 2016 campaign slogan I'm With Her alienated him "as a guy," and incorrectly claimed Trump prevented a war with North Korea that had been set in motion by the Obama administration. "If you accept money from a person like Kanye West, are you also endorsing his stance on Donald Trump?" County Commissioner Stanley Moore told The Sun-Times.
Chance The Rapper and Kanye West are currently working on a collaborative album called Good Ass Job. West recently returned from a trip to Uganda where he continued recording his new solo album Yandhi.