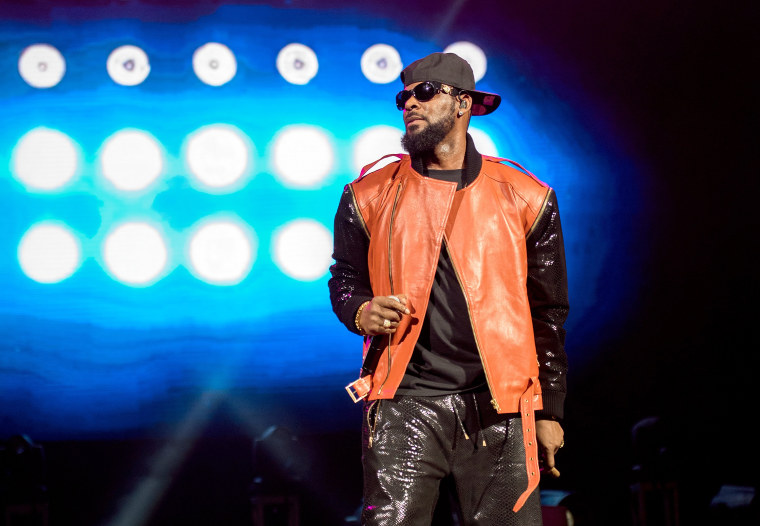 R. Kelly has been charged with ten counts of aggravated criminal sexual abuse in Cook County, the Chicago Sun-Times reports. The R&B singer is due in court on March 8, the newspaper reports. According to the Chicago Tribune, three of the charges "referred to a minor between the ages of 13 and 16."
Cook County State's Attorney Kim Foxx confirmed in a news conference at 3 p.m. that Kelly had been charged with 10 counts of aggravated criminal sexual abuse involving four victims. Foxx also anounced that Kelly is due appear in bond court tomorrow.
Cook County State's Attorney Kimberly Foxx confirmed the indictment during a press conference on Thursday afternoon.
The charges are the first since Kelly has faced renewed scrutiny and a wave of new sexual assault allegations. A Lifetime documentary series Surviving R. Kelly contained interviews with alleged survivors, and led to the #MuteRKelly campaign which urged listeners and radio stations not to listen to his music. Kelly was subsequently dropped by his label Sony Music and disowned by former collaborators like Chance The Rapper, Lady Gaga, and Celine Dion.
Last week, prosecutors in Illinois reportedly received a videotape allegedly depicting Kelly performing explicit acts with a girl who calls herself "15 years old." On Thursday Kelly was accused by two women of abusing them after a concert in the '90s. Kelly has denied all misconduct allegations through his attorney Steve Greenberg.
The FADER has reached out to R. Kelly's attorney for more information.