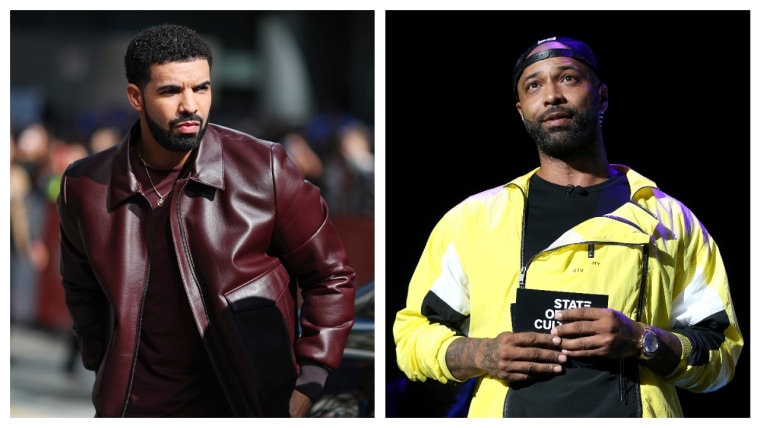 This past weekend, Joe Budden hosted his annual pool party in New Jersey. Drake was not in attendance, but he made his presence known when Budden decided to show off the festivities on an Instagram livestream. Champagne Papi hopped into the comments and asked to see Rory Farrell. After Budden's podcast cohost made a cameo, Drake stayed lurking and made a few requests. "Yo play your diss songs for me right now," he wrote to Budden. "I wanna see if they ring off."
The clownery escalated from there, with Drake making requests for "The Story of Adidon" ("I promise the only person that's gonna know the words is Rob Markman") and Budden's 2003 track "Pump It Up," which he said would "send that air bnb into a frenzy on god." Drizzy stayed relentless, saying the party looked like it was sponsored by Four Loko. "Do you have any towels?" he asked. "Face ass."
Budden dashed out of the livestream almost as quickly as he left his ill-fated Queen Radio appearance, but not before admonishing Drake for the comments: "don't come in here and hurt my feelings. My dog just died. My birthday is next week. I don't have time for these shenanigans."
Earlier in the weekend, Budden found himself in a minor scuff over Swae Lee's new single, also featuring Drake. "Shut the fuck up, Swae Lee. We only don't love you when you ain't informed and then you start clappin' back," Budden said on his podcast. "I'm so sick of this era of the sensitive artist. Shut the fuck up." Swae responded, saying "I know it's your job to comment on other people's lives and other people's success and other people's business and other people's craft. That's your job to comment on other people's shit... you ain't laying no verses. You ain't dropped a single in centuries."