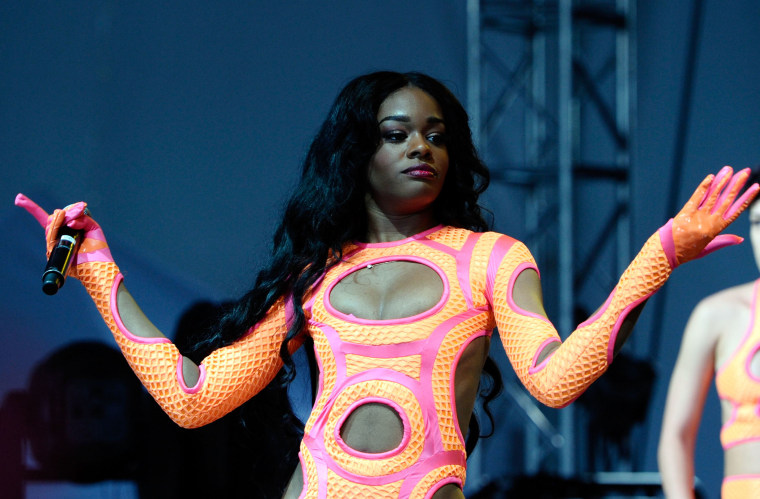 Last week, on September 11, Azealia Banks dropped her newest project Yung Rapuxzel: Part II, the sequel to her 2013 single "Yung Rapunxel." This is not to be confused with Fantasea II: The Second Wave, the sequel to her 2012 mixtape, which was cancelled last year after an ill-fated appearance on Wild 'N Out. The steely project is currently streaming on Soundcloud as a 30-minute track, but Banks says she's got plans to give it an official release on digital streaming platforms.
In a (now-deleted) statement posted to her Instagram, the hip-hop provocateur wrote that the project will also include two new songs that were left off the "free giveaway version" — most notably, a track called "96'Corolla (Motorman)." Banks says the song "tells a story of an ungrateful technocrat who's ego becomes too big for his britches." She'll play the role of the executioner on the track, as his "neural activity is cut off via satellite, rendering him a vegetable." If you couldn't connect the dots there, she's naming the technocrat Alon Dust.
Back in 2018, Banks found herself in a very public feud with Elon Musk after she flew out to Los Angeles to collaborate with Grimes and was allegedly left alone in "pork-skinned" Musk's house for days. She says the new track, "96'Corolla (Motorman)," was written for Poppy, who also claimed that Grimes "bullied" her last year. There's no word as to when the track will surface on DSPs, but in the meantime, hear Yung Rapunxel: Part II for yourself below.