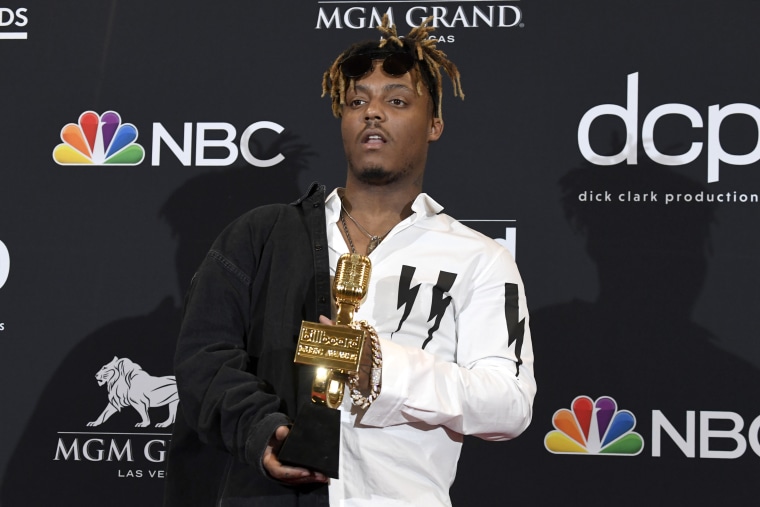 Yesterday, news broke that now-defunct pop-punk outfit Yellowcard are suing Chicago rapper Juice WRLD over similarities between his No. 2-charting hit "Lucid Dreams" and their 2006 track "Holly Wood Died," from the album Lights & Sounds. The band cites the fact that Lights & Sounds shared a producer with Fall Out Boy's From Under The Cork Tree, one of Juice WRLD's favorite albums, as evidence that the rapper must have heard "Holly Wood Died" at some point. As a result, they're seeking $15 million in damages, co-ownership of "Lucid Dreams," and a cut of the song's royalties.
While the similarity between "Holly Wood Died" and "Lucid Dreams" is debatable, there is a significant amount of precedent for this kind of lawsuit — earlier this year, Katy Perry was ordered to pay Christian rapper Flame $2.78 million over perceived similarities between his song "Joyful Noise" and her hit "Dark Horse." Artists facing these kinds of lawsuits tend to face an uphill battle: many suits, including Flame's against Perry, include wording around "intentional" or "unintentional" theft, essentially implying that any artist who writes a song bearing similarities to an older song could owe the writers of the older song royalties, even if the writer of the new song hadn't heard it. Artists hit with these kinds of lawsuits tend to lose: Aside from Perry, Robin Thicke, Ed Sheeran, and Mark Ronson have also been caught up in similar cases in recent years. A case against Bradley Cooper and Lady Gaga for their Star Is Born hit "Shallow" will go to trial soon, and it wouldn't be a huge surprise if they lost, too.
For Juice WRLD, a lawsuit like this one could be vaguely catastrophic. The fact that the band wants a portion of the song's royalties and a songwriting credit means that on a songwriting level, it basically won't be Juice WRLD's song anymore. That's because "Lucid Dreams" also contains an interpolation of Sting's "Shape of My Heart" and, per a very angry tweet from "Lucid Dreams" producer Nick Mira, 85% of the song's royalty cut goes to him. (Sting jokingly said that the song will put his grandkids through college, which is probably actually true.) It seems very likely that, in the event of Yellowcard winning their lawsuit, they would be asking for a significant portion of the remaining 15% of the song's royalties, if not the entire 15%.
This doesn't mean that Juice WRLD will eventually be making no money whatsoever from "Lucid Dreams." It's a complicated and convoluted system, but essentially, when a song is created, it exists in two forms: the composition, which is the notes and chords and lyrics and technical musical structure of the song; and the master recording, which is the actual recording of the song that's been made. Mechanical royalties are issued every time a song is reproduced, whether that's on streaming services, on radio, on a CD or vinyl, or in any other form. Performance royalties are generated when the master recording is played or performed in public, meaning either live (at music festivals, for example) or at the gym, in a cafe, on TV, or similar. All of these profits go to songwriters, publishers, and their respective teams, but Juice WRLD, assuming he'll be playing this song live, will still get a significant payout from live performance.
If Yellowcard win this lawsuit and proceed to ask Juice WRLD for a significant chunk of "Lucid Dreams"'s royalties, it means that Juice WRLD will have to rely on only income from live performances going forward. If Juice WRLD is earning good money from those performances, and his team doesn't take too big a cut, he'll be fine. If he doesn't, at least he's currently the 51st most streamed artist on Spotify.