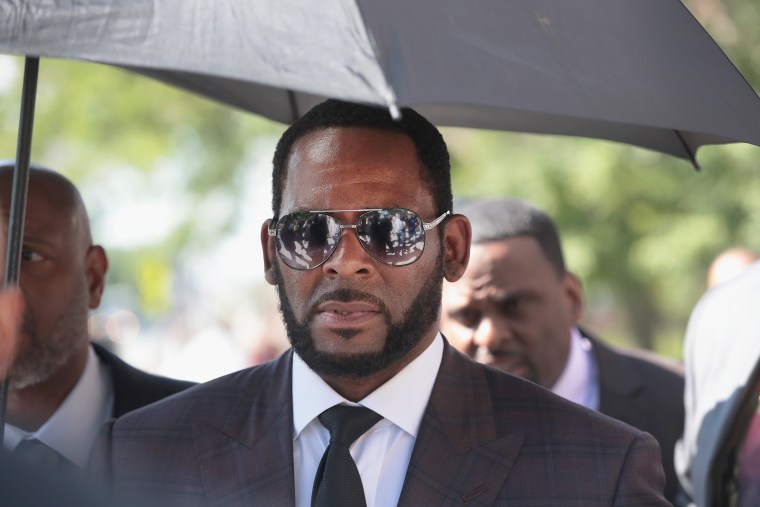 R. Kelly's girlfriend Joycelyn Savage joins the long list of victims who have accused the singer of sexual and physical assault, breaking her 2-year social media haitus to share her side of the story via crowdfunding membership platform Patreon.
On Saturday, Savage shared in an Instagram post that she would use the platform to reveal what living with Kelly was like. So far, there are three posts that can only be accessed by subscribing to her account. In the first, she detailed her first encounter with the singer when she met him at one of his concerts in 2015. "Robert started giving me commands and making sure I call him by certain names. Like 'Master' or 'Daddy," she wrote in her first post, according to The Hollywood Reporter. "It started getting worse by day by day, he would raise his voice at me if I didn't call him by those two names. If Robert called me I would have to reply with 'Yes, daddy' or 'Please daddy' he was so controlling."
Like many of the stories that have surfaced over the past three decades, she maintained her relationship with R. Kelly under the impression that he would help with her career. In the post, Savage even claims the singer referred to her as "the next Aaliyah" after hearing some of her music.
While she explains that Kelly provided her with "everything [she] needed," she was under the watchful eye of his assistants even as she did things like shower, adding in another post she had her phone cut off so she was unable to contact friends or family. "They never spoke to me or anything they just watched me which was weird to me at the time. I can say I didn't have any type of privacy at all now that I think of it," she explained. "At the moment I kept thinking to myself why is all of this, does he think I will run away?"
In a second post shared early Sunday morning, Savage detailed physical abuse at the hands of Kelly after she failed to call him by the names she was instructed to use. "He grabbed me and choked me until I blacked out. I had bruises around my neck, and I was told by him to wear a turtleneck or a scarf to cover them up whenever he would take me out in public," she said. Savage also mentioned that various girls would frequently be brought to the home, some she noted were younger than her, but she was not allowed to interact with them.
In a third post shared on Sunday, Savage revealed she had previously gotten pregnant for the singer multiple times in 2016 and 2018, including a photo of a positive pregnancy test at the top of the post. "I started noticing that my period hasn't come for weeks, that's when I realized I was pregnant by this monster," she said. "Eventually, I ended up getting an abortion I was forced to get the surgery done at his house...He didn't want me going to the hospital because the news would break out."
She went on to reveal that her infamous interview with TMZ in 2017, where she stated she was not a hostage of the singer, was done under duress; following a script she was forced to learn verbatim in order to clear Kelly's name. "In videos I had to do for TMZ they were telling me what to say. I was so nervous what you see in any of my interviews is just a split second of what we are allowed to speak on you dont know that we are scripted," she explained. "His assistant would starve me for days at a time until i learned it right word for word. When I did the TMZ video which his assistant interviewed me you can see I was scared I was using my hands."
Back in March, Savage and Kelly's other girlfriend Azriel Clary sat down with Gayle King on CBS This Morning and defended the singer, hitting back at claims she had been brainwashed as attempts by her parents to "get money and scam." Back in July, Savage's father interrupted a press conference following the singer's arrest in Chicago, asking Kelly's former publicist and crisis manager Darrell Johnson, "where's my daughter?"
R. Kelly currently faces multiple charges in three jurisdictions including child sexual exploitation, sexual abuse, prostitution, kidnapping, racketeering, and obstruction of justice, among others. He has denied all allegations.
All posts can be read on Joycelyn's Patreon.