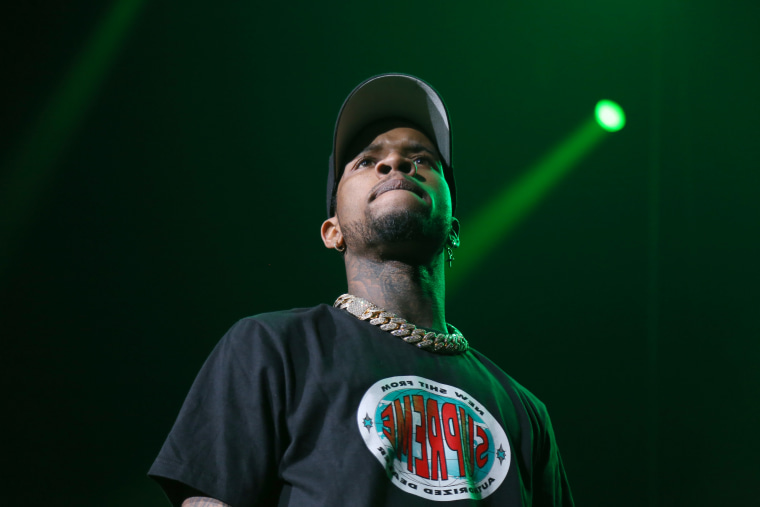 On Thursday, unverified reports began to spread on social media claiming that Tory Lanez no longer faced charges in the shooting of Megan Thee Stallion. A rep for Lanez denied this in a statement to Joe Coscarelli of the New York Times. "The blog that posted this info is wrong," the statement reads.
The rumor of the dropped charges cited a search for Lanez's birth name on the Los Angeles County Superior Court website, which at the time produced no results for active cases. The rep's statement to Coscarelli said the website does not have the most recent information. "I assume the docket hasn't been updated."
According to Lanez's rep, his next hearing is slated for "mid-February."
Megan appeared to reference the rumor in a series of tweets. "STOP BELIEVING EVERYTHING YOU READ ON THE MF INTERNET... Imagine how I feel waking every day seeing people LIE and turn my trauma into a joke?"
How tf I get shot now I'm the worlds biggest mf villain !? All y'all pussy ass niggas and pick me ass hoes GONE EAT YO MF WORDS

— HOT GIRL MEG (@theestallion) January 21, 2021
Y'all so believe black women and protect black women online BUT WHEN I LITERALLY SAY I GOT SHOT ITS CONFUSING

— HOT GIRL MEG (@theestallion) January 21, 2021
Megan Thee Stallion was shot in the foot after a party on July 12, and has identified Lanez as the culprit. Lanez is charged with one felony count of assault with a semiautomatic firearm and one count of carrying a loaded, unregistered firearm in a vehicle. He has pled not guilty and faces a maximum sentence of 22 years in prison.
The FADER has reached out to Megan Thee Stallion's representative and Lanez's attorney for more information.