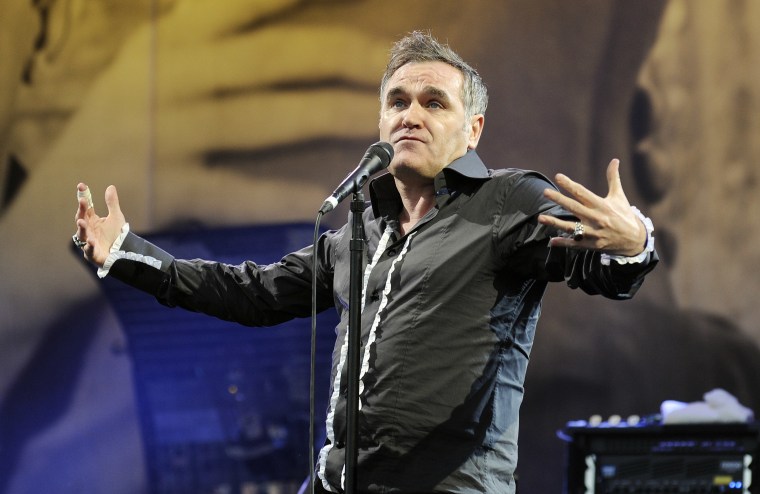 Yesterday saw the collision of two cultural institutions that peaked a long, long time ago: The Simpsons and Morrisey. The former Smiths frontman was parodied on last night's episode of the cartoon sitcom for an episode titled "Panic On The Streets Of Springfield." In the episode, Morrissey is skewered by the character "Quilloughby," voiced by Benedict Cumberbatch, who ages into a racist, bloated performer. Since no one has less of a sense of humor about themselves than Morrissey, he released a statement on Facebook denouncing his portrayal on the show.
"Poking fun at subjects is one thing," Morrissey says near the beginning of his letter. "Other shows like SNL still do a great job at finding ways to inspire great satire." Shockingly, this wrongheaded praise of Saturday Night Live is not the strangest thing about his statement. It goes on: "But when a show stoops so low to use harshly hateful tactics like showing the Morrissey character with his belly hanging out of his shirt (when he has never looked like that at any point in his career) makes you wonder who the real hurtful, racist group is here."
Morrissey's history of gross statements and support of the British far-right came back into view in 2019 and exploded after the singer wore a pin in support of the British far-right party For Britain during a performance on The Tonight Show. In November 2020 he was dropped by his label BMG and claimed "diversity" was behind the decision.
Read Morrissey's full statement below via Stereogum.