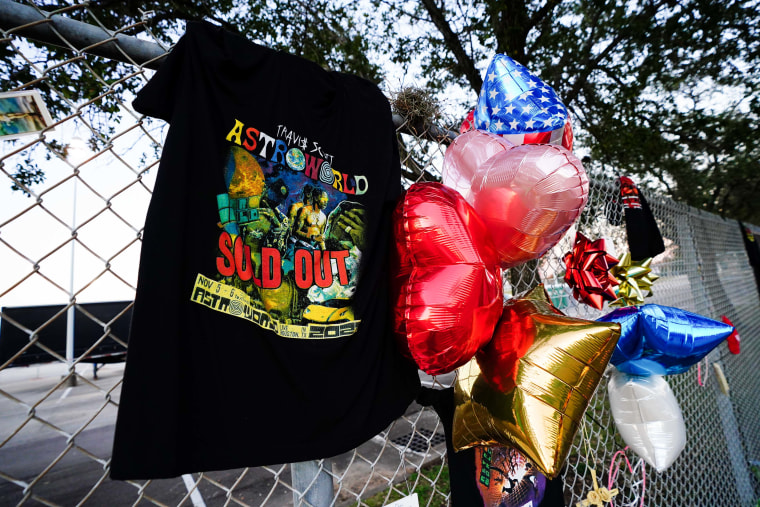 Houston police chief Troy Finner reportedly spoke with Travis Scott in his trailer before his performance at Astroworld on Friday night, and "conveyed concerns about the energy in the crowd," according to a new report in The New York Times.
Eight people between the ages of 14 and 27 died and hundreds were injured during Friday night's event at NRG Field in Houston. The tragedy unfolded at around 9:15 p.m. during Scott's headling set after pockets of the crowd of 50,000 broke into a panicked surge. Police are still investigating the causes of death.
Houston Fire Chief Samuel Peña told the Times that performers have a unique ability to calm crowds and restore order. "The one person who can really call for and get a tactical pause when something goes wrong is that performer," Peña said. "They have that bully pulpit and they have a responsibility. If somebody would have said, 'Hey, shut this thing down and turn on the lights until this thing gets corrected' — and that coming from the person with the mic — I think could have been very helpful."
The Times report comes after a statement by Scott posted on social media in which he claims not to have been aware of the unfolding chaos. "Anytime I can make out anything that's going on, I'd stop the show and help them get the help they need," he said. "I could just never imagine the severity of the situation."
The second day of the Astroworld Festival was canceled following Friday night's horrific events with refunds for the festival promised. Scott issued a statement on Saturday saying he was "absolutely devastated." On Monday the first lawsuits were filed against Scott, Live Nation, and Drake. who performed with Scott at Astroworld as the crowd surged. Scott has also out of an upcoming performance at the Day N Night Festival in Las Vegas.
The FADER has reached out to Travis Scott's representative for more information.