Ela Minus shares intense "N19 5NF" video
Directed by Losmose, the new short contains a snippet of a brand new track in addition to the acts of rebellion opener.
Gabiela Jimeno (Ela Minus) has release a video for "N19 5NF," the opener of her October 2020 album, acts of rebellion. It also contains a clip of a previously unreleased track.
The new short from Mexican directer Losmose opens with a seizure warning and a card that details a traumatizing seizure Jimeno herself endured. "This video is important because of my own story and the empowerment it can give to others through my way of telling it," Jimeno writes in a press statement.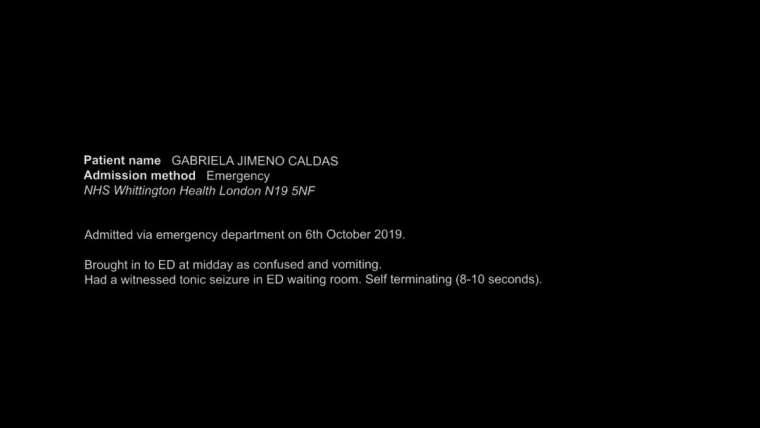 We then move into a disturbing rave sequence, in which Jimeno dances in a crowded club to a 90-second clip of an original techno track titled "Onwards," according to the video's YouTube description. As the music grows more intense, we begin to dissociate along with Jimeno, glitching between the dancefloor and 3D maps that cut abruptly to black as the sound turns to static.
We remain in blackness for a full 10 seconds before reemerging in a dirty room, the camera panning above an old man with a fresh surgical scar lying on a bare mattress. The lens zooms uncomfortably close to the scar before transporting us into a lush forest where two naked lovers form an amorphous blob. "N19 5NF" — a gentle, almost ambient song that stands in contrast with the visceral imagery that preceded it — finally begins.
The rest of the video is all babbling brooks and gorgeous countryside. The old man from earlier sits in a field of sheep, carressing a lamb. The track swells and recedes behind the pixels, drumless but full of aching rhythmic energy. As it ends, we find ourselves back in Jimeno's hospital room, listening to her assisted breathing and the beeps of the machines keeping her alive.
"I found that through the making of this song and video, reality was transfigured," she writes. "It illuminated it and revealed its true grinning monstrous teeth. Through this transfiguration I was able to find a voice, not a discourse, but a personal voice looking for an ear or an eye to meet."
Watch the video above, and view Ela Minus' upcoming tour dates below.
Ela Minus February 2022 North American tour dates
2/5 - Denver, Co @ Larimer Lounge
2/10 - Houston, TX @ White Oak Music Hall ^
2/11 - Dallas, TX @ Granada Theater ^
2/12 - Austin, TX @ Stubb's BBQ ^
2/14 - Phoenix, AZ @ The Van Buren ^
2/16 - Oakland, CA @ Fox Theater ^
2/18 - Vancouver, BC @ Commodore Ballroom ^
2/19 - Vancouver, BC @ Commodore Ballroom ^
2/20 - Seattle, WA @ The Showbox ^
2/21 - Portland, OR @ Roseland Theater ^
2/23 - Washington DC @ Flash
2/25 - Atlanta, GA @ Aisle 5

^ = supporting Caribou