This year, The FADER teamed up with college creative networking app Quadio with one mission: to find and highlight emerging College Creatives of the Year as they break artistic ground.
From musicians to filmmakers, photographers, and digital artists, these creatives are able to stay inspired and connected from all across the country, crafting new work while juggling their majors and minors thanks to Quadio. While you've already met three of our faves—rapper Prettyboyworldwyde, indie pop singer-songwriter Eph See, and multi-disciplinary visual artist Pablo Gonzalez—there was still plenty of talent we couldn't pass up. We've compiled 10 more rising artists navigating college, community, and creativity.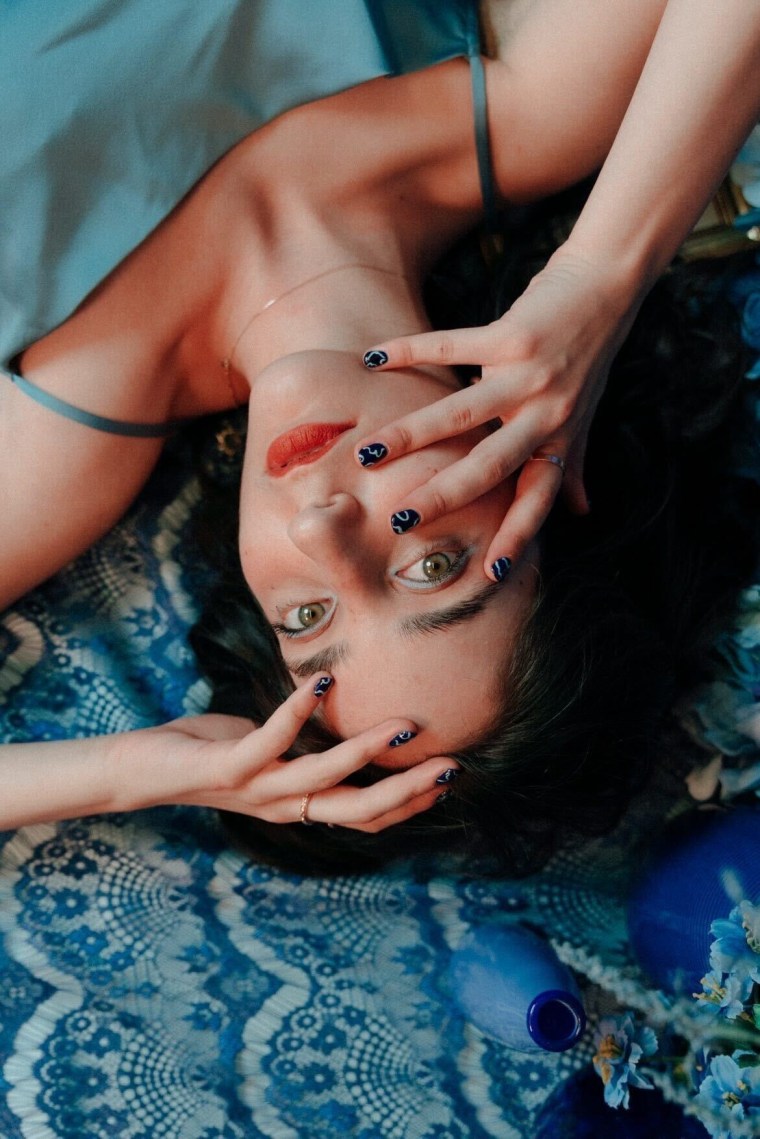 Dafna
Rising folk-pop talent Dafna makes honey-sweet love songs, with late 2020 duet '8NIGHTS' (with Cameron Desnoes) and early 2021 ballad 'Light Of My Life' both crossing into million-stream territory on Spotify this year. The University of Colorado - Boulder singer-songwriter gracefully tackles harmonies on her latest single, 'Always a Dream,' immediately reminiscent of Clairo's last album Sling — it's Dafna's upbeat affect, though, that keeps the energy luminous and hopeful.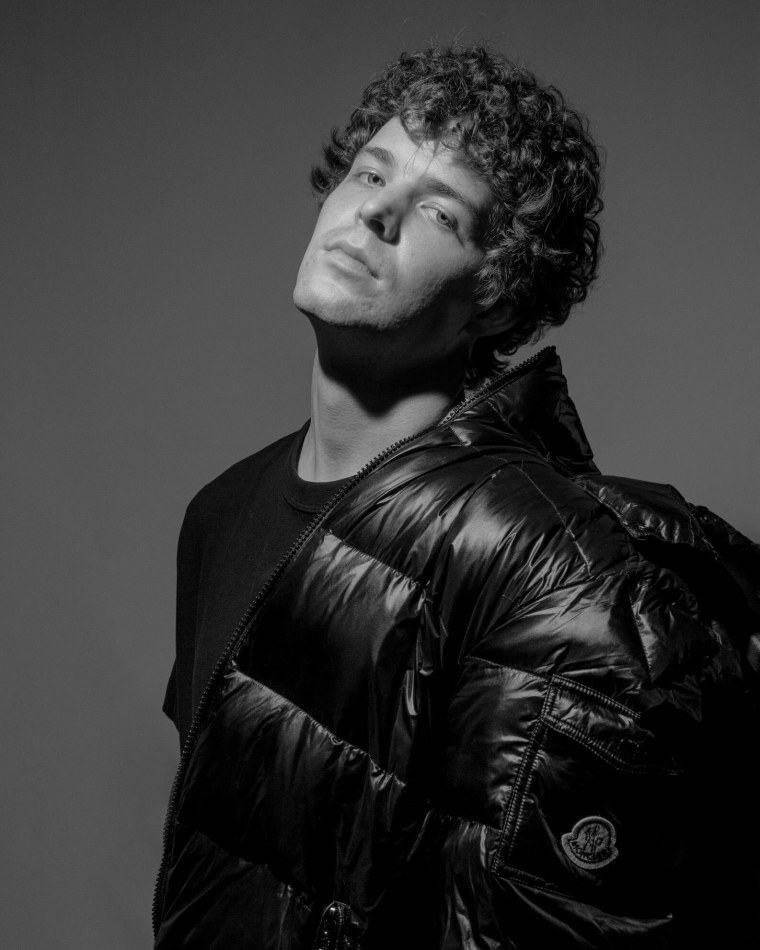 Cam Cokas
You might be surprised to learn that Cam Cokas' 'Sketches' is his debut EP. The young musician — who studies at University of North Carolina - Asheville –– has a self-assured sound that jumps coolly between R&B, pop, soul and hip-hop to offer up a smooth, dextrous final product. After learning to play piano and saxophone at an early age, Cam taught himself to sing, play guitar, bass, and drums by ear. When he joins forces with rapper (and twin brother!) Zack Cokas — most recently in their single 'X-RATED' — the result is scintillating.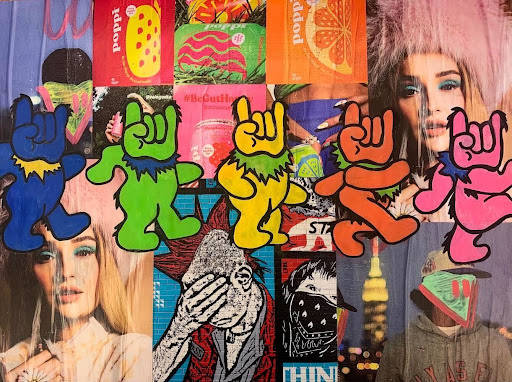 Devon Gordon
When she's not making her own music or handling editorial at Noise Art Magazine, Pratt Institute senior Devon Gordon is crafting a slew of artistic projects across several mediums. A recent innovation? Her own version of the Grateful Dead's iconic bear characters overlaid on wheat-pasted street art –– a melding of multiple eras of art. It's Devon's eclectic taste and playful eye that results in the kinds of pieces you won't be seeing anywhere other than her portfolio.
Julia Fernandez
Although she has over a year left at New York University, Julia Fernandez has already linked up with names like Tai Verdes and Jelani Aryeh for stellar lyric video visuals, Spotify canvases, tour posters, and much more. Her submission for the College Creatives of the Year is an ode to the risograph, a digital printer first released in Japan in 1980 that she contends deserves more recognition in the art world. Julia created the eye-catching self-portrait animation by drawing all 23 frames individually, printing them on a risograph, and then finally scanning and sequencing them together into a loop.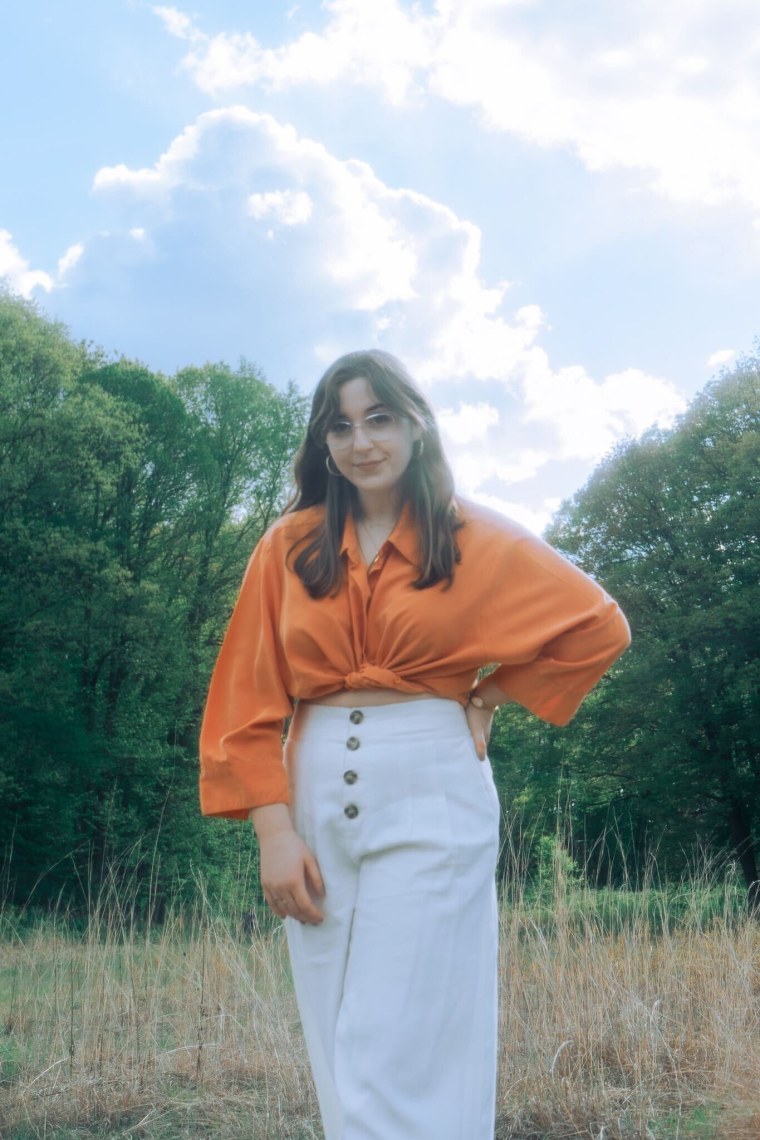 Karissa Bone
Karissa Bone's sole song on streaming, 'Maybe in the Summer,' is a Capri Sun pouch filled to the brim with sunlight — and hope for a romance-to-come. The Berklee College singer-songwriter — whose vibe is cottage core-meets-pop star — has integrated herself in the music industry; when she's not crafting her next hit, she's busy acting as president of the Berklee A&R Group, an important arm for artist development on a campus teeming with talent.

Tanner Agpoon
Kansas native Tanner Agpoon's talent exceeds his sheepish social media bios, in which he claims he 'plays a few instruments mediocrely.' His genre-fluid combination of rapping and singing –– which has taken names like Dominic Fike all the way to the top –– is something the Santa Monica College student has a steady grip on, evidenced in all three singles he's posted to streaming services. 'Corduroy Pants' is a standout, showing off his ability to spit bars and lay down a hook of a chorus on the same track.
Luwa
Touting one of the most unique, distinct voices amongst up-and-coming musicians right now is Luwa, whose deep, full vocals power her sweeping ballads. A freshman at New York University's Clive Davis Institute with roots in both Nigeria and the United States, Luwa is nearing 100K streams on Spotify with just four singles under her belt. She shines brightest on '12AM,' a sleekly produced track filled with Adele-esque yearning.
Luz Castilla
Luz Castilla may not be graduating until 2024, but the University of Houston-Downtown photographer is already making moves. Her FADER submission is a bold, vibrant collage inspired by the song 'Strawberry Fields' by The Beatles, incorporating imagery around sight, perception, and the concept of watching — or being watched. The viewer is left to make their own determination on whether the subject in Luz's piece is in control, or if her place on our screens strips her of her agency altogether.
Stephen Shadrach
Multi-hyphenate Stephen Shadrach has been making music under the moniker 'Kevin Electra,' but that's just one of the many channels he uses to express himself. The New York University sophomore has already directed three films and headed a plethora of graphic design-related projects. His portfolio webpage is practically an art project of its own, each tab its own experience waiting to be prompted by a cursor. The cherry on top: he's also launched his own label and creative space, aptly named everythingandthecinema.
Aidan Dillon
University of Minnesota Urban Design major Aidan Dillon quit the school's varsity swim team last year to pursue his art full throttle, and it's a decision that's already paying off. He recently finished his largest canvas piece to date, titled 'Blood Visions,' which stretches 6' by 12' and is inspired by the vibrant street art community in downtown Minneapolis. The impressive piece even caught the eye of his hometown Urban Outfitters –– they used it to punch up their space this fall.
Quadio is the college creative network. Their app and community help college artists hone their craft, expand their networks, build their creative crews, and discover opportunities to take their passions from hobby to career. You can download the app here.