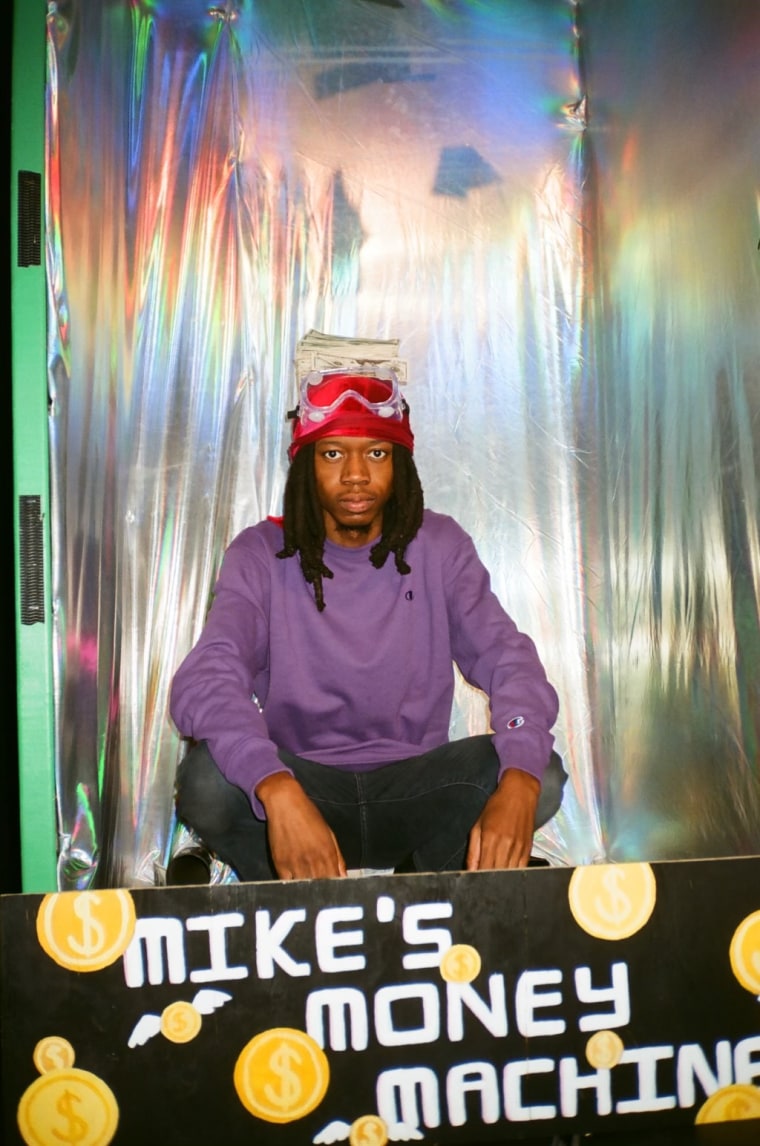 Lately, Deem Spencer has been feeling more hopeful about the future. In 2017, the rapper from Jamaica, Queens released we think we alone, a heartfelt project put together while mourning his grandfather. He would follow that release with 2019's Pretty Face, which was made in the middle of a breakup with his then-girlfriend of four years. Once again, Deem found himself unpacking his thoughts on wax, blending pieces of audio from his ex with knotty, contemplative raps about their waning time together. "It was two different losses, so I had to approach them way different," he said about his headspace while making Pretty Face. For his next project, Deem knew that he wanted to do something different.
"Having Pretty Face as my only release for 2 years was a little heavy," Deem tells The FADER. "I really wanted to move forward with more positive energy in my work and in all areas of my life."
Last July, he released Deem's Tape, his first project in two years. Deem's Tape was born from a conceptual piece he's been working on titled "My Wife and Kids," which envisions the future that he wants for himself. On "Wife Wife," a sparkling duet with Norwegian-American singer Okay Kaya, Deem whispers "I love you" in his girl's ear while she's sleeping, and Okay Kaya chants "marry me" in a dizzying spiral. It's a dreamy cut with the sprung, heart-eyed energy of a high school crush that rests at the heart of the 23-minute project. It would be a stretch to consider Deem's Tape optimistic with mentions of isolation and "heavy ass lessons" handed out by God weighing down songs like "Wife Wife," but Deem doesn't let these setbacks drag him down.
Today, The FADER is premiering the video for "Prayed for More," Deem's Tape's closing track. On "Prayed for More," Deem snatches control of his fate, claiming the things he wants to have in his life and opening himself up for love. "Why is there limit for me? / I'm trying to build a new city," he asks over a lilting piano melody. In the music video, directed by Mike Weir, Deem watches himself hop into a money booth on a game show, longingly watching the show before becoming frustrated at the final result.
"To this day, I love game shows," Spencer said about the inspiration for the video. "I always wanted to be in one of those money booths. I always wanted to answer some trivia and win a million dollars. Where do I sign up? We need a come up."
Below, watch the video for "Prayed for More" and read a brief Q&A with Deem Spencer.

The FADER: How long did it take for you to write the songs that became Deem's Tape?
I had "wife wife" since 2019. "Dors" and "houseplant" were songs I made during lockdown. I wrote all the rest of the songs between August 2020 and December 2020.
Is there a message you wanted people to take away from the project?
I simply wanted to brighten the tones. Death and heartbreak are super heavy experiences that influenced most of the work I've become known for. I still address those things on Deem's Tape but from a more healed perspective. On Deem's Tape, I just wanted to breathe and bask in the safe space my music has created for me.
Can you tell us a little bit about "My Wife and Kids," the conceptual piece you've been working on that led to the album?
The state of the world is unpredictable and unpromising. Like a lot of us, despite all that, I still want to manifest a beautiful future. I still have hopes of finding my tribe, starting a family, growing old. Whether that ever happens or not, I think it's still beautiful to paint a picture of what I envision may be at the end of the tunnel; the bit of hope that keeps me going.
"Prayed for More" is one of the songs that brings out the warmth and optimism of the project. The lines about you lying your head on your girl's chest and the vitamins she takes always stood out to me as these soft and specific images of love. What was on your mind while writing this song?
Those lines highlight one of our most simple human needs. We all need care. That keeps us going. 'Prayed For More" is about wanting more for myself and the people around me. Despite all we do to maintain, like staying productive, taking care of ourselves, building relationships, "the environment gives you no pity." We all need care.