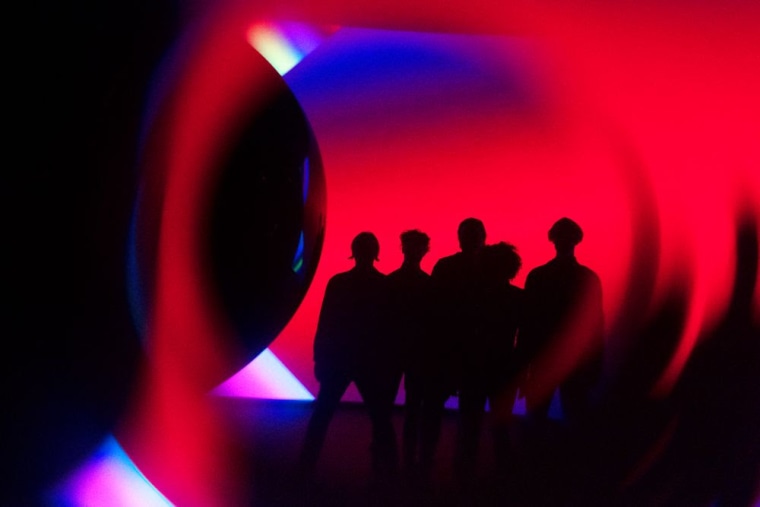 Arcade Fire have had a relatively quiet half decade, but they announced Monday that they'd be playing a surprise Ukraine benefit concert in New Orleans that night, and that they'd share their first official song in nearly five years later in the week. With "Lightning I, II" dropping today, they've now followed through on both of these promises and made another, larger one: WE, the group's sixth studio album — and their first since the polarizing 2017 record Everything Now — is set to arrive May 6 via Columbia Records.
Produced by Nigel Godrich along with bandleaders Win Butler and Regine Chassagne at studios in New Orleans, El Paso, and Mount Desert Island, Maine, the album is split into Side "I" and Side "WE." Two of its tracks come with separately listed sequels, leaving only "Empire I–IV," the title track, and the new song as standalones. All in, the project will clock in at 40 minutes. But despite its segmented recording process and ultimate consision, Win says WE is the product of "the longest we've ever spent writing, uninterrupted, probably ever."
Arcade Fire's current studio lineup consists of Richard Reed Parry, Tim Kingsbury, Jeremy Gara, and Will Butler, along with Regine and Win. Live band members Dan Boeckner, Paul Beaubrun, and Sarah Neufeld also appear onstage in the Emily Kai Bock-directed visual treatment for "Lightning I, II" — a cinematic, black-and-white affair that parallels the song's slow-building tension and cathartic release with an epic storm that breaks over the musicians as they reach the peak of their crescendo.
Watch it, view the records cover art and tracklist, and read a philosophical note from Win on the forthcoming record below.
WE tracklist
"I"
Age of Anxiety I
Age of Anxiety II (Rabbit Hole)
End of the Empire I-IV
"WE"
The Lightning I, II
Unconditional I (Lookout Kid)
Unconditional II (Race and Religion)
WE