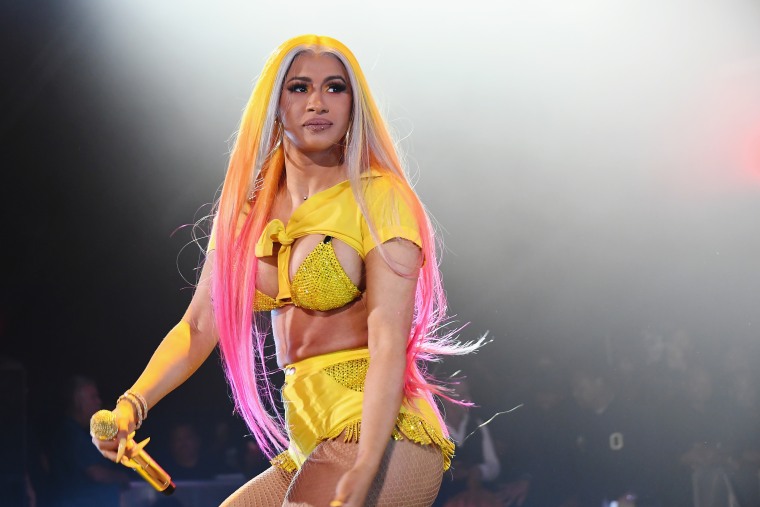 Cardi B deleted both her Twitter and Instagram accounts Sunday after arguing with angry fans who felt wronged after she announced she wouldn't be attending the 64th Annual Grammy Awards ceremony, which took place last night at the MGM Grand Garden Arena in Las Vegas. Her 2021 track "Up" was nominated for Best Rap Performance, but lost out to Baby Keem's "Family Ties" featuring Kendrick Lamar.
Billboard was first to report that Cardi had deleted her Twitter during the ceremony. "I'm deleting my twitter but On God I hate this fuckin dumbass fan base," she wrote in a tweet re-copied (and censored) by the online magazine before her account disappeared. "You got the slow dumbasses dragging my kids all cause y'all though I was going to the Grammys and I didn't the fuck ? When the fuck I hinted I was going ?just fuckin stupid I can't I needs to protect myself."
Complex later reported that Cardi had explained the departure on Instagram live after the initial argument. "Why would I show up with one nomination?" she asked. "And I lost it anyways, so you wanted me to go to the Grammys, lose an award, and me just be there smiling like, 'That's great, that's great.' Like, come on now my n—a. Come on now. I don't like that shit. And then it's like, 'Oh but you was giving out hints…' What in my Insta story gave you hints that I was gonna go into the Grammys?"
According to the Complex piece, she got more heated when discussing her base's reaction to a quote tweet in which she wrote that she wished the original poster's mother would die. "And motherfuckers talking like I'm getting canceled, this and that," she reportedly said in the video. Let me tell you something, I don't give a f**k, whatever I said on them tweets, I really motherfucking mean it," continuing, "'Oh, why would you wish that on somebody mother?' Well, that person brought up my son. If you talking shit about me, why you bringing up my fucking son?" She deleted her Instagram account shortly thereafter.
The FADER has reached out to a representative of Cardi B for further comment on the situation.
Cardi is no stranger to online controversy. She was recently award $1 million in damages after suing Youtuber Tasha K, who in 2018 spread rumors in her videos that the Bronx rapper was a sex worker, abused drugs, and had a sexually transmitted disease. According to her lawyer, Cardi told the jury she'd "felt extremely suicidal" after watching Tasha's vlogs, and that "only an evil person could do that."