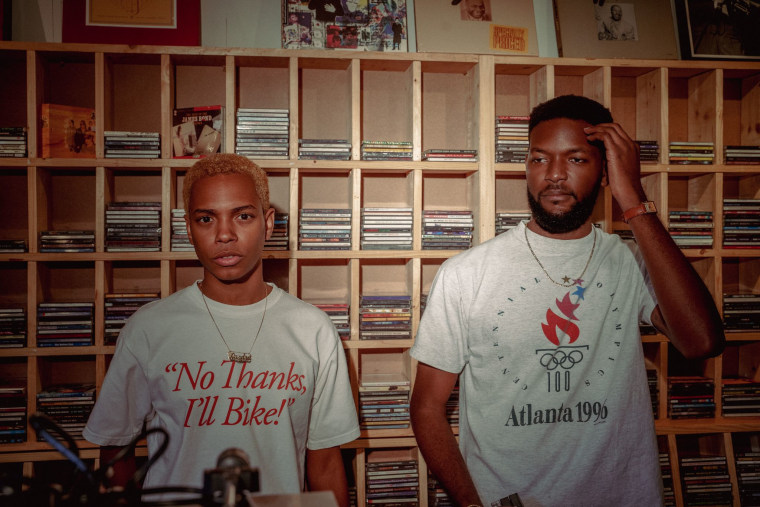 They Hate Change are almost ready to roll out their debut studio LP, Finally, New, in full. The record drops May 13, and today, the Tampa rap/production duo of Dre and Vonne have shared its fourth and final single. "Some Days I Hate My Voice" follows previous album offerings "1000 Horses," "From the Floor," and "Blatant Localism," adding an exclamation point to their forthcoming project's pre-release credentials.
The new song pairs a growling sub bass with a skittish synth, laying the track out for an ode to androgyny from Vonne that pays tribute to Toronto trans performance pioneer Jackie Shane, X-Ray Specs' frontwoman Poly Styrene, and 100 Gecs' Laura Les.
"I've written a bunch of sad lyrics about gender identity in the past, mostly while being sad about gender identity," Vonne explains. "Sad songs are played out though, so I approached this joint charged up and went at it from a different, equally honest perspective, that represents the experience of having a gender identity or expression that's constantly in flux (in a positive way!)."
Listen to "Some Days I Hate My Voice" and view They Hate Change's upcoming tour dates below.

They Hate Change & Shame tour
August 24 - Vancouver, BC - Rickshaw Theatre
August 25 - Portland, OR - Doug Fir Lounge
August 26 - Seattle, WA - Madame Lou's
August 28 - Los Angeles, CA - This Ain't No Picnic
August 30 - Minneapolis, MN - Fine Line
August 31 - Chicago, IL - Thalia Hall
September 1 - Columbus, OH - Skully's Music Diner
September 3 -Cleveland, OH - Mahall's
September 4 - Toronto, ON - Lee's Palace
September 5 - Montreal, QC - Theatre Fairmount
September 7 - Boston, MA - The Sinclair
September 8 - Philadelphia, PA - First Unitarian Church
September 9 - Washington, D.C. - Black Cat