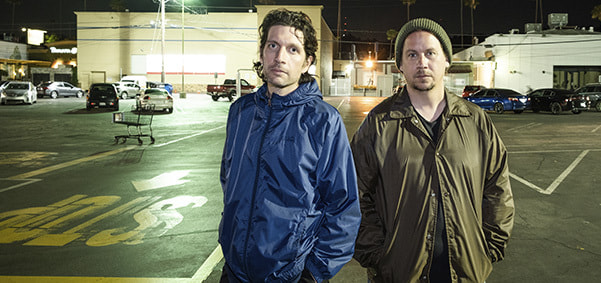 Los Angeles noise rock duo No Age have announced their sixth studio LP, People Helping People. The project, which follow's 2020's Goons Be Gone, will arrive September 16 on Drag City, and they've released its first single, "Andy Helping Andy," along with a visual love letter to the track's apparent namesake, Andy Warhol.
In the new video, a hyper-saturated. blue-green-pink hue suffuses the screen as Warhol's iconic hair blurs across the screen, followed by small white text reading "It's such a great title, it really is" against a black background. Later, Warhol swims into focus but is always cloaked in the glowing pop-art textures he pioneered. The song's warped synths, mangled guitar lines, and faint drum beat mirror these color changes in perfect synesthetic harmony. The sounds are far too warbled to throw any one of them into stark relief against the others — aside from a few squeaky, palm-muted scratches near the end — but their gradual dynamic changes and constantly multiplying overtones work in tandem to create some semblance of an arc.
"We really like your music" and "Maybe you shouldn't take things too seriously," later captions read, interspersed with footage of Warhol young and old, in front of and behind the camera. "No questions, no answers, just being," another one states as the wordless music channels the stoned cosmic noodling of Spacemen 3. "Now you can talk to God," the final subtitle proclaims as Warhol finishes his iconic Burger King meal and the video ends.
Watch it below.