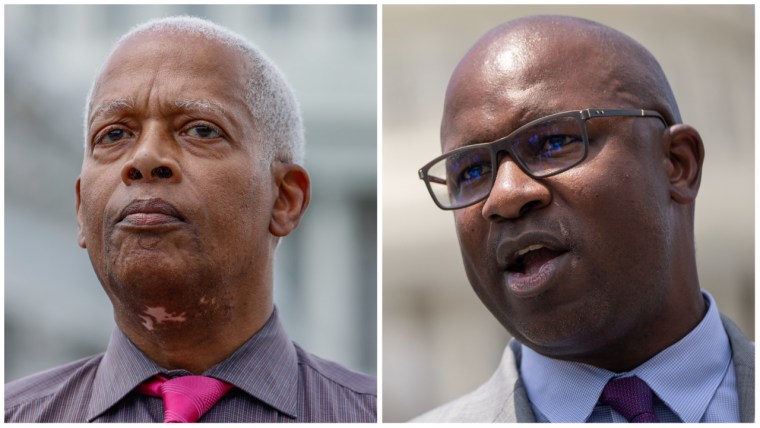 A new bill has been introduced in Congress that will limit the use of song lyrics as court evidence if passed. Brought to the House floor by two Democratic representatives, Hank Johnson of Georgia and Jamaal Bowman of New York, the Restoring Artist Protection (RAP) Act mirrors the state-level Rap Music On Trial bill introduced by New York State Senators Brad Hoylman and Jamaal Bailey in November and passed by that legislative body in May. (A companion bill now awaits a State Assembly vote.)
"Freedom of speech is the constitutional foundation the framers thought necessary to enable a new and free society to craft not only its own destiny through commerce and innovations, but through culture, expression, and art," Rep. Johnson said in his office's statement announcing the new, national bill. "It is no longer enough that the Bill of Rights guarantees that freedom: without further Congressional action, the freedom of speech and of artistic expression present in music will continue to be stifled, and that expression will be chilled, until the voices behind that protected speech are silenced. I thank my colleague Congressman Bowman for joining me in co-leading this legislation."
"Rap, hip-hop and every lyrical musical piece is a beautiful form of art and expression that must be protected," Rep. Bowman added. "I am proud to introduce the RAP Act alongside Rep. Hank Johnson. Our judicial system disparately criminalizes Black and brown lives, including Black and brown creativity."
The bill itself lays out its mission (relatively) plainly: "To amend the Federal Rules of Evidence to limit the admissibility of evidence of a defendant's creative or artistic expression against such defendant in a criminal proceeding, and for other purposes." Like the Rap Music On Trial bill, it proposes to achieve its goal by forcing prosecutors to prove to a judge in an outside hearing that the content in question meets four specific exceptions before presenting it to a jury. The exceptions are as follows:
''(1)(A) if the expression is original, that defendant intended a literal meaning, rather than figurative or fictional meaning; or
''(B) if the expression is derivative, that the defendant intended to adopt the literal meaning of the expression as the defendant's own thought or statement;
''(2) that the creative expression refers to the specific facts of the crime alleged;
''(3) that the expression is relevant to an issue of fact that is disputed; and
''(4) that the expression has distinct probative value not provided by other admissible evidence."
Calls for a national bill addressing the issue of rap on trial have intensified in the past three months, following the May indictment of 28 alleged affiliates of Atlanta's YSL crew — a group of individuals associated with Young Thug, the founder of Young Stoner Life Records, including Gunna and several other signees. Prosecutors claim that Young Slime Life, a separate (but overlapping) entity to the label, is a "criminal street gang," and have charged the defendants with conspiracy to violate Georgia's Racketeering Influenced and Corrupt Organizations (RICO) Act, as well as various combinations of 55 other felony offenses.
On May 19, a day after the Rap Music On Trial bill's approval by New York's State Senate, formerly incarcerated Brooklyn rapper Bobby Shmurda advocated for the adoption of a similar bill nationwide in an interview with TMZ. And last month, Atlantic Records and 300 Entertainment executives Julie Greenwald and Kevin Liles circulated a "Petition to Protect Black Art" with the same goal in mind.
"Today, too many artists, almost always hip-hop artists, face allegations of wrongdoing which rely heavily on their lyrics as evidence," Liles is quoted as saying in the press release from Johnson's office. "Beyond the disregard for free speech protected by the First Amendment, this racially targeted practice punishes already marginalized communities and their stories of family, struggle, survival, and triumph. Black creativity and artistry are being criminalized, and this bill will help end that. We must protect Black art."