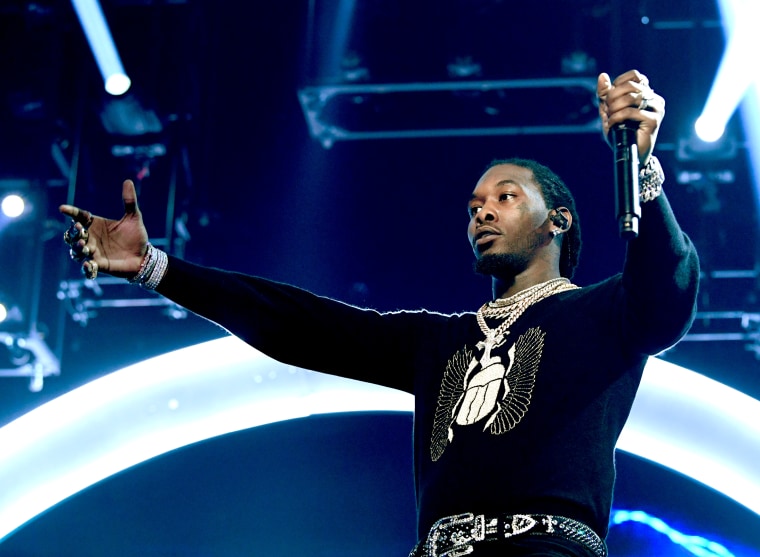 Offset has filed legal action against Migos' label Quality Control in a dispute over who owns his solo recordings. In documents seen by Variety, Offset claims he owns the rights to his own material, having bought them outright in 2021. Quality Control, meanwhile, believe they are the owners of the masters.
The rapper's lawsuit claims that Quality Control's stance "knowingly violates Offset's rights to his own music." The lawsuit was brought up after, as Offset claims, QC tried to "publicly (though falsely)" list themselves as holding an ownership interest in his song "5 4 3 2 1," which was released last week. Offset is seeking a declaratory judgment that Quality Control maintains no rights, title, or interest in his solo career.
Quality Control shared a statement in response to the lawsuit: "Not only are the accusations in this lawsuit false, they are totally detached from reality. Offset remains a part of QC. Back to business."
The fallout spilled over to Twitter, too, with Pierre "P" Thomas of Quality Control tweeting, and then deleting, a post saying: "The last lawsuit was filed publicly and dismissed quietly. Let's see how this one go. Been to real for all this lame sh*t. Everyone know the real problem."
Offset responded: "I paid millions to get my rights back... I ain't spoke to you in 2 years now I drop and you want ya name on my credit?"
This legal dispute comes amid confusion over the future of Migos. Offset has not appeared alongside the other members of the trio, Quavo and Takeoff, for many months with the remaining pair performing and sharing new music together.
Niggas act like im the problem I paid millions to get my rights back Nigga you black balled me I ain't said Shìt one time homie I ain't spoke to you in 2 years now I drop and you want ya name on my credit? https://t.co/UGRDykvX5C

— OFFSET (@OffsetYRN) August 24, 2022