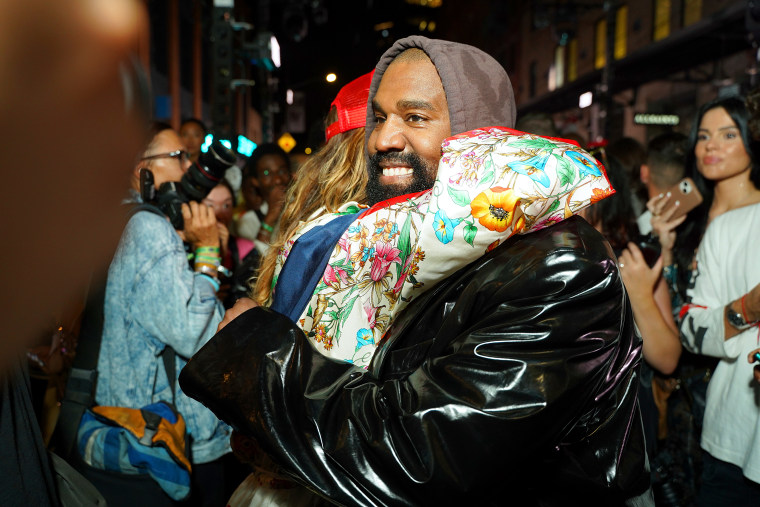 ABC's Good Morning America teased an interview with Kanye West on Thursday morning's episode. The clips, which were shared on social media and at Good Morning America's website, cover West's relationship with his ex-wife Kim Kardashian, his feuds with Adidas and Gap, and his future political ambitions. The full interview A Conversation with Ye: Linsey Davis Reporting will air on Thursday, September 22 at 7 p.m. on ABC.
West spent much of 2022 airing out his grievances with Kardashian and her now ex-boyfriend Pete Davidson with social media posts and a music video that attracted public criticism, pleas from Kardashian, and led to being barred from performing at the Grammys. Speaking with Davis, West apologized. "This is the mother of my children," he said, "and I apologize for any stress that I have caused, even in my frustration, because God calls me to be stronger. I need this person to be less stressed and of the best, sound mind and as calm as possible to be able to raise those children."
West also spoke about his private school enterprise Donda, named after his mother Dr. Donda West. "We spread the gospel," he said, "to build practical skills that the kids need in the world." According to a recent Rolling Stone report, children are taught "world language, visual art, film, choir, and parkour" and parents are forced to sign NDAs.
The interview also touches on West's ongoing breakup with Adidas and Gap. As West moves toward selling his clothing designs through his e-commerce site Yeezy Supply (a storefront is coming soon to Atlanta), West was reminded that radio host Sway advised him to follow a similar "do it yourself" path in 2013 – this statement led to West's infamous response "You ain't got the answers, Sway!" Now, West is willing to admit that Sway was right. "I will go ahead and say that Sway had the answer," he said. Watch all the clips below.