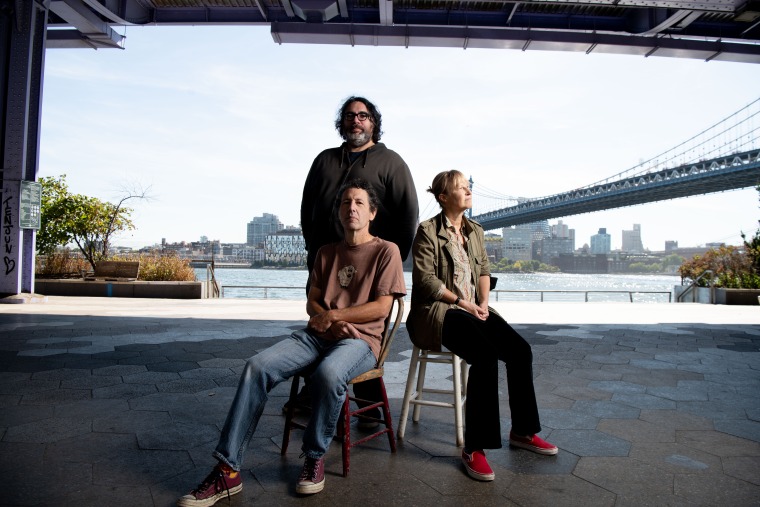 Yo La Tengo, one of the last Great American Rock Bands © remaining from the Great American Rock Band Era ©, have announced their 16th studio LP. This Stupid World is due out February 10 via Matador, and its lead single, "Fallout," arrived today (November 2) alongside news of the album. The New Jersey-formed trio of Georgia Hubley, Ira Kaplan, and James McNew will follow their forthcoming record's release with an extensive three-month tour, starting mid February on the west coast and working their way across the United States before heading to Europe in April. And, of course, they'll be playing their annual "Eight Nights of Hanukkah" residency in New York — this year at Manhattan's Bowery Ballroom — from December 18–25.
"Fallout" is a characteristically spacey jam, four-and-a-half minutes of fuzzy bass (McNew) and guitar (Kaplan) backed by a propulsive drum beat courtesy of Hubley. "I wanna fall out of time / Reach back, unwind," Kaplan sings on the chorus, his voice mild and superimposable as ever. "Before it gets too loud / Before it knocks me out / Fall out of time."
Watch the lyric video for "Fallout," check out This Stupid World's cover art and tracklist, and view Yo La Tengo's upcoming tour dates below.
This Stupid World cover art
This Stupid World tracklist
1. Sinatra Drive Breakdown
2.Fallout
3. Tonight's Episode
4. Aselestine
5. Until It Happens
6. Apology Letter
7. Brain Capers
8. This Stupid World
9. Miles Away
Annual "Eight Nights of Hanukkah" New York Residency
December 18 - New York, NY - Bowery Ballroom - SOLD OUT
December 19 - New York, NY - Bowery Ballroom - SOLD OUT
December 20 - New York, NY - Bowery Ballroom - SOLD OUT
December 21 - New York, NY - Bowery Ballroom – SOLD OUT
December 22 - New York, NY - Bowery Ballroom - SOLD OUT
December 23 - New York, NY - Bowery Ballroom - SOLD OUT
December 24 - New York, NY - Bowery Ballroom
December 25 - New York, NY - Bowery Ballroom
This Stupid World 2023 tour
February 15 - Seattle, WA - Neptune Theatre
February 16 - Seattle, WA - Neptune Theatre
February 17 - Bellingham, WA - Wild Buffalo
February 19 - Portland, OR - Wonder Ballroom
February 20 - Portland, OR - Wonder Ballroom
February 22 - San Francisco, CA - The Fillmore
February 24 - San Francisco, CA - The Fillmore
February 25 - Los Angeles, CA - Teragram Ballroom
February 26 - Los Angeles, CA - Teragram Ballroom
February 27 - Los Angeles, CA - Teragram Ballroom
March 9 - Carrboro, NC - Cat's Cradle
March 10 - Carrboro, NC - Cat's Cradle
March 11 - Asheville, NC - Orange Peel
March 13 - Nashville, TN - The Basement East
March 14 - Nashville, TN - The Basement East
March 16 - Charlottesville, VA - Jefferson Theater
March 17 - Philadelphia, PA - Union Transfer
March 18 - Brooklyn, NY - Brooklyn Steel
March 19 - Washington, DC - 9:30 Club
March 21 - Pittsburgh, PA - Mr Smalls
March 22 - Cleveland, OH - Beachland Ballroom
March 24 - Chicago, IL - Metro
March 25 - Milwaukee, WI – Turner Hall Ballroom
March 26 - Minneapolis, MN - First Avenue
April 10 - Dublin, IE - 3Olympia
April 12 - Manchester, UK - New Century Hall
April 13 - Bristol, UK - SWX
April 14 - London, UK - The London Palladium
April 16 - Brussels, BE - Ancienne Belgique
April 18 - Amsterdam, NL - Paradiso
April 19 - Rotterdam, NL - LantarenVenster
April 20 - Hamburg, DE - Uebel & Gefaehrlich
April 21 - Copenhagen, DK - Bremen Teater
April 23 - Cologne, DE - Gloria Theatre
April 24 Prague, Czech Republic - MEETFACTORY
April 25 - Berlin, DE - Festaal Kreuzberg
April 27 - Paris, FR - La Cigale
April 29 - Barcelona, ES - Sala Apolo
April 30 - Murcia, ES - WARM UP Festival
May 2 - Madrid, ES - Warner Music Station Príncipe Pío
May 3 - Bilbao, ES - Santana 27